Republicans Warn Bank Bill Could Backfire as Dems Push for a Deal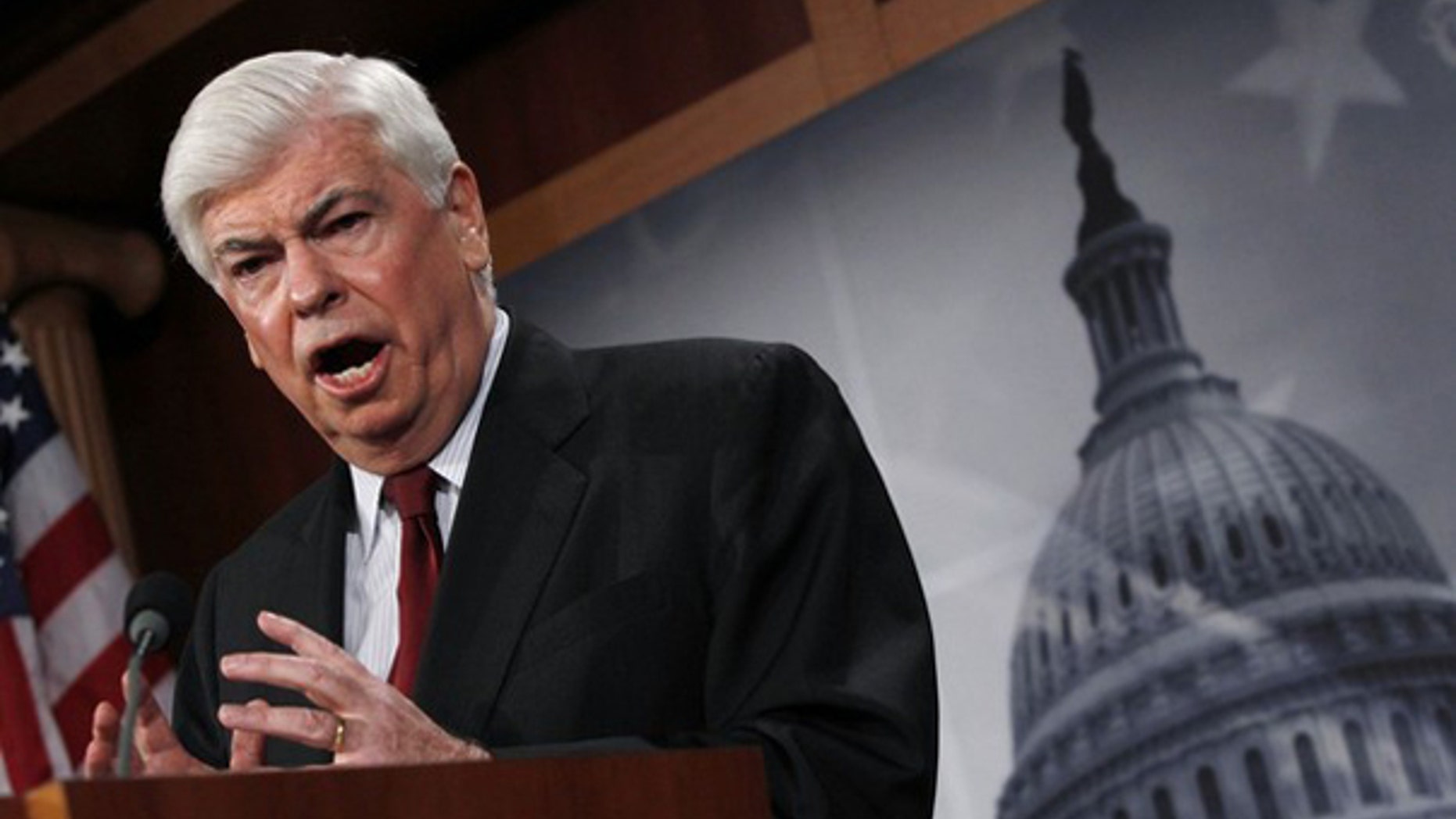 Senate Democrats are meeting with key Republicans in a bid to reach a deal on a Wall Street regulation package by the end of the week, but Republicans are standing firm on objections to several proposals they say would clamp down on economic growth and encourage big banks to take more risks, not fewer.
The mood of negotiations is slightly better than it was a week ago, when all 41 Republican senators wrote to Senate Majority Leader Harry Reid stating their "united" opposition to the bill and demanding he take a "bipartisan and inclusive" approach.
Despite the name-calling and browbeating from both sides, Senate Banking Committee Chairman Chris Dodd, D-Conn., is meeting with his GOP counterpart, Sen. Richard Shelby, R-Ala., to set the stage for a bill that can hit the floor by next week.
But conservatives and liberals alike are expressing concerns that the package has been hastily thrown together and could backfire. While it aims to protect consumers and rein in Wall Street, it could have the opposite effect, they say.
Here's some of what the bill does and why some people want it changed:
-- Establishes a $50 billion bailout fund financed by banks. Intended to be used to liquidate failing financial institutions before they do damage to the rest of the system, the fund has been panned as an incentive for risky behavior. The Obama administration is now calling for the fund to be stripped from the bill, and some Senate Democrats, including Dodd, appear open to the idea.
The chief complaint is that the fund could encourage risky bet-making, since banks would know they have a bailout of last resort. The fund has generated some bipartisan concerns as well. A host of top liberal economists, finance professionals and former officials sent a letter to Senate leaders this week slamming the bill and calling for Congress to eliminate the "perpetual system of government sponsored corporate bailouts financed by the government or private industry." Co-signers included former Labor Secretary Robert Reich, former Lehman Brothers Vice Chair Peter Solomon and former Securities and Exchange Commission official Lynn Turner.
"Failure means failure," Shelby said in a statement last week opposing the fund.
"You put a $50 billion fund out there, and I guarantee you we'll use it," Senate Minority Leader Mitch McConnell said Tuesday.
Some top Democrats were holding fast to the fund, though. Delaware Sen. Tom Carper told Fox News he doesn't buy the argument that the fund would encourage risk since the Federal Deposit Insurance Corporation provides a similar cushion.
"The FDIC experience doesn't suggest that's the case," he said.
But Dodd said late Tuesday that a "trust" could work, noting that the legislation could make clear that the money could be used for no other purpose than the orderly unwinding of a failing institution.
-- Creates a Bureau of Consumer Financial Protection. The bill would establish a new federal regulatory entity for lenders housed at the Federal Reserve, but many are concerned the new agency would have way too much power and far too much influence over thousands of small banks and institutions on which other small businesses rely for credit.
The Chamber of Commerce, in a letter to the Senate, wrote this week that the bureau would have "unchecked and unprecedented power," held largely by a single director.
Sen. John Thune, R-S.D., said Tuesday that the bureau would impose "new mandates, new regulations, new costs on small lenders, community banks, credit unions" -- all institutions making loans to small businesses. The concern that the bureau's regulations could dry up credit to small businesses at a time when the economy needs new and growing employers has some lawmakers calling for the provision to be scaled back.
-- Establishes a Financial Stability Oversight Council. The nine-member council would have broad power to work with the Federal Reserve in identifying risks in the financial system. The body, with a two-thirds vote, would be able to clear the Federal Reserve to break up large companies if they are deemed a threat to the overall system.
It would also be able to put non-bank firms under the regulation of the Federal Reserve if they are deemed a threat, and would work with the Fed to put added restrictions on banks as they grow in size. McConnell and others have expressed concerns that the council could play favorites -- getting tough on some firms while protecting others.
Lawmakers are continuing to debate how to regulate the complex derivatives market. And another concern starting to emerge this week is that the bill does not address mortgage giants Fannie Mae and Freddie Mac, which were taken over by the federal government in 2008.
House Republican Leader John Boehner on Wednesday said those firms should be privatized to limit the risk to taxpayers, a call echoed by the conservative Americans for Limited Government. The letter from liberal economists also called on Congress to address this issue.
The letter warned that the current bill will not go far enough to crash-proof the financial system.
"Neither the bill passed earlier this year by the House, nor the one currently under consideration in the Senate would have prevented the crisis. Without serious restructuring, they will not prevent a future crisis," the letter said.
Even if the legislation passes, Sen. Bob Corker, R-Tenn., said he is confident Wall Street will find a way to get into trouble again by betting against bad investments.
"We'll have another problem, something else that creates it and unfortunately history repeats itself, we'll have another crisis, no question," he told Fox News.