Republicans sweep list of top 10 most popular governors: poll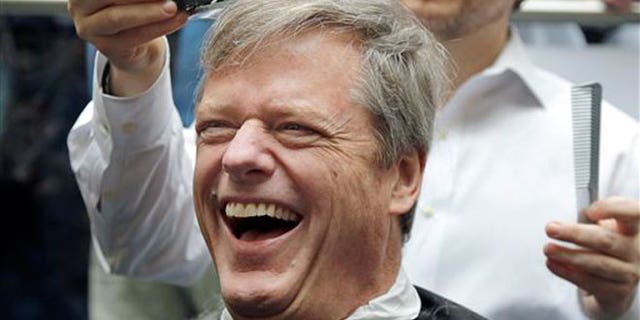 The top 10 most popular governors in America are Republican and 12 GOP governors running for re-election in 2018 enjoy positive approval rankings, according to newly released data.
Massachusetts Gov. Charlie Baker, a Republican, is leading the poll as the most popular governor in the U.S. with 69 percent of surveyed people approving his job, while only 16 percent say he is a lousy governor, according to the latest Morning Consult quarterly poll.
Maryland Gov. Larry Hogan and Alabama's Kay Ivey are the second and the third most popular governors in the country, with less than a fifth of the people opposing their leadership.
The rest of the top 10 most popular governors based on their approval rankings were: Phil Scott, R-Vt., 63 percent; Matt Mead, R-Wyo., 63 percent; Brian Sandoval, R-Nev., 61 percent; Gary Herbert, R-Utah, 60 percent; Asa Hutchinson, R-Ark., 59 percent; Greg Abbott, R-Texas, 59 percent; and Dennis Daugaard, R-S.D., 59 percent.
The GOP continues to dominate the governors' field with 33 Republicans, while only 16 Democrats and one Republican-turned-independent currently hold the office of governor in the U.S.
The poll shows 12 Republicans who are up for re-election this year also enjoy significant support in their respective states – potentially thwarting any grand Democrats' plans to capitalize on the energized voting base due to the Trump administration.
But not all is rosy for the GOP: In two states – Wisconsin and Illinois – Republican governors have negative approval rating, according to the survey. The two state leaders are facing an uphill battle to retain the office in 2018.
Wisconsin's Scott Walker is being viewed negatively by 50 percent of surveyed people, putting him underwater by 7 points. As a sign of the troubles ahead, Democrat Patty Schachtner flipped a state Senate seat last month that had been held by Republicans since the start of the century.
Bruce Rauner of Illinois, meanwhile, has the negative approval ranking of 24 points. Despite the unpopularity, he is running for another term as the governor.
As well as the possible troubles for the Republicans in the looming 2018 elections, eight out of 10 least popular governors are Republican.
Now-former New Jersey Gov. Chris Christie, whose reign finished last month following the election of Democrat Phil Murphy, is viewed negatively by more than three-quarters of people. Only a fifth of respondents to the poll admitted they approved Christie's job.
The rest of the bottom 10 governors based on their disapproval rankings were: Dan Malloy, D-Conn., 68 percent; Sam Brownback, R-Kan., 64 percent; Mary Fallin, R-Okla., 61 percent; Susana Martinez, R-N.M., 57 percent; Bill Walker, I-Alaska, 55 percent; Bruce Rauner R-Ill., 55 percent; Paul LePage, R-Maine, 53 percent; Scott Walker, R-Wis., 50 percent; and Rick Snyder, R-Mich., 47 percent.