Republicans fight to win Indiana Senate seat held by vulnerable Democrat Joe Donnelly
INDIANAPOLIS – The senate race in Indiana is soon going to get some personal attention from the White House.
President Trump will stump for the Republican Senate nominee in South Bend just two days after the primary. Being his home state, Vice President Pence will join him to throw the weight of the executive branch behind the candidate.
"The political wing of the White House, I think, is looking at this as the most important race in the country," said Mike Braun, one of the candidates.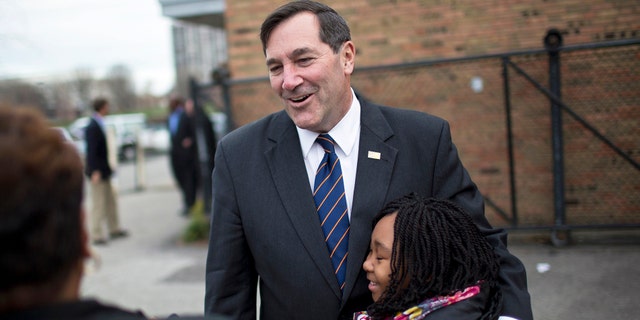 The incumbent, Democrat Joe Donnelly, has been targeted by the White House as one of several red-state obstructionists. Trump carried Indiana by 19 points in 2016. So, a Democrat in solid Trump country is seen as vulnerable and a potential pick-up in the Senate for the Grand Old Party.
SEE THE LATEST FOX NEWS RATING FOR SENATE CONTESTS IN THE 2018 MIDTERM ELECTIONS ON THIS INTERACTIVE MAP
The Republican primary has been particularly nasty. The airwaves are filled and the ads containing language like liberal, fraud, swamp brothers and Democrat. One candidate, Rep. Todd Rokita, even published a children's book about his opponent – jabbing that his opponent Rep. Luke Messer spends all his time in Washington and has forgotten about Hoosiers.
Democrats and Republicans suggest the candidates have done so much damage to each other they have taken a right-leaning state and given the Democrat a fighting chance. Rokita defends that he needs to get out the negatives before Republicans go to the polls. 
"I am not waiting till October so that Donnelly can stick a fork in one of my two opponents," he said. "We got to get his information out now. That's what a primary is about."
Braun has been self-funding to the tune of around $6 million. Among other things his ads suggest is that he is an outsider, even though he served in the Indiana State legislature. He also claims Messer and Rokita are career politicians, indistinguishable from each other. In the heart of Trump country, each candidate claims he is most in-line with the president and most capable of supporting Trump in Washington.
Messer suggests, after the ballots are cast and Hoosier Republicans have a common opponent, wounds will heal and the party will unify.
"We're gonna win the primary and when we do, we'll bring together all the Republicans to make sure we take the case to Joe Donnelly in the fall," he said.
Two days after the primary, one of them will share a podium in South Bend with President Trump.