Republicans Craft Careful 'Resistance' in Congress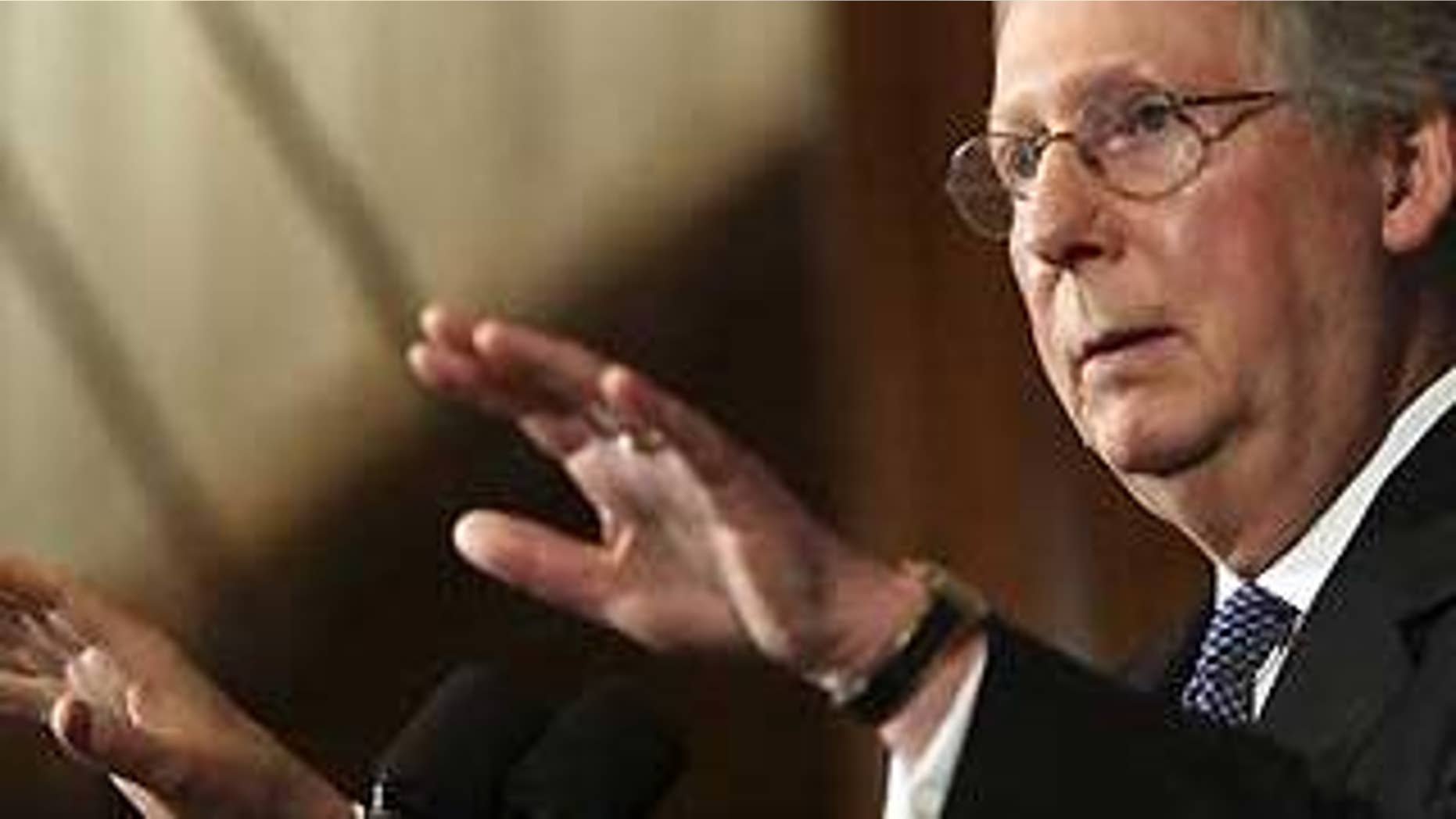 Rest assured, Republicans in Congress will put up a "strong, principled resistance" to the Democratic majority when called for, Senate Minority Leader Mitch McConnell said Friday.
But with Republicans' numbers diminished in the Senate and virtually weightless in the House of Representatives, mounting that resistance will be no easy task.
The GOP, wounded badly in the 2006 and 2008 elections, is still trying to rally and redefine itself, not only to make gains in 2010 but to put its stamp on policy.
To do so, McConnell and other Republican leaders plan to strike a fine balance between bipartisan cooperation and thorn-in-the-side politics.
"Stylistically, it is somewhere between cooperation and confrontation," said Stuart Rothenberg, editor of the Rothenberg Political Report. "It took them eight years to get in this hole. It's going to take a while to get out."
On the other hand, he said, "The nature of the opposition is they're supposed to oppose."
Among those leading that opposition in the early stages are Georgia Rep. Tom Price, chairman of the Republican Study Committee, and Texas Sen. John Cornyn, who is heading up re-election efforts in the Senate.
Cornyn, one of former President Bush's top defenders, is already biting at the ankles of Democrats at every turn and could play the prickly counterpart to his more bipartisan colleagues.
Cornyn was the lone senator who prevented Clinton from being confirmed on Inauguration Day by raising concern about donations to her husband's foundation. (He later dropped his opposition after a talk with Sen. John McCain.)
Plus Cornyn raised critical questions about Eric Holder, Obama's nominee for attorney general, contributing to a delay in his confirmation vote before the full Senate.
And he warned Democrats not to seat Al Franken as Minnesota's next senator until his Republican rival, Norm Coleman, exhausted all legal options.
Most recently, on Wednesday, Cornyn's committee took on Senate Majority Leader Harry Reid in a news release for inviting lobbyists to an inaugural brunch two days earlier. Spokesman Brian Walsh said in the statement that in order for President Obama to change the culture in Washington, he'd first have to change Reid.
"I didn't come to the Senate to be a wallflower, and the only tools you really have available in the Senate are your voice and your vote," Cornyn said.
Meanwhile, Price vigorously opposed the release of the second half of the $700 billion financial bailout. And he, along with Cornyn, blasted Obama for ordering the closure of the Guantanamo Bay detention facility Thursday. "It's unfortunate that national security has taken a back seat to political appeasement," Price said in a statement.
Conservative talk show host Rush Limbaugh told FOX News' Sean Hannity that leaning moderate is the wrong way to go for the Republican Party. He said the moderate wing got their candidate in McCain and lost.
"The blueprint for landslide electoral victory is right there, and the Republican Party and conservative movement has just washed it away," Limbaugh said. "The people that are running our party now have such a defeatist inferiority complex. ... They want to be accepted by people that hate them."
But McConnell said Friday, in an appearance at the National Press Club, that, "The normal constituencies must be widened," signaling a likely strategy for Republicans in the months ahead.
John Feehery, a Republican strategist and one-time aide to former House Speaker Dennis Hastert, said the GOP only hurts itself by ignoring the center.
To appeal to more Americans, he advised Republicans to target Democrats in Congress instead of Obama, and to use the president's "change rhetoric" against hyperpartisan members. He said Republicans can regain the moral high ground by exposing hypocrisy and corruption in the rival party.
A string of corruption cases led to huge Republican losses in the 2006 congressional elections, and now the GOP is trying to shine a light on Democrats improprieties.
The National Republican Congressional Committee, for instance, lambasted House Speaker Nancy Pelosi for keeping Rep. Charles Rangel, D-N.Y., as chairman of the House Ways and Means Committee despite the fact he's being investigated for tax problems.
House Republicans are now so outnumbered that they have few options for pushing through their agenda in Congress. They can try to partner on some issues with the conservative Blue Dog Democrats, but they may be more successful just making noise in the media.
In the Senate, however, Democrats still do not have a filibuster-proof majority, so Republican senators are in a position to carry more weight and squeeze concessions out of Democrats.
Moderates in particular have a chance to hold clout. Maine Sen. Susan Collins, for instance, just got a coveted seat on the Appropriations Committee, and Maine Sen. Olympia Snowe is a senior member of the Senate Finance Committee. Rothenberg said Sen. John Thune, R-S.D., and Sen. Lamar Alexander, R-Tenn., are two rising stars to watch. Alexander is Republican Conference chairman and Thune has moved into the ranks of leadership as a lead deputy to Whip Jon Kyl, R-Ariz. Thune has been a quiet voice of compromise on energy issues but a tough fiscal conservative.
Back from an exhausting presidential campaign, McCain, R-Ariz., also showed his maverick streak this week when he urged the Senate to move forward with the confirmation of Hillary Clinton for secretary of state.
Police-wise, issue No. 1 for many Republicans trying to regain the public trust will be the government's response to the economic crisis.
"They've got to get back to the old Republican bread and butter of fiscal responsibility," Rothenberg said.
Conservatives have long criticized the financial bailout package, charging that the distribution of funds was irresponsible. And in the upcoming stimulus package, Republicans are pushing against Democratic spending proposals and pushing for items like tax cuts. House Minority Leader John Boehner of Ohio and Republican Whip Eric Cantor of Virginia on Friday presented Obama with proposals that rely exclusively on tax cuts and envision none of the federal spending backed by Democrats and the White House.
Some of the GOP resistance is symbolic, though it provides political cover. For instance, Republicans in the House -- along with Democrats -- voted on Thursday to withhold the second half of the $700 billion stimulus package, even though a prior Senate vote in favor of releasing the money trumped any action from the House.
But Republicans caused headaches for Democrats earlier in the week when they waved around a report that showed the Democrats' economic stimulus proposal could take as long as 10 years to work its way into the economy.
"Our plan offers fast-acting tax relief, not slow-moving and wasteful government spending," Boehner said.
In response to the study, Peter Orszag, the director of the White House Office of Management and Budget, sent a letter to Senate Budget Committee Chairman Kent Conrad, D-N.D., late Thursday pledging that at least 75 percent of the stimulus package would be spent in 2009 and 2010.
McConnell said Friday that he wants to work with the Democratic administration, and he said reforming entitlement programs like Social Security and Medicare will be the next big task ahead. He said Obama "will have to engage Republicans" on that issue.
Analysts suggested Republicans should also reach out to friendly think tanks to bolster their agendas.
Republican National Committee Chairman Mike Duncan, who is running for another term, is doing that with his newly created Center for Republican Renewal, a think tank he says will help the GOP "reclaim the mantle as the party of ideas."
FOXNews.com's Judson Berger and FOX News' Trish Turner and The Associated Press contributed to this report.