Republicans battle college lobby, Dems in push to overhaul student loan 'maze'
Republicans have climbed the tax reform mountain. Their next summit: student loans.
A small group of GOP lawmakers is gathering momentum heading into the new year for yet another ambitious legislative drive, pursuing a revamp of the federal government's complex and costly education loan system.
Democrats and the college lobby already are lining up against what would be the first major reform of higher education laws since 1965. But the PROSPER Act has quietly advanced, passing the House Committee on Education and the Workforce last week.
"Change is difficult, and change in higher education is particularly difficult," North Carolina GOP Rep. Virginia Foxx, the chairwoman of the House Education committee, told Fox News. "They've always said that it's easier to turn a battleship than it is to make changes in education."
But Republicans see a broken system – one that leaves graduates with massive debt and without sufficient job skills despite billions spent every year in government aid.
Total student loan debt in America is now well above $1 trillion. One recent report put the average debt for the class of 2016 at over $17,000.
To address this, the PROSPER Act would put caps on the amount that students and parents can borrow, end some loan-forgiveness programs and consolidate student aid programs.
Republicans argue the abundance of federal student aid has driven up college costs, with schools feeling like they can charge more for tuition.
Their proposal, they say, would encourage people to borrow more responsibly for education.
"Somehow, despite the six types of federal student loans, nine repayment plans, eight forgiveness programs, and 32 deferment and forbearance options out there, college costs continue to surge, leaving millions of families paying the price for well-intentioned but poorly executed federal involvement," Foxx said during a recent hearing.
The overhaul would simplify an application process GOP lawmakers call a "chaotic maze," consolidating the various programs into one grant, one loan and one work-study program. It also simplifies repayment to a standard 10-year-plan.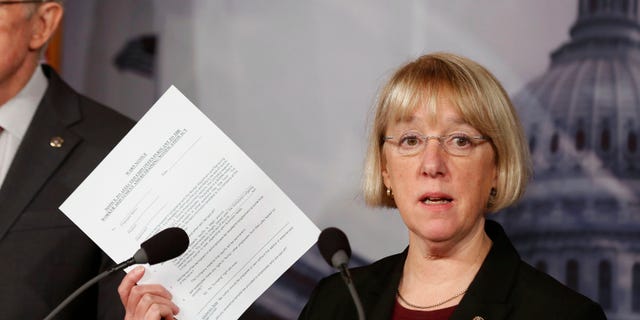 Under the bill, new borrowers also would no longer be able to participate in the Public Service Loan Forgiveness program, which provides forgiveness of remaining student debt if the person seeks a career in public service and makes 120 qualifying payments.
The program was designed to encourage people to enter public service jobs, but critics have expressed concerns about the high cost.
But where Republicans see an effort to nudge students into better borrowing decisions and limit the amount of debt they can take on, Democrats and university interests see a plan that would cut off aid options and make college more expensive.
"It is a bad bill for borrowers," said Terry Hartle, the senior vice president of the American Council of Education. "We are increasing the cost of college for students."
Washington Sen. Patty Murray, the top Democrat on the Senate Health, Education, Labor, and Pensions Committee, said the bill hurts those who need aid the most.
"This bill would hurt the students that need the most help by cutting billions in financial aid, making college more expensive, undermining protections for survivors of sexual assault, and loosening accountability standards to benefit for-profit colleges, which have a history of taking advantage of students and cheating them out of their education and savings," Murray said.
But supporters of the bill say the status quo needs changing, as financial aid has exploded in recent years.
"The only real beneficiaries of this set-up have been colleges and universities, which have been able to boost tuitions with impunity, and pour money into more administrators and fancier dining, while not having to worry about whether they're providing a useful service to their customers," read a recent editorial in Investor's Business Daily.
Foxx said more people are graduating from college every year – and yet employers still can't fill 6.2 million jobs with skilled workers.
"There's a mismatch somewhere and we're attempting to fix that," she said.
Foxx said she is hopeful the bill, which would also reauthorize the Higher Education Act of 1965, comes up for a vote in the House early next year.
"Things have gotten very, very complicated in the area of financial aid," Foxx said. "And so we are simplifying them."
The Associated Press contributed to this report.