Republican Corey Stewart announces 'ruthless' Senate campaign to take on Tim Kaine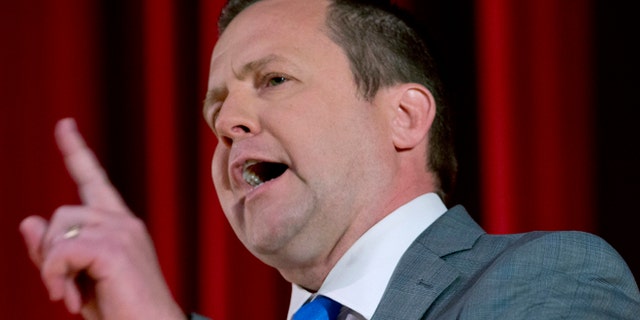 NEWYou can now listen to Fox News articles!
Former Trump campaign official Corey Stewart is setting his sights on the Senate after a recent failed bid for the Republican gubernatorial nomination in Virginia.
Stewart announced his campaign for Senate on Thursday, vowing to take on Democratic incumbent Sen. Tim Kaine.
"I'm going to run the most vicious, ruthless campaign to dethrone Tim Kaine from the United States Senate," Stewart said in the announcement.
The Republican candidate described Kaine as the "leading obstructionist" against the Trump administration, and claims that the seat must be held by a "fighter" who will defeat the Democrats.
"The era of the kinder, gentler Republican is over," Stewart said in a statement.
Stewart, chairman of the Prince William County Board of Supervisors, previously ran in the Virginia gubernatorial primary in June, losing to now-GOP nominee Ed Gillespie.
Stewart also previously served as Virginia co-chairman in the Trump campaign, but was fired from his position weeks before the election for his unapproved involvement in a rally outside RNC headquarters.
Stewart's platform remains closely aligned with Trump's. He wants to implement Trump's agenda with an emphasis on strong immigration enforcement and economic growth.
In noting Virginia's unfavorable view toward Trump, the candidate claimed he will gain popularity by focusing on jobs, safety, education and health care, rather than the Russia controversy.
"Tim Kaine wakes up every morning and worries about Russia," Stewart said. "[Kaine] is so focused on taking down the president of the United States that he's ignoring the true needs of Virginians and other Americans – and that is going to work to my benefit."