Report: George P. Bush's Texas Land Office paid nearly $1M to fired employees to keep them from suing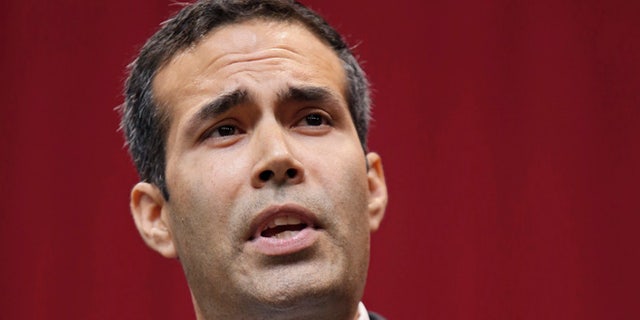 NEWYou can now listen to Fox News articles!
Texas Land Commissioner George P. Bush reportedly spent almost $1 million in tax payer money to induce people who were fired by his administration not to sue him or the agency, a new report found.
According to the Houston Chronicle , Bush – a first-term Republican and son of former Florida Gov. Jeb Bush – told the General Land Office to keep at least 40 people on the payroll for up to five months after they were fired. These former employees did not have to use vacation time and would accrue more paid time as long as they made an agreement in writing not to file a lawsuit against the agency or discuss the deal.
The firings were part of a "reboot" when Bush took office and replaced nearly 100 employees working for former Land Commissioner Jerry Patterson.
The report found that, under Bush, the General Land Office (GLO) "has given out nearly 1,850 days of pay to ex-staffers, costing taxpayers at least $655,000 in salaries, plus the additional costs for benefits that the ex-staffers received in that time, including leave accruals, health insurance and retirement contributions."
While these deals sometimes are made in the corporate world, they are not allowed in Texas' government – it has no severance pay and staffers are required to show to work to be paid.
"I can understand the thinking of an agency head who wants to get rid of someone and thinks that this is an easy way to do it, but this is not the way to do it," Buck Wood, an ethics expert and former deputy state comptroller, told the Houston Chronicle. "Keeping someone on the payroll when they're not coming to work so you can avoid the hassle of a lawsuit is just illegal."
The so-called "emergency leave" agreements were granted "to give [employees] time to seek other employment and to avoid the potential expense to the GLO of any administrative or judicial proceedings related to employment," the Dallas Morning News reported.
Lawmakers in Texas have promised to look into ways to limit the use of emergency leave for employees leaving state agencies.
"It's a misuse, and I hope my colleagues will agree with me," Texas state Sen. Royce West said. "That's not good cause. That's not an emergency. That's a severance. It's a misuse of taxpayer dollars."
The Chronicle story also revealed that the "emergency leave" practice is not confined to Bush's General Land Office as about 20 of Texas' 120 agencies have had at least 133 staffers finish their time on the payroll, with the Attorney General's Office, Teacher Retirement System and Water Development Board being the biggest users of the practice.