Report: Deportations Quadrupled With Obama, Two-Thirds Were For Minor Offenses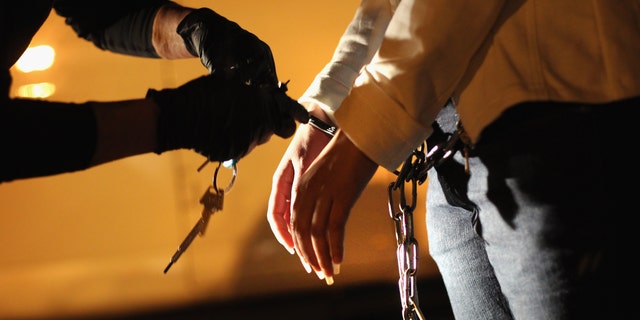 A new analysis of the record number of deportations during the Obama administration further reinforces claims that those who are removed from the country are overwhelmingly people who committed minor offenses or none at all.
The New York Times says that since the beginning of President Barack Obama's tenure, in 2008, two-thirds of the nearly 2 million people who have been deported had no criminal record or had committed minor offenses, such as traffic violations.
One out of five, or about 394,000, had committed serious crimes, the Times found.
The Times analysis involved government records, it said.
Obama's aggressive deportation approach has come under fire from advocates of more lenient immigration policies, who have been pushing for an overhaul of laws that would include a pathway to legal status for undocumented immigrants.
This weekend, groups against the aggressive deportation approach rallied in cities across the United States, calling on Obama to stop them and stop breaking up families.
"The records show the largest increases were in deportations involving illegal immigrants whose most serious offense was listed as a traffic violation, including driving under the influence," the Times story said. "Those cases more than quadrupled from 43,000 during the last five years of President George W. Bush's administration to 193,000 during the five years Mr. Obama has been in office."
The research, which mirror the findings of other reviews of deportations under Obama, was conducted by various organizations and institutions, including Syracuse University's Transactional Records Access Clearinghouse (TRAC) and the Immigration Policy Center.
Indeed, in 2013 both TRAC and IPC found that contrary to Obama's declaration in 2012 that deportation efforts would focus on serious criminals or national security targets, immigration officials were still going after people with minor offenses or no criminal history.
"Despite claims by U.S. Immigration and Customs Enforcement (ICE) that it prioritizes the apprehension of terrorists, violent criminals and gang members, the agency's own deportation statistics do not bear this out," said an IPC report last year. "Rather, most of the individuals being swept up by ICE and dropped into the U.S. deportation machine committed relatively minor, non-violent crimes or have no criminal histories at all."
Obama has met with Latino leaders, advocacy groups who back comprehensive immigration reform, and Congressional lawmakers who have criticized him over the deportations. He variously has told those with whom he's met that he alone cannot change immigration policy, and that he will review his options for sidestepping Congress while legislation remains stalled there.
Longtime observers have said Obama has tried to appease his critics on both sides of the immigration debate.
One the one hand, they say, he has allowed a tough approach to enforcement in response to conservative lawmakers who say he has not done enough to deter illegal immigration.
On the other hand, he has tried to remain in the good graces of Latino organizations and others by pledging to push for comprehensive immigration reform and, in particular, find a way to allow undocumented immigrants to legalize their status.
The Times analysis, which looked at more than 3.2 million deportations over 10 years, found that during that period, Mexican men who were 35 years old or younger remained the most often deported.
Also, people who re-entered illegally were deported at three times the rate – 188,000 – under Obama as they were under Bush.
"It would have been better for the administration to state its enforcement intentions clearly and stand by them, rather than being willing to lean whichever way seemed politically expedient at any given moment," said David Martin, a former deputy general counsel at the Department of Homeland Security, according to the Times. "They lost credibility on enforcement, despite all the deportations, while letting activists think they could always get another concession if they just blamed Obama. It was a pipe dream to think they could make everyone happy."
Follow us on twitter.com/foxnewslatino
Like us at facebook.com/foxnewslatino