Rep. Xavier Becerra becomes White House attack dog in defending executive action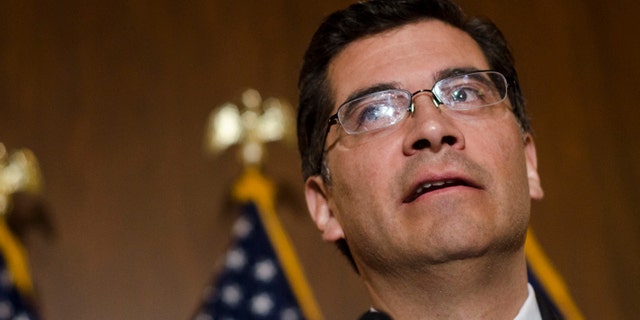 NEWYou can now listen to Fox News articles!
The issue of immigration got pointedly personal this weekend as Rep. Xavier Becerra lashed out at former Bush administration Attorney General Alberto Gonzales. The California Democrat seems to be emerging as the Obama administration's attack man in defense of the president plan to provide temporary relief to undocumented immigrants.
Appearing on a panel on CNN's "State of the Union," Gonzales said that President Obama should not act on immigration unilaterally now – before the end of the year, as he has vowed – when a new Congress will be in place in January.
"We now have a new Congress, a new congressional leadership, and I don't understand the urgency," Gonzales said, according to the Hill.
Becerra, a key player in immigration reform talks in the House, hit back, saying "If it were your child, and you were about to be separated from your child, simply because Congress is dysfunctional and doesn't get its job done, then you would say, 'My God, this is crazy, a citizen child being separated [from their family].'"
Becerra was part of a bipartisan group of congressional leaders who recently met with Obama in the White House after the Nov. 4 elections to discuss immigration reform and the president's plan to use executive action to unilaterally move on some aspects of the bitterly divisive issue.
Among some of those aspects reportedly under consideration are expanding the so-called "deferred action" – suspending deportation – to include parents of U.S. citizens, parents of undocumented immigrants brought here as minors, as well as others.
Beginning last week, when news broke that Obama was planning on shielding about 5 million immigrants from deportation, Becerra has become the attack dog of sorts for the Obama administration to try and line up for executive action.
Republican congressional leaders have said that the president must not seek to circumvent Congress on immigration, and that if he acts alone on some parts of this matter it will doom efforts to achieve bipartisan consensus on a comprehensive reform bill.
Obama has countered that Republicans in House, where they have had a majority, have lacked the political will to bring a workable bill to the floor for a vote, much less pass one. The Senate passed a bipartisan measure last year, but many Republicans in the House opposed it because it included giving some undocumented immigrants the chance to legalize their status – a move that critics called "amnesty" that rewards lawbreakers and encourages more illegal immigration.
Recently, Becerra locked horns on executive action on immigration with Sen. John Barrasso, R-Wyoming, a member of the Senate Republican leadership, on "Fox News Sunday."
"I believe it would hurt cooperation on every issue," said Barrasso. "It would be like the president pulling the pin out of the hand grenade and throwing in as we're trying to actually work together."
Becerra shot back: "I think the president has been very patient. He's been waiting a year and a half for the House Republicans to act on the bill that the Senate passed on a bipartisan basis."
"House Republicans continue to insist that the president must wait to help fix what everyone agrees is a broken immigration system," he added. "So, I think the president is right to move forward."
Follow us on twitter.com/foxnewslatino
Like us at facebook.com/foxnewslatino