Rep. Wu to Resign Following Accusations Over Sexual Encounter With Young Woman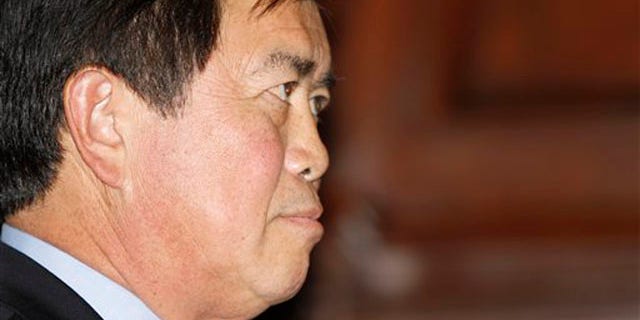 Democratic Rep. David Wu, facing eroding support from his party, plans to resign following allegations that he had a forced sexual encounter with a young woman last year.
The Oregon congressman said Tuesday that he would step down pending "resolution" of the debt-ceiling crisis. The announcement comes after he initially told colleagues he wanted to stay in office until the end of his term in early 2013.
"The time has come to hand on the privilege of high office," Wu said in a statement. "I cannot care for my family the way I wish while serving in Congress and fighting these very serious allegations."
Wu cited the "well-being of my children" in announcing his decision. He also said his resignation would "avoid any distraction from the important work at hand in Washington."
Though Wu initially tried to remain in office, House Democratic Leader Nancy Pelosi applied pressure to Wu Monday by formally requesting an ethics committee investigation into his actions.
Fox News has learned that the chiefs of staff for Oregon's two senators, Democrats Ron Wyden and Jeff Merkley, also spoke with Wu's chief of staff on Tuesday and said they would call for Wu's resignation if he did not step down. In their prepared statement, which they had at the ready, the senators called the accusations against Wu "jarring and exceptionally serious."
On the sidelines, fellow Democrats gently counseled Wu about his future up until his announcement.
Rep. John Larson, D-Conn., told Fox News that he told Wu to look to past situations.
"I said recent events should guide him as to how things can unravel around here," Larson said, in an apparent reference to former Rep. Anthony Weiner, D-N.Y., who had to resign after a recent sexting scandal. "No one can tell him what to do. And he doesn't have many options."
The Oregonian first reported that a young woman had left a voicemail for Wu at his office accusing him of an unwanted encounter shortly after last year's election.
The Oregonian reported Tuesday that Wu told Larson he will eventually be "vindicated" and that he "did nothing illegal."
Meanwhile, candidates may already be lining up to vie for his spot. One woman who identified herself as Saba Ahmed told Fox News that she's "running for his seat," before ducking into Wu's office Tuesday morning. Though she described herself as a "good friend" of the congressman, she said before his announcement that he should resign.
Fox News' Chad Pergram contributed to this report.