Rep. Sheila Jackson Lee alleges GOP plot to oust Deputy AG Rod Rosenstein 'on Friday'
Republicans have a plan to oust embattled Deputy Attorney General Rod Rosenstein "on Friday" as part of a concerted effort to "undermine" the Russia probe, Democratic Rep. Sheila Jackson Lee claimed in a surprise outburst that brought a congressional hearing to a temporary halt on Tuesday.
The House Judiciary and Oversight committees were questioning Justice Department Inspector General Michael Horowitz over his bombshell report into FBI and DOJ misconduct during the Hillary Clinton email probe.
As Rep. Jim Jordan, R-Ohio, questioned Horowitz, Jackson Lee of Texas repeatedly interrupted and asked permission from Oversight Committee Chair Trey Gowdy, R-S.C., for permission to make what she called a "parliamentary inquiry."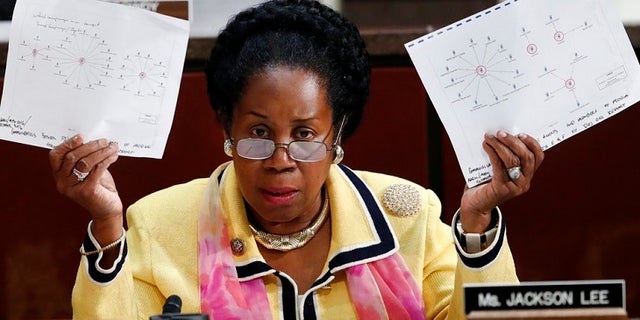 After Gowdy told Jackson Lee that she could not, she interjected: "Is it not appropriate to ask the question as to what is the germaneness of the gentleman's line of questioning, and whether or not we're dealing with the report of Mr. Horowtiz, or we're dealing with the Republicans' attempt to undermine the Mueller inquiry and to fire Deputy Attorney General Rosenstein, which they're planning to do on Friday?"
The outburst went unanswered. House Republicans do not have the authority to "fire" Rosenstein, who reports to Attorney General Jeff Sessions, other than through impeachment and conviction.
Members of the conservative House Freedom Caucus last month drafted impeachment articles against Rosenstein, and GOP representatives have floated the idea of impeaching Rosenstein in recent days.
GOP VOWS TO HIT DOJ, FBI WITH 'FULL ARSENAL OF CONSTITUTIONAL WEAPONS' IF THEY DON'T COMPLY WITH SUBPOENA
Last weekend, Gowdy told "Fox News Sunday" that House Speaker Paul Ryan led a meeting Friday night with senior members of the DOJ and FBI, and made it clear that "there's going to be action on the floor of the House this week if FBI and DOJ do not comply with our subpoena request."
The House Judiciary Committee has requested more than a million documents from the FBI and DOJ relating to the Hillary Clinton email probe, the firing of former top FBI official Andrew McCabe, and reported surveillance of a Trump aide during the 2016 presidential election.
But Republicans have accused the DOJ under Rosenstein and FBI of stonewalling and intentionally impeding their investigation, despite the agencies' claims that fulfilling the request requires a careful review of the sensitive documents.
Gowdy said the GOP's action could involve "the full panoply of constitutional weapons available to the people's house."
WATCH: GOP REP SAYS ROSENSTEIN SHOULD BE IMPEACHED
The House hearing came one day after the Senate Judiciary Commitee questioned Horowitz on his bombshell IG report.
The DOJ watchdog has confirmed to Congress that his office is investigating ex-FBI Director James Comey over his decision to memorialize and leak his private conversations with President Trump, as well as his use of a private email account to conduct official FBI business.
The IG also told Congress that his office is reviewing whether anti-Trump bias impacted the launch of the Russia probe.