Rep. Ros-Lehtinen Becomes Second Republican To Support Democrat-Led Immigration Reform Bill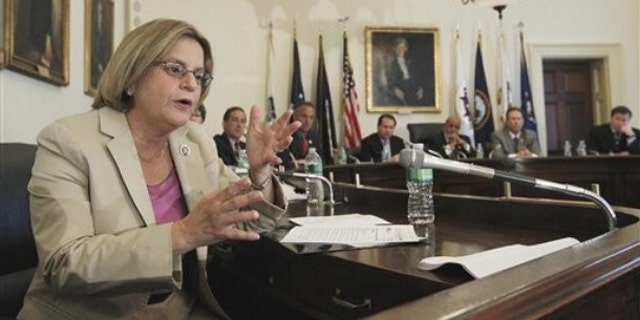 A Democrat-led comprehensive immigration reform bill in the House now has a second Republican sponsor – Rep. Ileana Ros-Lehtinen.
The Florida lawmaker said she was signing on to a bill introduced by a colleague, Rep. Joe Garcia, a Democrat who is also from the Sunshine State, in order to boost momentum for action in the House on fixing the country's flawed immigration system.
The Senate passed a bipartisan sweeping reform bill in June, but efforts to work on a similar large-scale measure have stalled in the House, where many Republicans are reluctant to approve any piece of legislation that gives a break to undocumented immigrants.
"I favor any approach that will help us move the negotiations forward," Ros-Lehtinen said in a statement that appeared in The Hill. "Other members may soon produce a bipartisan product that may also deserve support and I'm cautiously optimistic that we can pass meaningful immigration reform."
Rep. Jeff Denham of California became the first Republican to back the bill introduced by Garcia. Denham represents a swing district in northern California northeast of San Jose. He won his seat in 2012 with 53 percent of the vote.
"I want to fix it, I want to fix it once for my generation, for my children's generation and a pathway to earned citizenship must be included in immigration reform legislation," Denham said on a conference call with reporters.
Although House Republican leaders say they want to solve the issue, which has become a political drag for the GOP, many rank-and-file House Republicans have shown little inclination to deal with it. With just a few legislative weeks left in the House, it's unclear whether lawmakers will vote on any measure before the year is out.
Among the exceptions are Republican Reps. Mario Diaz-Balart of Florida and Darrell Issa of California, who have been working on possible legislation.
Diaz-Balart has said his bill would help those immigrants here illegally to "get right with the law," purposely avoiding the word legalization that he said is interpreted differently in the fierce debate over immigration.
Diaz-Balart had been slated to meet with the president on Tuesday, but the meeting was canceled and could be rescheduled, the lawmaker's office said late Monday.
The congressman mentioned the session in an interview with Florida radio station WGCU and his office confirmed the meeting.
The recent budget fight only inflamed conservative GOP feelings toward President Obama.
Obama on Monday reiterated his call for Congress to complete action on an immigration overhaul before the end of the year.
He said that represented the only way to end the record deportations of immigrants undertaken by his administration, actions he has tried to curtail by allowing young people who immigrated illegally into the United States — so-called Dreamers — to remain in the country under certain conditions.
Most House Republicans reject a comprehensive approach and many question offering citizenship to people who broke U.S. immigration laws to be in this country. The House Judiciary Committee has moved forward with individual, single-issue immigration bills.
The Senate bill, strongly backed by the White House, includes billions for border security, a reworked legal immigration system to allow tens of thousands of high- and low-skilled workers into the country, and a 13-year path to citizenship for the 11 million immigrants already here illegally.
Denham said House Democrats were willing to incorporate his separate bill that would allow immigrants who are in the county illegally to become legal permanent residents if they enlist in the military and become a citizen after four years of service with an honorable discharge.
The Associated Press contributed to this story.
Follow us on twitter.com/foxnewslatino
Like us at facebook.com/foxnewslatino