Rep. Joe Kennedy III delivers State of the Union rebuttal: What to know
Rep. Joe Kennedy III, D-Mass., a member of one of America's most prominent political families, took the national stage to give the Democratic response to President Donald Trump's State of the Union address Tuesday night.
Speaking from a high school auto shop in Fall River, Mass., Kennedy slammed "bullies" in his response to Trump.
"Bullies may land a punch. They might leave a mark. But they have never, not once, in the history of our United States, managed to match the strength and spirit of a people united in defense of their future," Kennedy said.
He also slammed the administration for "targeting the very idea that we are all worthy of protection."
House Minority Leader Nancy Pelosi and Senate Minority Leader Chuck Schumer announced on Jan. 25 that Kennedy would give the rebuttal. In a statement, Pelosi called Kennedy a "relentless fighter for working Americans."
Ahead of his remarks, Kennedy, 37, said he was "honored" to have been chosen to deliver the speech.
Here's what you need to know about Kennedy and his rebuttal.
Who is he?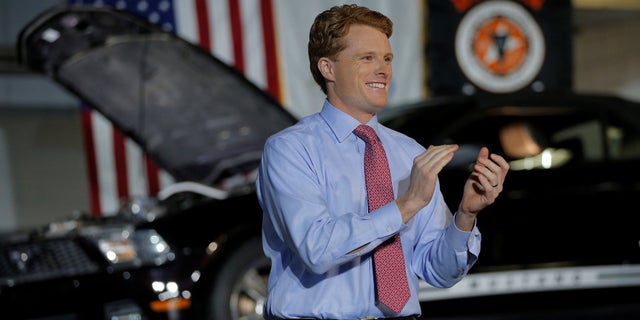 Kennedy is the son of Joe Kennedy II, a six-term Massachusetts congressman. He's also the grandson of Sen. Robert Kennedy, who was assassinated in 1968, and his two great uncles are former President John F. Kennedy and former Sen. Edward "Ted" Kennedy. (It's worth noting that in 1982, Sen. Edward Kennedy, along with other Democrats at the time, gave a pre-recorded response to former President Ronald Reagan's State of the Union message).
Kennedy, currently serving his third term, was born and raised in Massachusetts. He's a graduate of Stanford University, where he earned a bachelor's degree in management science and engineering, according to his biography. He later attended Harvard Law School, graduating with a J.D.
He and his wife, Lauren, a health policy expert, met during a class that Sen. Elizabeth Warren, D-Mass., taught at Harvard. The couple has two children together: a young daughter named Eleanor and a son, James, who was born in December 2017.
The young family lives with their dog, Banjo, in Newton.
What about his career?
Before entering politics, Kennedy served in the Peace Corps and then as an assistant district attorney in eastern Massachusetts, where he worked for Michael O'Keefe, "an old-school rough-around-the-collar Republican," Peter Ubertaccio, a professor of political science at Stonehill College, a school outside of Boston, told Fox News.
"It's an interesting part of his career -- that's really where he got his start," he added.
In 2012, Kennedy ran for a seat in Massachusetts' fourth district after Barney Frank, a longtime Democratic congressman, announced his retirement.
Frank's retirement was unexpected, said Ubertaccio. But for Kennedy, the timing served as the perfect way for him to "enter politics the way he wanted."
"He understands what it means to be a Kennedy. But he doesn't rest on that name. He works hard to develop his [personal] reputation."
As a representative, Kennedy has focused on educational access, health care and has "continued the conversation around STEM and STEM training," Ubertaccio said. STEM is an acronym for science, technology, engineering and math.
Kennedy is also a member of the House Energy & Commerce Committee, where he's focused on issues like mental health, addiction and energy costs, among other things. In the past, he was a co-sponsor of the Paycheck Fairness Act and opposed the Defense of Marriage Act (DOMA). The representative has also advocated for LGBTQ equality, voting rights and civil rights.
"He understands what it means to be a Kennedy. But he doesn't rest on that name. He works hard to develop his [personal] reputation," Ubertaccio said.
What does giving the rebuttal mean for Kennedy's career?
Kennedy has a good reputation in his home state, said Ubertaccio.
"He's developed a reputation for himself in Massachusetts as thoughtful and conscientious," he said. And while Kennedy can be "passionate and aggressive" on issues that he deeply cares about, the Massachusetts representative has worked in a "bipartisan fashion which is still expected in the state despite its liberal reputation."
But the rising political star has largely lacked national recognition up until now. Indeed, aside from introducing Sen. Warren at the 2016 Democratic National Convention, giving the rebuttal at the State of the Union is arguably one of Kennedy's most significant political moves to-date, said Ubertaccio.
"The national recognition will benefit him. If he wants to move up politically, this opportunity raises his profile," he added.
And giving the response does not just benefit the representative, Ubertaccio added. It also could be an advantage for the Democratic Party.
"In a time when the Democratic Party is struggling with its image, it's a smart political move to give a young leader the rebuttal," he said. "He's done an excellent job in Congress and is well regarded by those across the [political] aisle."