Rep. Bachmann 'Not Ruling Out' Bid for President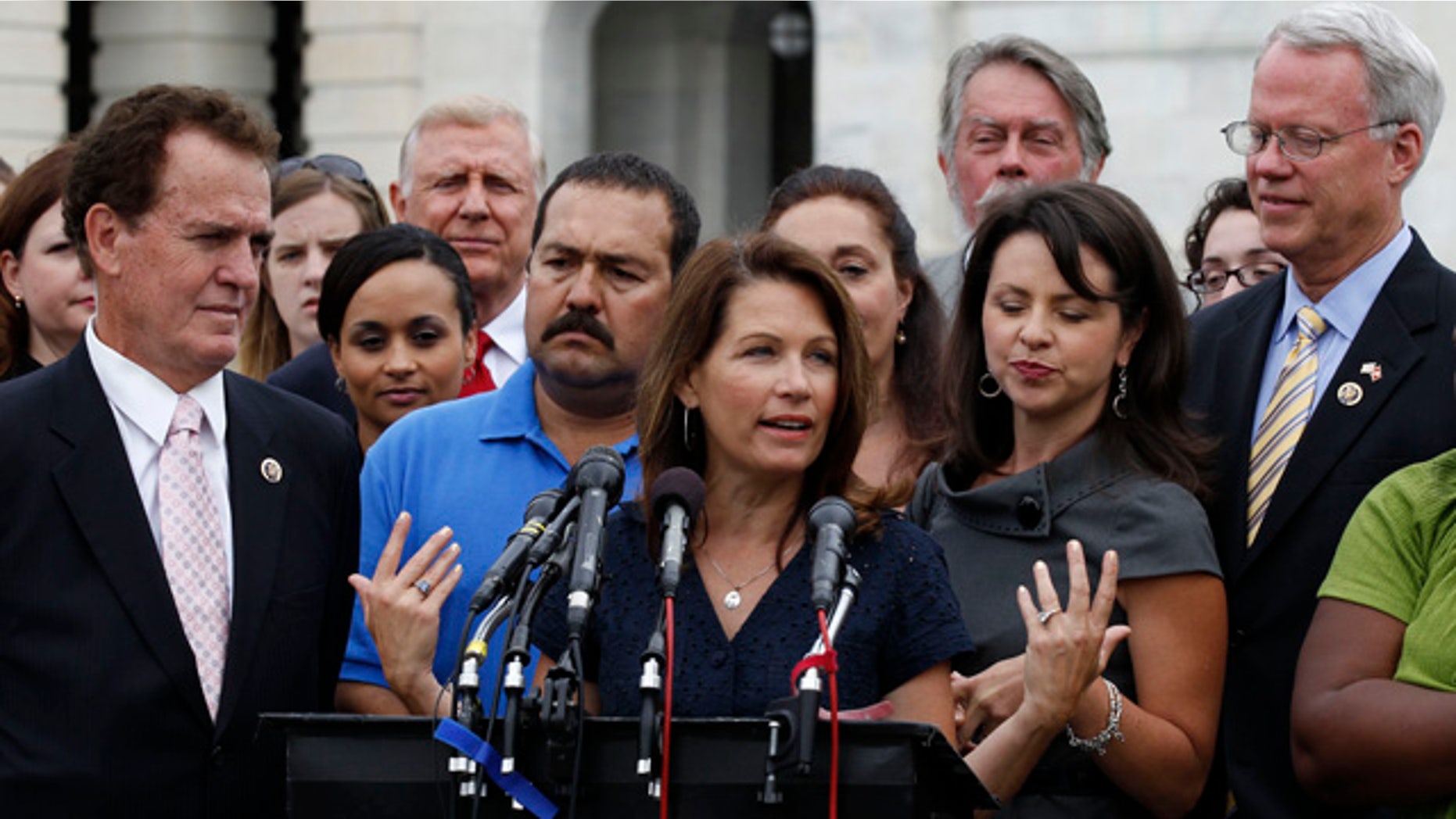 U.S. Rep. Michele Bachmann of Minnesota is the keynote speaker at a GOP event in the early presidential caucus state of Iowa later this month, and a spokesman said Wednesday that the Tea Party favorite has "not ruled out" a bid for president.
"Nothing's off the table for her," said Andy Parrish, Bachmann's chief of staff. "She's looking forward to traveling to Iowa for the fundraiser, and you know, she's looking forward over the next year to traveling and sharing the story of why we can't re-elect Barack Obama as president."
Parrish wouldn't say when Bachmann would decide. But he said she won't be affected by the decisions of fellow Minnesota Republican Tim Pawlenty or former Alaska Gov. Sarah Palin, whom Bachmann has previously called a good 2012 prospect.
Bachmann was traveling Wednesday and did not immediately respond to a request for comment.
Bachmann, who has drawn a national following with frequent guest appearances on cable and network news shows, broke fundraising records with an $11 million haul en route to winning her third term in Minnesota's 6th District. She also founded the congressional Tea Party caucus.
Bachmann, 54, is a native of Waterloo, Iowa, but as a child moved with her family to Minnesota. On Jan. 21, she will deliver the keynote speech at the Iowans for Tax Relief PAC Taxpayers Watchdog Reception in Des Moines -- an event co-hosted by U.S. Rep. Steve King and other prominent Iowa Republicans.
Parrish wouldn't say whether Bachmann would talk presidential politics with state GOP leaders. He said she made several trips to Iowa in 2010, and while he wouldn't reveal specific travel plans in the coming months, he said she could end up in other early caucus or primary states.
Bachmann has also been mentioned in recent weeks as a possible U.S. Senate candidate against Democratic Sen. Amy Klobuchar in 2012.
Pawlenty, whose two-term stint as Minnesota governor ended earlier this week, has laid the groundwork for a presidential campaign and made frequent trips to Iowa and other key states in recent months. Pawlenty has promised a decision in the next few months, and probably stands to lose the most if Bachmann jumps in. They share the same geographical base and the fiery Bachmann has generally inspired a more fervent following among both religious and fiscal conservatives than the low-key Pawlenty.
Asked if the GOP presidential race would have room for two Minnesota Republicans, Parrish deferred: "I can't answer that because the decision hasn't been made."