Rep. Anthony Weiner Retains Lawyer Amid Frenzy Over Lewd Twitter Photo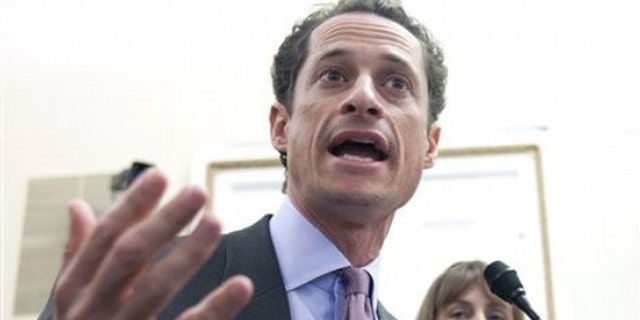 NEWYou can now listen to Fox News articles!
Rep. Anthony Weiner attempted to quell the media frenzy after he claimed his Twitter account was hacked and a lewd photo was sent to a college student in Seattle.
"I'm not going to permit myself to be distracted further," Weiner said. "The objective of the person doing the mischief is to distract me and I'm not going to let that happen."
Weiner repeatedly refused to say whether or not it was him in the photo.
Weiner told The New York Post that his office has "retained an attorney who is going to give us advice on this." After reports first surfaced on the photo, Weiner spokesman Dave Arnold said the congressman's accounts were "obviously hacked."
"He doesn't know the person named by the hacker, and we will be consulting on what steps to take next," he said.
Weiner later told the Post the incident was a "prank."
The U.S. Capitol Police so far have not opened an investigation into the matter.
The photo in question showed a close-up shot of a man's bulging underwear. It was deleted within minutes of being sent. Breitbart's BigGovernment.com first reported that it was tweeted to a Seattle woman, later identified as Gennette Cordova.
Cordova, a college student, issued a lengthy statement to The New York Daily News on Sunday saying that while she is a "fan" of the New York Democratic congressman, she has never met him and has never had "any inappropriate exchanges" with him. She lambasted those drawing attention to the incident.
On Monday, she was unclear on whether she thought hackers were behind the image.
"I do not back, nor do I doubt, any hacking theory," she wrote Monday.
Whether the work of a prankster, hacker or somebody else, the incident has set off an online frenzy of charges and denials.
Andrew Breitbart, who was first to report the picture, defended the story and his website, saying BigGovernment.com has followed the developments fairly and accurately. He suggested two possible explanations for the picture.
"What we know is that a link to a lewd photo was published from a sitting Congressman's Twitter account, directed at a female recipient, whom he was 'following,' but visible to everyone. Two broad possibilities exist: (1) the Congressman's Twitter account (and perhaps other accounts) were hacked, or (2) the Congressman or someone with authorized access to his Twitter account sent the photo," he wrote.
He called for an investigation into whether Weiner's account was indeed hacked and into "developing reports of young women among the relatively few people Congressman Weiner 'followed' on Twitter."
Twitter user Dan Wolfe, a self-identified conservative who apparently jump-started the Weiner frenzy by re-tweeting the lewd image, insists he did not hack Weiner's account.
"Didn't fake or hack anything. All real," he wrote on his Twitter account Sunday. Wolfe repeatedly called for an investigation, saying he has "nothing to hide" and that an investigation would point to Weiner.
Cordova also tried to vindicate Wolfe, taking to her Twitter page to say that while Wolfe is a "nuisance" and a "very annoying human being," she didn't think he was behind the incident.
Weiner, 46, is married to Huma Abedin, an aide to Secretary of State Hillary Clinton.