Religious group threatens to sue over tax credit denial for Noah's Ark-themed park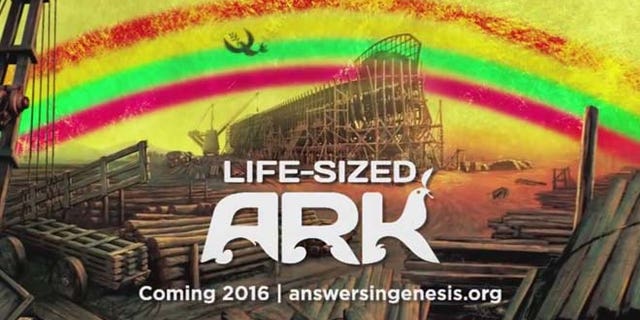 A battle over a Noah's Ark-themed amusement park in Kentucky could end up in federal court.
A religious group called "Answers in Genesis" (AIG) is threatening to sue over the Kentucky Tourism Board's refusal to allow tax incentives for the building of a theme park inspired by the biblical story of Noah's Ark.
The park, which is expected to cost about $172 million, will include a 510-foot wooden ark.
AIG was counting on building the park, which they claimed would create hundreds of much-needed jobs in the area, with the help of an estimated $18 million in tourism tax credits. But the state of Kentucky denied it, citing concerns over the group's allegedly discriminatory hiring practices.
"Answers in Genesis started to say that to work there you had to have certain religious beliefs, you had to agree with them on how to interpret the Bible, you had to agree with them on creationism, you even had to agree with their views on homosexuality," said Robert Boston, spokesman for Americans United for Separation of Church and State.
Kentucky Gov. Steve Beshear put out a statement explaining the decision. "We expect any entity that accepts state incentives not to discriminate on any basis in hiring," he said. "While the leaders of Ark Encounter had previously agreed not to discriminate in hiring based on religion, they now refuse to make that commitment and it has become apparent that they do intend to use religious beliefs as a litmus test for hiring decisions. For that reason, we cannot proceed with the tourism incentive application for the Ark Encounter project."
Answers in Genesis, which also runs The Creation Museum in Kentucky, is threatening a federal lawsuit, and fighting back with a multi-million-dollar ad campaign to gain support for the theme park project and counter "lies and vicious opposition of secularists," according to a company press release. The campaign includes 16 billboards in Kentucky and Ohio, as well as a digital billboard in New York's Times Square which continuously runs a 15-second video addressed "to all our intolerant liberal friends."
Mike Johnson, from the legal group Freedom Guard which is representing AIG, said "there's no violation of the Constitution" in the organization's hiring practices. "It's well established in federal law and in Kentucky statutes, as well as every other state, that religious organizations and entities and corporations get to abide by their beliefs and part of that is that they have the ability to hire persons who agree with their religious viewpoint."
AIG plans to go ahead with the Ark project, no matter which way the battle with the state goes. The group has not yet filed a lawsuit, but an AIG spokesman said its board is meeting to discuss that plan.
"Had they relied on privately raised money for that endeavor, I don't think anybody would've had a problem with it," Boston said. "But in fact they sought a variety of tax breaks and special tax incentives from the state of Kentucky and that put it in the position of essentially underwriting evangelism efforts with taxpayer money."
But Johnson said, "Religious liberty dies a slow death by cuts and these are the kinds of cases that do that. That's why Answers in Genesis has said we're going to stand very strongly on the Constitution and defend our rights, because it's not just our rights -- it's a lot of other organizations and religious groups around the country who might be affected by this."