Reid to support Iran nuke deal, fight to get it past Senate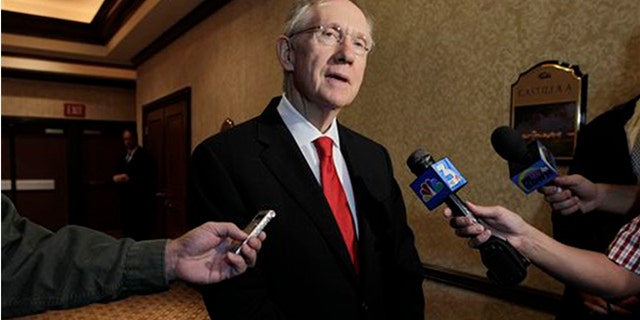 NEWYou can now listen to Fox News articles!
Senate Minority Leader Harry Reid will endorse the Iran nuclear deal, according to a statement the Nevada Democrat released Sunday.
"I strongly support this historic agreement and will do everything in my power to ensure that it stands," Reid said in the statement.
He called stopping Iran from obtaining a nuclear weapon "one of the most important national security challenges of our generation."
"This nuclear agreement is consistent with the greatest traditions of American leadership. I will do everything in my power to support this agreement and ensure that America holds up our end of the commitment we have made to our allies and the world to prevent a nuclear-armed Iran. I will vote no on the resolution of disapproval and urge my colleagues to do the same," the statement continued.
The Nevada Democrat's decision provides much needed support as President Obama tries to win approval for the plan.
"I'm going to do everything in my power to make sure the deal stands," Reid told the Washington Post, which first published reports of Reid's approval.
The multi-national deal would lift billions in crippling economic sanctions on Iran in exchange for the rogue country curtailing its nuclear-development program.
Congress must approve the deal before it can be completed and is scheduled to vote promptly after returning from summer recess on Sept. 8 -- near the end of the members' 60-day review period.
The House and Senate are expected to have enough votes to initially disapprove of the plan.
However, the plan is ultimately expected to go through because Obama will almost surely veto the disapproval measure. The Senate is not expected to have the two-thirds vote to override the veto, and the House override vote is also expected to be close.
Republicans who control both chambers largely disapprove of the plan and would need support from at least 13 Senate Democrats to override the veto.
Reid's support follows New York Democratic Sen. Chuck Schumer recently saying that he will not support the deal. Schumer is expected to replace Reid upon his retirement.
"We don't disagree on much, but we disagree on this," Reid said about Schumer's decision.
And last week, New Jersey Democratic Sen. Bob Menendez, a member of the Senate Foreign Relations Committee, said he would vote against the deal.