Reid in nasty battle with Trump over weight, injury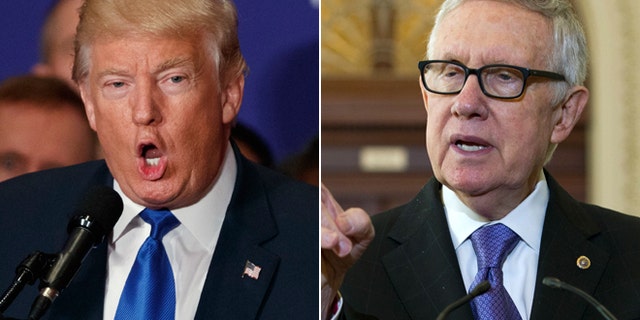 NEWYou can now listen to Fox News articles!
Senate Democratic Leader Harry Reid is fond of sparring with Republican presidential candidates, but the ex-boxer started an all-out street fight with Donald Trump this week -- and it only escalated Friday after the GOP nominee responded by mocking the injury that left Reid blind in one eye.
"Trump can make fun of the injury that took sight in my eye -- I've dealt with tougher opponents. With my good eye, I see Trump is a con-artist," Reid tweeted on Friday morning.
The political brawl started on Tuesday when Reid poked fun at Trump's weight.
While accusing the press of magnifying Hillary Clinton's pneumonia diagnosis and downplaying Trump's health issues, Reid said during a press conference, "He complains about her health? What does he do? He's 70 years old. He's not slim and trim."
Trump's health details released this week show he is somewhat overweight, and the candidate says he wants to lose 15 pounds. But he hit back hard at Reid for going there, making a mocking reference to Reid's 2015 home-gym accident -- which happened when an exercise band snapped, sending the 76-year-old to the ground. He broke several ribs and facial bones.
"Harry Reid? I think he should go back and start working out again with his rubber work-out pieces," Trump told the Washington Post on Wednesday.
Aside from the tweet, Reid also issued a written response to Trump saying with "my good eye, I can see that Trump is a man who inherited his money and spent his entire life pretending like he earned it."
This is not the first time Reid has engaged in a verbal battle with a Republican presidential nominee.
In July 2012, Reid took to the Senate floor to engage in speculation that Mitt Romney had not paid any taxes.
Speaking in the Senate on Thursday, Reid also unleashed a flurry of broadsides at Trump calling him a "human leech" and a "spoiled brat."
Reid, who is retiring in January after 33 years in Congress, also suggested earlier this summer that intelligence officials "fake" the security briefings given to Trump.
"How would the CIA and the other intelligence agencies brief this guy? How could they do that? I would suggest to the intelligence agencies, if you're forced to brief this guy, don't tell him anything, just fake it, because this man is dangerous," Reid said during an interview with The Huffington Post.
Reid's attacks may or may not damage Trump, but one of Reid's colleagues believes the real blow is to the Nevadan's own legacy.
"Harry Reid, for some time now, has been going beyond the line, making statements on the floor where words should be taken down," Sen. Roger Wicker, R-Miss., told Roll Call.
"And to hear in the last few months of his career, sadly, it's gotten worse. And it mainly looks bad for Senator Reid and his legacy."