Reid, Boehner Outline Competing Deficit Plans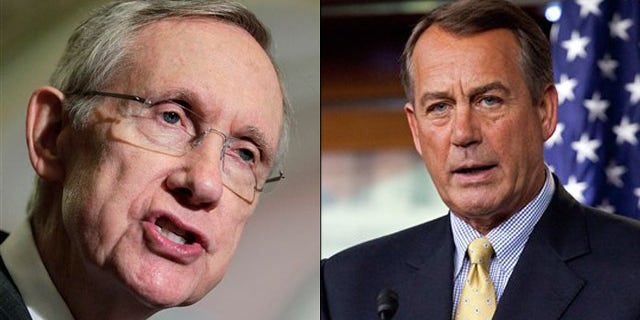 Republicans and Democrats outlined separate deficit-reduction proposals Monday afternoon, pushing ahead with bills that have a questionable chance of passing as the showdown over the debt ceiling intensified.
With negotiators unable to strike a bipartisan agreement, President Obama plans to address the nation Monday night at 9 p.m. ET regarding what the White House described as the "stalemate over avoiding default." House Speaker John Boehner is expected to deliver the Republican response after the president talks.
The administration says lawmakers must raise the $14.3 trillion debt ceiling by Aug. 2 to avert that possibility. After talks broke down late last week, party leaders came forward Monday with their own separate plans for dealing with the problem -- faced with a choice, the White House made clear that it backs the Democrats' approach.
Under that plan, put forward by Senate Democratic Leader Harry Reid, Congress would vote on $2.7 trillion in deficit reduction over the next decade, counting about $1 trillion in savings from ending the Afghanistan and Iraq wars. Included in that package would be an increase in the debt ceiling meant to last until 2013.
"Senator Reid's plan is a reasonable approach that should receive the support of both parties, and we hope the House Republicans will agree to this plan," White House Press Secretary Jay Carney said.
Reid said he "would hope" the plan can get a filibuster-proof 60 votes in the Senate.
However, Boehner is pitching his plan as the only product that can get through both chambers.
The Republican plan aims for slightly more in deficit reduction -- about $3 trillion -- but would split the votes into two parts. Congress would first vote for a debt-ceiling hike of $900 billion along with spending cuts worth slightly more, teeing up Congress for another vote next year only after a 12-member committee finds another $1.8 trillion in deficit savings. The plan would also require both chambers of Congress to vote on a balanced-budget amendment and cap discretionary spending.
Faced with some conservative grumbling, Boehner said Monday that the plan is "less than perfect."
However, he claimed the proposal can pass both chambers and urged Congress to act.
"Time's running short," he said, effectively daring Obama to veto it should it clear Congress. "It would be irresponsible for the president to veto such legislation, because it is a common-sense plan and will help us avoid default."
Boehner may indeed see a path to pulling his latest proposal through Congress. A Republican aide told Fox News that the reason the two sides could not come together over the weekend was because the White House -- not the Senate -- objected. The aide claimed Boehner and Senate Republican Leader Mitch McConnell were originally in agreement with Reid on the "general framework" for the two-stage plan that started to come together Monday.
But the aide said, "the president said 'no'" when Reid presented the plan to him. Afterward, both Reid and the White House were saying they oppose any short-term plan.
If the government's authority to borrow money isn't renewed by Aug. 2, the administration says the scenario would risk a first-ever federal default, with higher interest rates and other devastating effects cascading through the entire economy. However, recent higher-than-expected revenues to the Treasury could push that date back a week or so.
Both Boehner and Reid were hoping that by presenting their competing plans, they would demonstrate a seriousness that could prevent the world's financial markets from panicking and punishing the U.S. by demanding higher interest rates for the huge amounts of cash it must constantly borrow.
World markets fell Monday, starting in Asia and spreading to Europe. Futures augured losses on Wall Street, though a 100-point sell-off, or something in that range, is not considered a run on the market.
The Associated Press contributed to this report.