Regulation Nation: Farmers Worry Over Crop of New Rules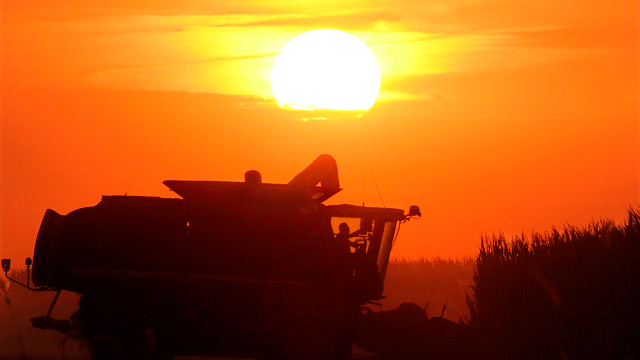 Farmers are concerned that some new, tighter federal regulations on agriculture are stunting the growth of their businesses and say regulatory uncertainty makes it difficult for them to plan for the future.
Steve Baker owns a small hog farm in Shenandoah County Virginia and while many of the federal standards that apply to larger operations wouldn't normally apply to him, similar Environmental Protection Agency rules intended to cut down on runoff into the Chesapeake Bay do. He has a professionally developed nutrient plan that governs his manure management and he closely monitors and documents where and how each load of manure is spread on his fields.
"Thirty years ago, it wasn't as big of an issue as today but today it is right in the forefront but, you know, we've just got to address it," Baker said. "It does take additional effort but we do what we have to and yeah, we do keep diligent records."
The EPA says it works with farmers when it develops regulations to find a balance between fulfilling its mission and being burdensome to agriculture.
"EPA is in close consultation with America's farmers and ranchers," a spokesperson said in a statement. "We have listened to their concerns and made them a part of the work we do."
But as much as current regulations, farmers say that uncertainty about what could come from Washington is one of their main concerns. Baker says he hears that from farmers all over the Shenandoah Valley.
"How their everyday practices may be affected and that change," he said when asked about their worries. "They're not really sure of how change is going to affect them."
Regulatory uncertainty from the EPA helps keeps eastern Virginia grain farmer Calvin Haile awake at night. His family's farm includes 2,600 acres of corn and soybeans in Virginia's Northern Neck.
"[A]ny kind of regulation from the EPA is worrisome to us," he said. "They have lot of power and nobody seems to have hold on what they can do."
Like Baker, EPA rules dealing with the Chesapeake Bay are a central part of Haile's business. Those regulations have kicked into high gear in recent years, something that's been noticed by farmers in other parts of the country.
At a stop on his Midwestern bus tour in August, an Illinois farmer noted the EPA's regulations on farmers along the Chesapeake Bay watershed in a question to President Obama.
"As a fourth-generation farmer, we're very concerned with some of the regulatory challenges that are coming our way as it relates to the Clean Air Act, the Clean Water Act," the farmer said to the president. "We're concerned with what's going in the Chesapeake Bay, and the fears that that might come to the Mississippi River Basin."
The president played down the concerns, saying that early regulatory ideas that aren't slated to become law can be blown out of proportion. Some others agree.
"You've heard of urban legends, well these are rural myths," said Don Carr of the Environmental Working Group, a Washington non-profit that advocates health and environmental regulation. "The big myth is that EPA is going to come in and regulate folks when the truth is that agriculture enjoys severe exemptions from the Clean Water Act and they're not regulated at all from row crop."
Carr contends the federal government should place more regulations on agriculture since, he says, farmers get money from Washington to meet those regulatory burdens.
But agriculture advocacy groups say local farmers are still shouldering a lot of those burdens.
"[T]hat doesn't mean farmers aren't expending their own money," said Katie Frazier, executive director of the Virginia Grain Producers Association. "It's not just a handout. There is actual money that is put out by farmers, between 50 and 75 percent sometimes on environmental practices are cost shared from the farmer's perspective"
And, Frazier says, it's difficult for farmers to meet regulations from multiple federal agencies when they use different sets of data to create farm regulations. She points to differences in how the Department of Agriculture and the EPA measure certain acreages in the Chesapeake Bay watershed and how they differ on credit given to farmers who change their environmental practices proactively.
"When you don't even have two federal agencies that can agree on the data, or might have a difference on the data, that causes some concern," Frazier said. "If at end of day if things would continue to go and [regulation is] not based on scientific data, some producers will probably decide to pack up and leave."
But the EPA says it doesn't have specific, major regulations on the horizon for agriculture and that many regulatory rumors simply aren't true. The agency points to reports of new dust regulations, state nutrient limits, spray drift standards, methane limitations on livestock and requirements to treat milk spill as oil spills as all being false.
The EPA says it is has instituted practices to cut down on the amounts of nutrients from animal waste generated by large operations and says the nutrient management plans and standards that govern the Chesapeake Bay watershed have been beneficial to both farmers and the environment.
Farmers like Baker believe being proactive and trying to stay far in front of future federal regulation is key. Several years ago, he spent $15,000 to install a manure pumping and holding system that allows him to have much more control of what's being applied to his land. While the money and time spent staying ahead of federal regulations are taken away from his business, Baker hopes regulations have to catch up to him, rather than him having to catch up with the federal government.
"We want to do what absolutely needs to be done because this is our livelihood, this is what puts a roof over our heads," he said.
Haile is also working ahead on conservation measures in anticipation of further regulations. He has been testing equipment that injects fertilizer under the soil, sending it closer to the plant's roots and helping prevent runoff. Haile uses global positioning on his equipment that works in tandem with a computer program to develop a plan that uses the least fertilizer to get the best crop yield. None of that is mandated and Frazier says it's an example of how the market can work better than the "regulatory hammer" to help the environment.
"You don't always have to have regulations to make a positive difference," he said. "Farmers have decreased the amount of fertilizer that they've been applying while increasing their yield for grain and corn production for the past 20 years."
Carr says that's not enough and that as commodity prices have risen, so has production. But he adds federal funding to help push farmers toward more conservation are dwindling.
"The problem with these conservation programs is they're constantly underfunded, they're constantly slashed with cuts, yet the farm subsidies that encourage production--and the end result is runoff pollution--those farm subsidies stay in place," he said.
Farmers say they fear more regulations would hurt a fragile business that is already working to avoid harming a fragile ecosystem.
"It's a big concern," Haile said. "I'm worried they're going to regulate us right out of farming… I just won't be able to farm profitably and comply with all the regulations, that's my concern for the future."