Red tape twister? Alabama county blocked from putting up signs directing people to tornado shelter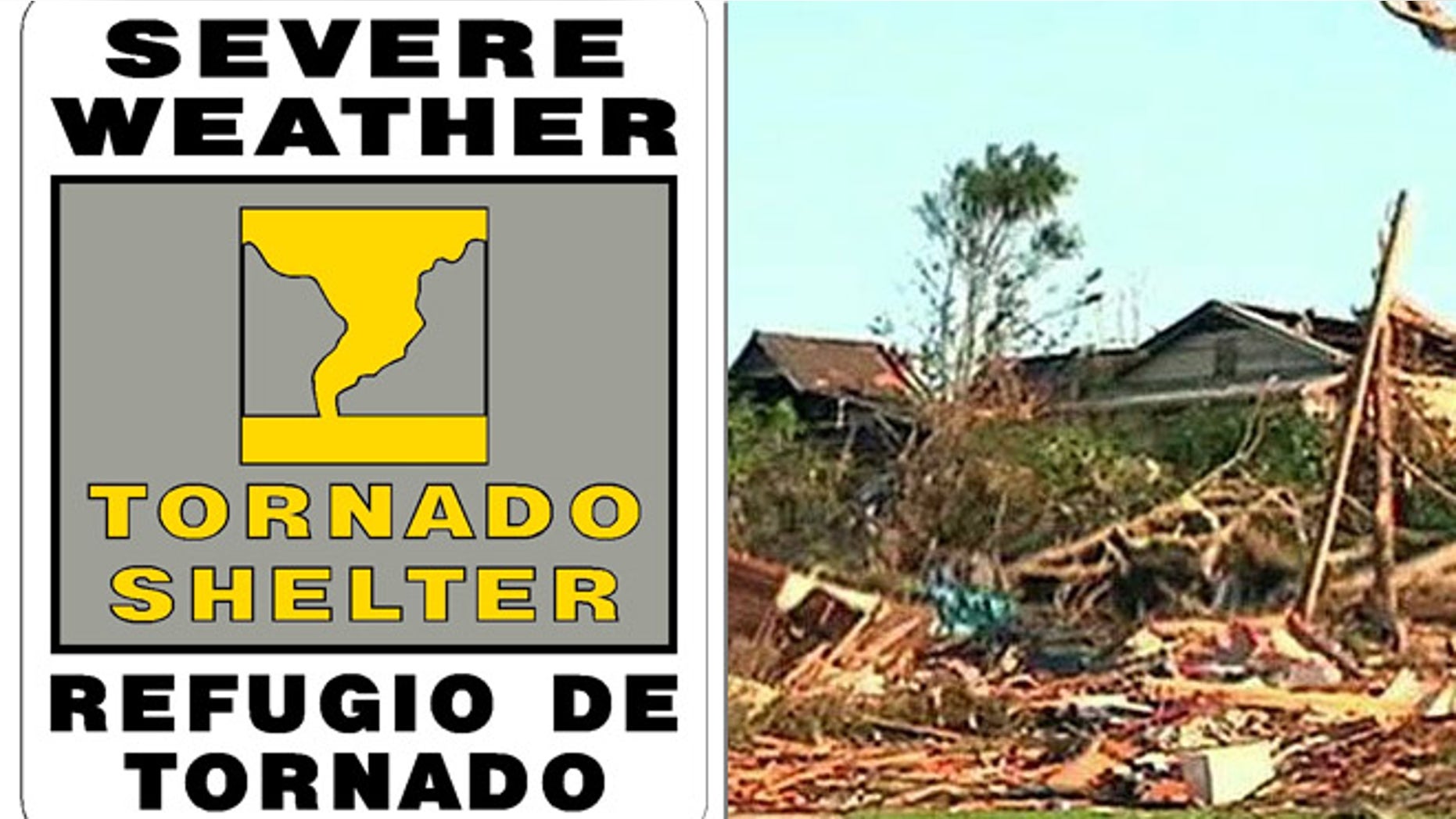 UPDATE ... 
The Alabama Department of Transportation has reversed course, and decided to work with officials in DeKalb County  to develop road signs directing people to a new tornado shelter.
The decision comes after Fox News reported, below, that the state was blocking county schools Superintendent Charles Warren from putting up road signs meant to guide people to the shiny new shelter FEMA built at Plainview High School.
ORIGINAL STORY ... 
Talk about a roadblock.
After waging a lengthy battle with state and federal bureaucrats over the right to have storm shelters, a tornado-stricken county in Alabama is running into another pile of red tape -- this time over the road signs directing people to those shelters.
As Fox News previously reported, DeKalb County officials fought last year to prevent the Federal Emergency Management Agency from tearing down tornado shelters that were being built at schools. The county won and was allowed to keep the shelters.
But now the state is stepping in to prevent county schools Superintendent Charles Warren from putting up road signs meant to guide people to the shiny new shelter FEMA built at Plainview High School. That school was devastated last spring by a tornado that roared through during the epic April 27 outbreak, in which 33 people lost their lives in DeKalb County.
Because the proposed road signs would be placed along a state highway, the Alabama Department of Transportation opposed Warren's request for street signs.
In an email exchange with Warren obtained by Fox News, DOT traffic engineer Travis Kilgore explained the state's position.
"The use of shelter directional signs have not yet been approved for installation on state roads," he wrote, adding that "the overuse and overcrowding of signs can be a distraction to motorist (sic) and often lead to a disregard or disrespect of necessary regulatory and roadway warning signs."
Alabama, it seems, does not consider directions to a tornado shelter "necessary." The email suggested that signs pointing the way to a shelter might only lead to accidents or an epidemic of disrespect for other road signs.
Kilgore insisted that students who would use the shelter during the day know where it is and that many local citizens nearby the school also know where it is -- so no need to put a sign on the state road telling them where to look.
He appeared, however, to concede that clear directions are important, but he didn't want state roads to be a part of it.
"We understand the importance of notifying and guiding the public to storm shelters, but we cannot permit these signs on state routes," he wrote.
Warren pleaded with the state DOT to change its mind, pointing out that Highway 35 is a busy route across the northern part of the state. Many people from out of town -- who missed all the news reports about the shelter's construction -- might be looking for a place to hide should a tornado suddenly appear, he reasoned.
"Their lives could be saved by knowing where a place of refuge is when a tornado is imminent," Warren wrote. "We have the signs -- two of them -- already manufactured and ready for placement."
Though the signs were already paid for, Warren offered to have them remade at county expense if they didn't meet state regulations.
"No cost would be associated or passed along to the DOT," he wrote.
But Kilgore resisted. He wrote back: "I admire your persistence in pursuing the 'Tornado Shelter' signs and commend the DeKalb County Schools for constructing the shelter, however, I cannot approve installation of the signs on AL-35.
"The Federal Manual on Uniform Traffic Control Devices requires States to develop a comprehensive plane (sic) to address miscellaneous guide signs and their installation on State roads.  We limit guide signs, other than the primary destinations (Towns and Cities), to those destinations that a large number of motorists may be looking for.  Our State Traffic Engineer has determined these signs are not approved for installation on State roads and has previously denied requests for shelter signs in South Alabama."
Fox News has reached out to the office of Alabama Gov. Robert Bentley, but has not yet received a response.