Recalled Miami-Dade mayor arrested for battery – over a cat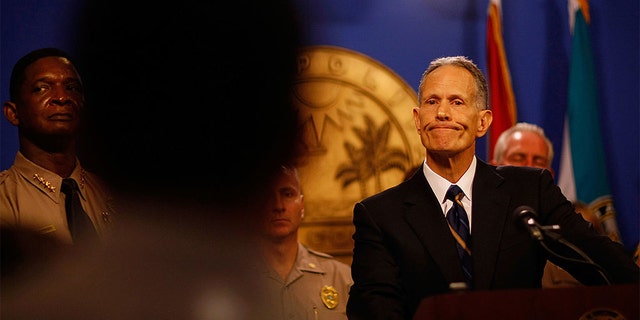 NEWYou can now listen to Fox News articles!
Former Miami-Dade County Mayor Carlos Alvarez, ousted from office in the largest local recall vote in U.S. history in 2011, was arrested for domestic battery in a fight over a cat last Saturday.
According to The Miami Herald, Alvarez, who became a bodybuilding champion after his disgraceful fall from public office, turned himself into police on Wednesday morning.
Police say Alvarez fought with a woman over a cat on Saturday and allegedly grabbed her and pinned her to the wall. He then began to swear and spit on her.
According to the police report obtained by the Herald, "The defendant grabbed the victim by both hands and pinned her against the wall in the building's parking garage. The defendant began spitting at the victim while he was yelling profanities at her."
The report did not identify the woman but media reports say she was his girlfriend for 14 years. The woman's daughter told police Alvarez had been violent with her mother since 2013.
Alvarez's lawyer told the Herald the former mayor "denies it in every way, shape or form" and is going to fight the charge.
Alvarez, who also served as Miami-Dade County police director, has rarely been seen in public since his humiliating recall in March 2011. Alvarez was ousted after over 200,000 voters in Miami-Dade County voiced their anger over a property tax hike and increased county employee salaries.
About 88 percent of voters voted to recall him – making it the largest county or city to recall a local official.
Though, generally out of the public spotlight, the mayor was spotted in 2013 flexing his biceps and tensing his spray tanned abs in a bodybuilding competition in Miami.
Not only did Alvarez compete – Alvarez finished in first place in the "Over 60s" Master's bodybuilding competition, beating five others.
Follow us on Twitter & Instagram