Rand Paul is Learning What It's Like to Be Me, Says Sarah Palin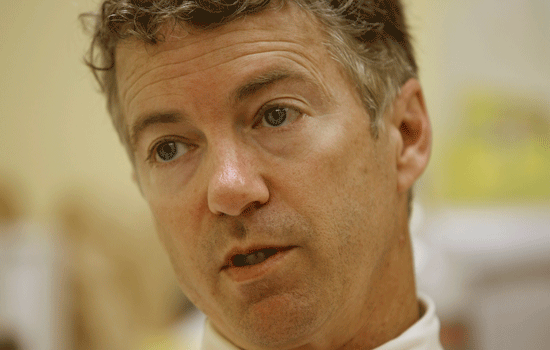 Kentucky Senate candidate Rand Paul is feeling what it is like to be Sarah Palin, the former Republican vice presidential candidate said Sunday, comparing the media's preoccupation with Paul's recent statements about the 1964 Civil Rights Act to her own treatment in the press.
Palin said that Paul is seeing firsthand how "gotcha" politics work after the libertarian-leaning Republican spent days on defense spelling out his support for the Civil Rights Act and the government's role in regulating how private businesses can deal with their customers.
"One thing that we can learn in this lesson that I have learned and Rand Paul is learning now is don't assume that you can engage in a hypothetical discussion about constitutional impacts with a reporter or a media personality who has an agenda, who may be prejudiced before they even get into the interview in regards to what your answer may be -- and then the opportunity that they seize to get you," Palin told "Fox News Sunday."
Last week, Paul went on defense, appearing on National Public Radio and MSNBC's Rachel Maddow show to say that he would've marched with Martin Luther King, Jr. in support of the Civil Rights Act, but is still critical of federal intervention in private business.
The appearances followed an interview last month with the Louisville Courier-Journal in which he said he would've voted for the 1964 legislation though he has some problems with it.
"I don't like the idea of telling private business owners -- I abhor racism. I think it's a bad business decision to exclude anybody from your restaurant -- but, at the same time, I do believe in private ownership. But I absolutely think there should be no discrimination in anything that gets any public funding, and that's most of what I think the Civil Rights Act was about in my mind," Paul told the newspaper.
In a statement released late Wednesday, Paul further detailed his point of view, saying that he "overwhelmingly" agrees "with the intent of the legislation, which was to stop discrimination in the public sphere and halt the abhorrent practice of segregation."
But, he added, the "federal government has far overreached in its power grabs."
Palin, who endorsed Paul in his primary bid, said she is thankful that Paul has had the opportunity to clarify his comments but he's facing a double standard. Paul wrongly anticipated being able to engage in discussion "with a TV character, a media personality, who perhaps had an agenda in asking the question and then interpreting his answer the way that she did," she said.
"And I think that more of those who serve in the Senate, and Rand we anticipate will be serving in the Senate, should ask questions about the constitutionality of policies that are proposed. I think more questions should be asked as to the impacts. And Rand isn't going to be shy about asking the questions," Palin added.
On Saturday, protesters demonstrated outside Kentucky Republican headquarters as Paul joined other Republicans for a unity rally in which the issue did not come up. And his views continued to dominate discussion on Sunday news shows, especially after he canceled his appearance on NBC's "Meet the Press" saying he was exhausted. His spokesman told The Washington Post on Friday that Paul was done discussing the topic in national media.
On Sunday, Sen. John Cornyn, R-Texas, told "Meet the Press" host David Gregory that Paul made the right decision to cancel his appearance.
"I think he did the right thing, as much as it is fun being here with you David, he needs to be home talking to the voters in Kentucky," Cornyn said.
Paul's retreat didn't stop Democrats from hammering away at the candidate and Republicans in general as several Democratic operatives said Paul represents a fundamental problem for the GOP.
"This is a symbol of what is happening to the Republican Party across the country," Democratic Senatorial Campaign Committee Chairman Robert Menendez said in his appearance with Cornyn. "The mainstream is losing to the extreme."
"I think the Tea Party candidates are going to be more easy to beat in a general election. I think that's the case with Rand Paul," Pennsylvania Democratic Gov. Ed Rendell said on CNN.
But Sen. Lamar Alexander, R-Tenn., said he doesn't expect long-term fallout from Paul's comments.
"You know, even a very good baseball player sometimes has a hard time going from AAA to the major leagues. And that's what happened to him last week. If he'll stick to the jobs, debt and terror and providing a check-and-balance on a runaway government in Washington, he'll be the next Republican senator. We'll be glad to have him," he said on CBS' "Face the Nation."