Rahm Emanuel to face election challenge from target of federal corruption probe: report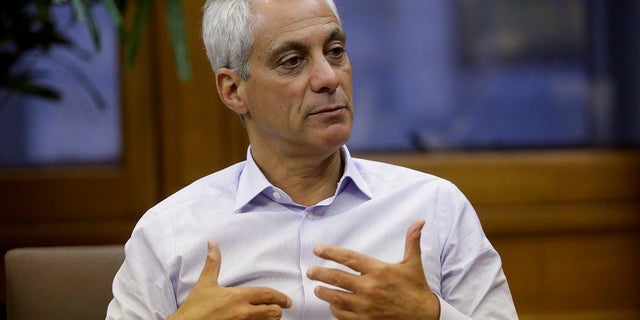 Despite being the focus of a long-running federal bribery investigation -- or perhaps because of it -- Cook County Circuit Court Clerk Dorothy Brown indicated Thursday that she's running for mayor of Chicago next year.
The news that Brown will take on incumbent Rahm Emanuel and others in February 2019 shocked even seasoned observers of notoriously corrupt Chicago politics, given the sprawling pay-to-play allegations that have swirled around Brown's office since 2014, the Chicago Tribune reported.
"I'm flabbergasted," Jacky Grimshaw, a former aide to former Chicago Mayor Harold Washington, told the Chicago Sun-Times. "It doesn't compute for me why anybody would do that unless it's to raise money. People have been known to do that before -- run for office as a way of raising money for a legal defense."
State authorities first began investigating Brown in May 2014, when her husband reportedly received a free building from one of Brown's campaign contributors. Brown promptly was named a co-owner of the building, and her company sold it for $100,000, the Tribune reported.
POLICE CHIEF FIRED BY RAHM EMANUEL WILL RUN AGAINST HIM FOR MAYOR
The FBI soon became involved, and reportedly seized Brown's cellphone in late 2015.
Among their investigative targets was former circuit court worker Sivasubramani Rajaram, who was hired by the circuit court in September 2014, shortly after lending $15,000 to a company controlled by Brown's husband.
"All Rahm has to do is put out the FBI stuff and she's dead in the water."
Rajaram pleaded guilty to lying to a grand jury about his communications with Brown after the incident. Separately, a top Brown aide has been indicted for lying about the alleged bribery going on in the office.
One circuit court employee told investigators that $10,000 is the "going rate" to purchase employment in Brown's office, according to the Chicago Tribune, citing court filings. Another employee reportedly said that Brown looked favorably upon gifts from employees.
WATCH: IS CHICAGO GUILTY OF LEGALIZED ILLEGAL VOTING
No charges have yet been brought against Brown, but analysts say the long-running probe all but ensures she will not take the mayorship.
Friends of Dorothy Brown, the political committee affiliated with Brown, had only $4,093 at the start of the month, according to filings cited by the Sun-Times, which noted that the money could be used to defray legal fees.
"All Rahm has to do is put out the FBI stuff and she's dead in the water," Grimshaw, the former mayoral aide, told the paper.
This will be Brown's second run for mayor. After her 2007 defeat, she remarked that voters had failed to "understand the magnitude of the crime and corruption" of then-Mayor Richard M. Daley.
Last month, former Chicago Police Superintendent Garry McCarthy, who said he was "thrown under the bus" when he was fired in 2015 by Emanuel, announced he's running for mayor.
At least five other candidates have declared their candidacy. If no candidate receives a majority of votes, a run-off will be held in April 2019.