Race to replace ex-Rep. Schock a classic GOP primary contest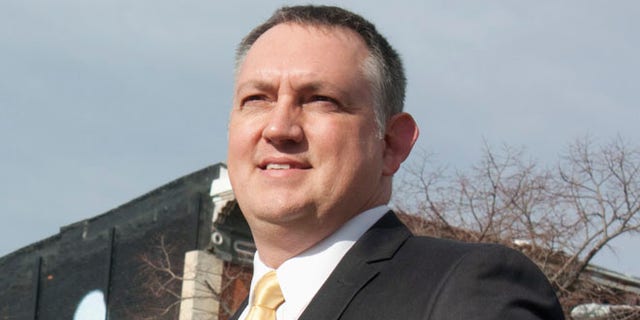 NEWYou can now listen to Fox News articles!
SPRINGFIELD, Ill. – The race to replace former U.S. Rep. Aaron Schock has shaped up as a classic Republican primary, pitting the son of a longtime Illinois congressman and Cabinet member against a conservative writer who has railed at what he sees as the "establishment" GOP hand-picking the disgraced lawmaker's successor.
Three Republicans and two Democrats will appear on Tuesday's ballots, but most eyes have been on State Sen. Darin LaHood, the son of former Transportation Secretary Ray LaHood, and Michael Flynn, who helped found the late blogger and commentator Andrew Breitbart's BigGovernment.com.
Candidates in the deeply Republican territory say Schock's resignation after mounting scrutiny of his extravagant spending, and the lingering scandal -- including grand jury and FBI investigations -- has left voters disillusioned. The former Republican representative enjoyed strong support and visibility beyond his central Illinois district until questions surfaced about his use of taxpayer funds, like for ornate office decor in the style of "Downton Abbey" or worldwide travels plastered on Instagram.
The five candidates hail from diverse work backgrounds and political ideologies, but they all argue one point in common: They're nothing like Schock. Here's a look at the race:
REPUBLICAN FACEOFF
LaHood, a former state and federal prosecutor, has the most name recognition and received early support from the Illinois GOP. He's raised roughly $1 million and picked up key endorsements, including from the National Rifle Association and the U.S. Chamber of Commerce.
He describes himself as "much more conservative" than his father, who worked in President Barack Obama's first administration, and notes his 100 percent rating from the American Conservative Union. But LaHood was critical of GOP leaders, saying the party needs to be more proactive by laying out alternatives to the Affordable Care Act and a clear plan for the economy, and by reducing the national debt.
"(Republicans) have to lead with conservative ideas and they're not doing that," said LaHood, 46. "They're not passing any bills and putting them on the president's desk."
Flynn says people are fed up with party politics, and he was motivated to run after it appeared the GOP had cleared the field for LaHood.
He claims candidate forums hosted by Republican county organizations have been tightly controlled -- when it comes to allowing news media coverage and when candidates speak -- and says there should be fuller debates on health care and tax structures. Flynn has raised about $63,000, but the conservative Person to Person PAC announced support of him this week and praised his writing, saying others "were too timid to stand up to power brokers."
Flynn, 47, a central Illinois native who also lived in Washington, has worked on local legislative campaigns.
SHAKING SCHOCK
Candidates say the circumstances of Schock's resignation in March have reverberated throughout the campaign.
"What happened to Schock is a parable," Flynn said. "People with a lot of promise and a lot of energy and a lot of opportunity and get so immersed in the system there, they feel they are above the law and are different."
LaHood said voters want someone who won't get "sucked in by Washington, D.C." He talked about staying "grounded" and said during the legislative session he drives more than an hour back and forth to Springfield each day so he can spend the night with his family.
Republican Donald Rients, who works for State Farm, and the Democratic candidates -- high school teacher and veteran Robert Mellon and Springfield school board member Adam Lopez -- all say the Schock situation levels the playing field because voters are frustrated with scandal, regardless of party, and want change.
THE DISTRICT AND TURNOUT
Illinois' 18th district comprises acres of rolling farmland to global manufacturers like Caterpillar Inc. The region includes at least part of 19 counties, and portions of Peoria, the state capital, Springfield, and the Mississippi River town of Quincy.
The geography presents problems for candidates, who have to travel wide to reach voters.
Turnout is expected to be low, considering it's a special election in peak summer vacation season. That puts pressure on the candidates to reach loyal party voters who are more likely to come vote.
The general special election is Sept. 10.