Public Unions Take Hit in Polls Ahead of Possible Federal Shutdown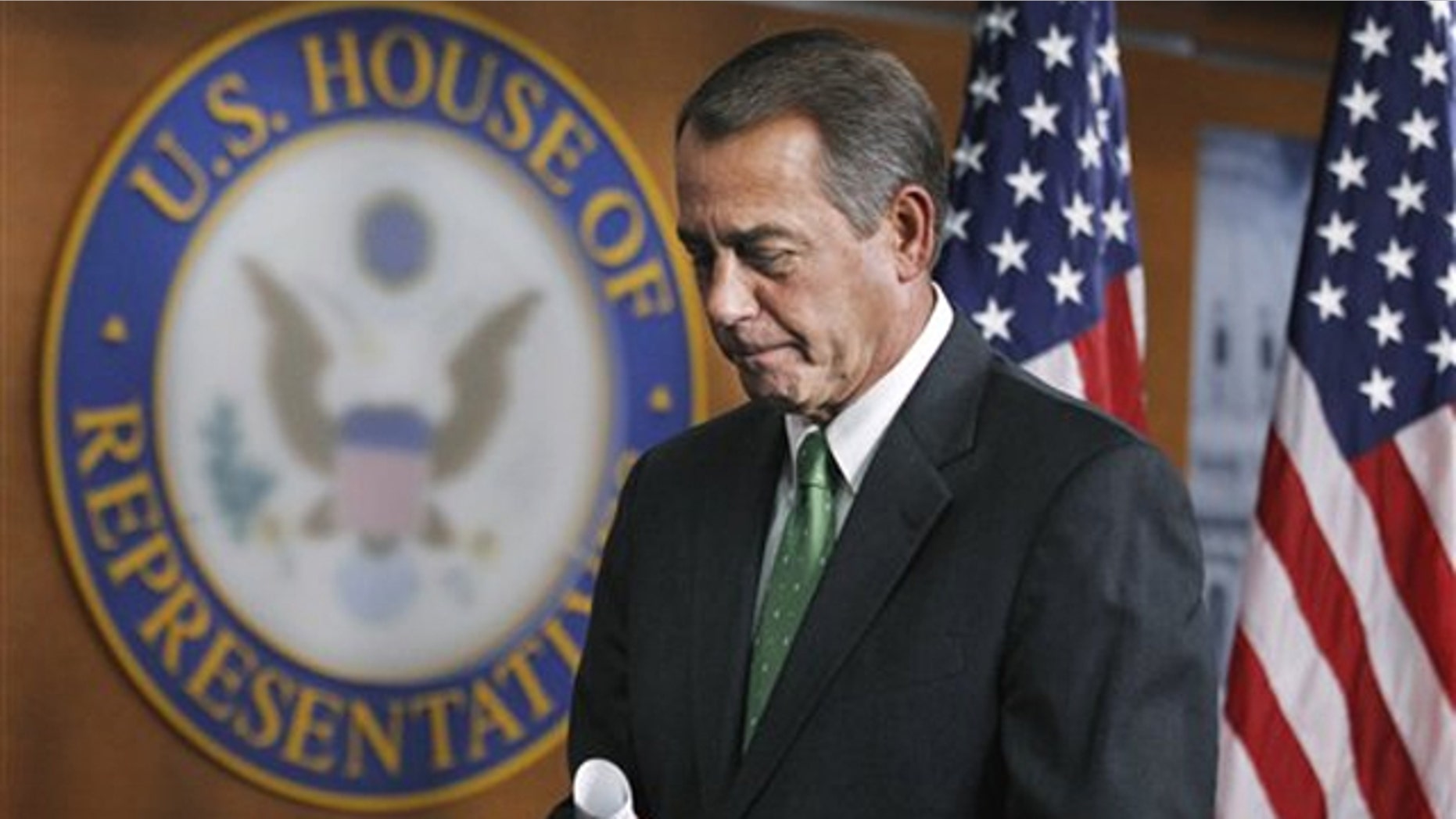 Congressional Democrats are accusing Republicans of setting Washington on course for a shutdown, warning that if the government goes off-line over a budget impasse it will count as a GOP "failure."
But should the doomsday scenario play out, some shifts in the public mood suggest Republicans might not endure the kind of backlash they suffered under Newt Gingrich in the aftermath of the 1995-96 impasse. Several recent polls show the public is souring toward public-sector unions amid concerns about the deficit. And if those trends hold, the image of furloughed federal workers might not generate the level of outrage some expect.
"There's a perception that was not present in 1995 that public employees are almost a privileged class," said Richard Vedder, an economics professor with Ohio University who studies the labor movement.
The federal employee unions are pushing back hard against the GOP-proposed cuts as lawmakers debate a spending bill to fund the government for the rest of 2011. Republicans want to cut $61 billion from 2010 spending levels, while Democrats are pushing for far more modest fiscal trimming.
The American Federation of Government Employees called the GOP proposal "devastating," warning that Republicans would cut billions from public housing, meals for the elderly and job-creation programs.
The National Treasury Employees Union called the proposed cuts "severe," saying they would "jeopardize" the ability of federal agencies to do their jobs.
And if Congress cannot reach an agreement, even a short-term one, before the March 4 expiration of the current spending bill, the unions are sure to lunge at Republicans once hundreds of thousands of their members are forced to stay home.
But opinion polls show the union image slipping as they prepare for battle, both at the federal and state level. In Wisconsin, unions are uniting in opposition to a proposal from Republican Gov. Scott Walker to restrict collective bargaining rights and require higher benefits contributions from state workers. But a new Rasmussen Reports poll showed 48 percent of likely voters agree with Walker.
According to the poll released Monday, 38 percent sided with the public employees. The survey of 1,000 likely voters was taken Feb. 18-19 and had a margin of error of 3 percentage points.
A national Clarus Poll released last week also found that 64 percent of voters think government workers should not have union representation. Just 29 percent said the opposite, in a survey of 1,001 registered voters taken Feb. 4-8.
And a Pew Research Center survey taken Feb. 2-7 found approval ratings for unions remain at historically low levels. The poll of 1,385 adults showed just 45 percent of people surveyed gave unions positive marks. The approval rating was comparable when people were asked how they feel about corporations.
Vedder said the changing perception of public-sector employees does not necessarily mean Republicans will escape public wrath if there's a shutdown.
"The Republicans have an ability to self-destruct," he said, noting that President Obama certainly has the "rhetorical skills" to make Republicans the culprit.
But he said House Speaker John Boehner seems more "attuned to the public mood" than Gingrich was.
"To the extent that history's changed, it's changed in (Republicans') favor," Vedder said.
The public response to a shutdown, should there be one, may be contingent on the kind of shutdown Washington faces and whether it cuts significantly into the basic services Americans expect from their government.
A CNN/Opinion Research Corporation poll from December showed that only 13 percent of people would consider it a crisis for the federal government to shut down for a few days. But that number grows considerably if the shutdown lasts a few weeks.
That's what happened between December 1995 and January 1996, when the government shut down for three weeks following the expiration of a short-term funding measure. About 284,000 federal workers were furloughed as a result. According to a Congressional Research Service report, the government stopped disease surveillance, put thousands of passport applications on hold, closed hundreds of national parks and cut back on services to U.S. veterans.
But a government shutdown doesn't mean the entire federal government goes dark. Presidential appointees and uniformed military, among others, are exempt. "Essential" employees working in defense, public health and other critical areas are also required to show up to work.