Proposed Solar Project Sparks Fear of Desert Tortoise Wipeout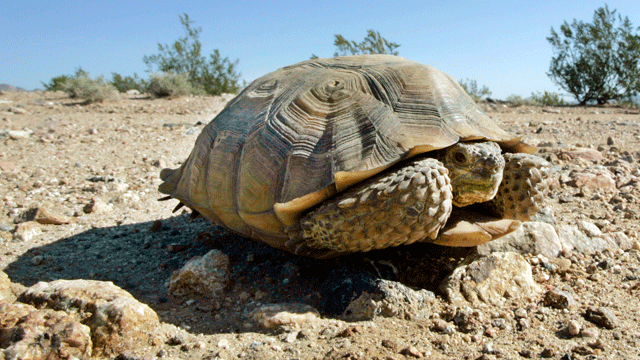 NEWYou can now listen to Fox News articles!
A proposed massive solar project in the California desert that is part of President Obama's commitment to clean energy has sparked fears that rare tortoises in the area will be pushed to brink of extinction even though the Interior Department is forcing the developer to purchase habitat elsewhere.
But environmental activists say it remains to be seen whether the tortoises will ultimately survive the changes.
"Only time will tell," said Donna Charpied, executive director of Citizens for the Chuckwalla Valley, who does not "openly support" the project but has worked with the developer on mitigation measures.
Interior Secretary Ken Salazar approved the 550-megawatt project this week. The Desert Sunlight Solar Farm will be built in the desert east of Palm Springs on 4,100 acres of public lands.Federal officials say the solar project will generate enough energy to power over 165,000 homes, create more than 630 jobs and infuse $336 million into the local economy.
The company, Desert Sunlight Holdings, a subsidiary of First Solar, has entered a 30-year contract to rent the public lands, paying $1.37 million per year until the project is operational, when the rent rises to $3.9 million. The total will amount to more than $41 million for taxpayers over 30 years.
First Solar will purchase an additional 6,400 acres of habitat for the desert tortoise.
"The BLM is committed to supporting a clean energy future for America by responsibly developing renewable energy on our country's public lands," BLM Director Bob Abbey said in a statement. "And part of that responsibility lies in mitigating the potential impacts of energy development on our wildlife and our lands."
A BLM spokeswoman told FoxNews.com that the agency identified some area of private lands that it would prefer First Solar to acquire as part of the mitigation for the project. But it is up to the company to find willing sellers and negotiate a price.
First Solar did not respond to a request for comment.
The private lands "would provide connectivity for desert tortoise, allowing them to move from the Chuckwalla Bench area to Joshua Tree and areas north," BLM spokeswoman Erin Curtis said.
She said the project will be built on "already disturbed lands that are considered marginal habitat for desert tortoise." The area has already been used heavily by industry, including Kaiser mine and the Colorado River Aqueduct.
If tortoises are encountered during construction, they will be translocated, Curtis said.
During initial surveys, only two or three tortoises were found in the project area, she said.
But Charpied said she has seen many more than that over the past 30 years that she has lived on her farm that is 600 feet away from the project. She noted that tortoises are shy creatures that may not have revealed themselves during the count.
Charpied said she has cooperated with the company after raising concerns because she realized "the project is going to happen."
"So just to ignore it and not have anything in place would be sheer murder," she said.
She said by engaging with the company, "we were able to forge the best mitigation that will provide extra levels of protection for our home, farm and community."
Curtis noted that BLM reduced First Solar's proposed total footprint from 19,000 acres down to 4,144 during a year-and-half review and came up with additional mitigation measures after hearing concerns about a number of issues.
"We have a multiple-use mission and part of that is protecting natural resources and part of multiple use is considering the use of land," Curtis told FoxNews.com. "It's certainly part of our multiple-use mission, conducted throughout our analysis, to come up with a project that is a win for all."
Charpied said the BLM is doing its job and just following orders from the president. But she took issue with the president's energy plan.
"I believe that President Obama's energy plan is misguided," she said. "It would be nice to have solar panels on rooftops, parking lots, next to transmission lines. But a lot of these projects targeting this area are the complete opposite of what the energy plan should be."