Pro-Life Leaders Denounce Murder of Abortion Doctor George Tiller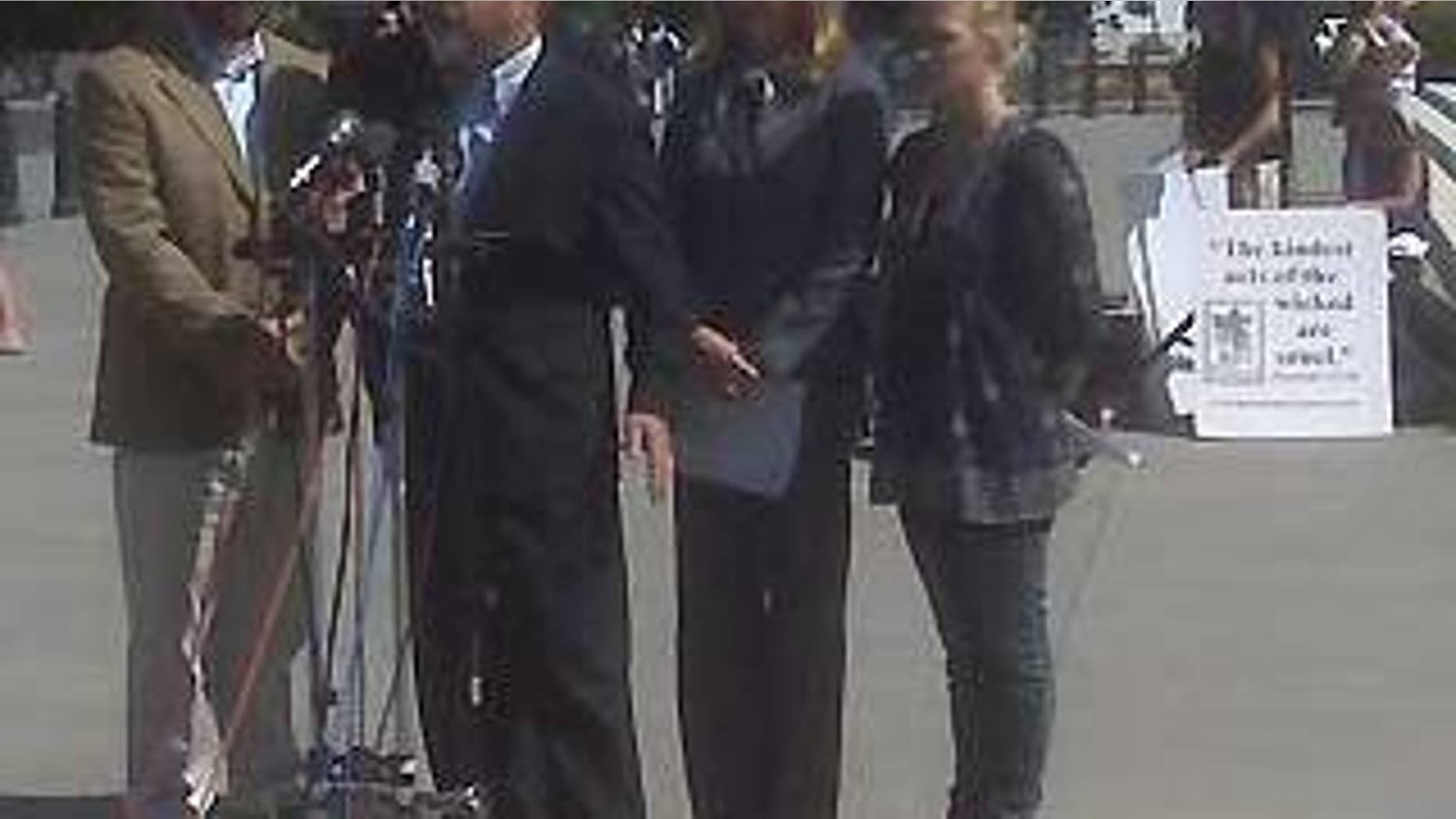 Leaders of the anti-abortion movement gathered in front of the Supreme Court Monday morning to denounce the murder of abortion doctor George Tiller, who was gunned down Sunday while attending church in Wichita, Kan.
The pro-life activists also used the platform to blast President Obama's abortion policies and strongly question the beliefs of his Supreme Court nominee, Sonia Sotomayor.
"It is immoral and it is unchristian," Rev. Rob Schenck of the National Clergy Council said of Tiller's murder. He said the reaction to it "becomes a greater setback to the pro-life movement than anything the so-called pro-choice movement could do."
"We call on President Obama and the [congressional leaders] not to use this tragedy for political gain," added Rev. Patrick Mahoney, director of the Christian Defense Coalitions.
Tiller was one of few American doctors who specialized in late-term abortions, and the eighth U.S. abortion provider murdered since 1977, according to the National Abortion Federation. Seventeen others had been targeted with attempted murder.
Tiller, who was cleared in March of 17 misdemeanor charges relating to his practice, had been the target of repeated protests and harassment for many years; he was wounded in both arms when an anti-abortion activist shot him in 1993.
The suspect in Sunday's shooting was identified by a law enforcement agent as Scott Roeder. Roeder, 51, was taken into custody about three hours after and 170 miles away from the shooting at Reformation Lutheran Church.
Police said Sunday that all early indications showed the shooter acted alone. Operation Rescue, a group that closely tracked Tiller's work and legal troubles, condemned the killing as vigilantism and "a cowardly act."
Troy Newman, president of Operation Rescue, told The New York Times that Roeder was "not a friend, not a contributor, not a volunteer," even though a 2007 post on the group's Web site was written by a man identifying himself as Scott Roeder who asked if anyone had thought of attending Tiller's church to ask the doctor and other worshippers about his work.
Operation Rescue's Web site was down on Monday.
The group's former president, Randall Terry, said that, despite Tiller's murder, abortion opponents must not retreat from calling him a "mass murderer."
"The pro-life movement must not be browbeaten by Obama or the child-killers into surrendering our best rhetoric, actions and images. We hold absolutely no responsibility for his death," Terry said in a written statement.
Separately on Monday, Mahoney said it would be a "double tragedy" if politicians or pro-choice groups painted organizations like his with the "broad brush of extremism and violence."
He also used the occasion to attack Obama's abortion policies as "extreme" and said there was no doubt, based on the president's record, that Sotomayor will be a vote for abortion rights if she is confirmed to the Supreme Court.
"Be honest with us," Mahoney said when talking about White House Press Secretary Robert Gibbs' comments last week that Sotomayor was never asked or explicitly stated her abortion views during the vetting process.
Mahoney took issue with the "code words" coming from the White House about Sotomayor and abortion. But he acknowledged that Sotomayor's record as a federal judge reflects something far different than someone pushing a pro-choice agenda. He conceded that in three known abortion cases before her, Sotomayor supported the position he advocated. None of those cases, however, directly challenged the controversial law.
FOX News' Lee Ross contributed to this report.