Private Sector Leads Way on Economy in March, Focus Shifts to Sustaining Momentum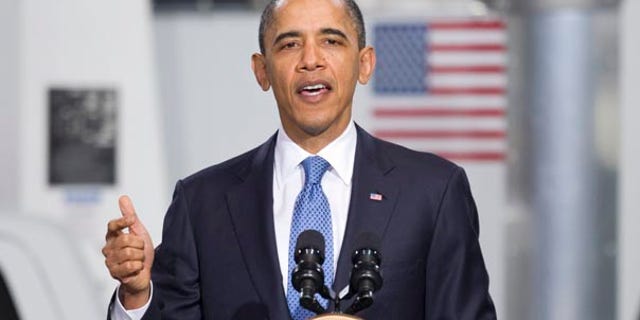 NEWYou can now listen to Fox News articles!
WASHINGTON -- With the economy showing signs of life in a new government report Friday, politicians on both sides sought to claim credit while turning their attention to ways to keep heading in that direction.
The jobless rate in March ticked down to a two-year low of 8.8 percent as the economy added 216,000 new jobs at the fastest two-month pace since before the recession began, offsetting layoffs by local governments, according to the Labor Department.
President Obama said despite the good news, "we have to keep the momentum going." He said he won't "rest until everyone who wants a job can find one."
The president, speaking at a UPS facility on a private-public partnership to assist companies' in creating fuel efficient vehicle fleets, said transitioning to a clean energy economy will help in that direction.
"First, it reduces the chance that our families, our businesses and our economy will be held hostage to the whims of the oil market. Second, investments in clean energy have the potential to create an untold number of new jobs and new industries right here in the United States," Obama said.
Obama's chief economic adviser Austan Goolsbee told Fox News that the top priority is getting people back to work but he didn't offer specifics on how the administration planned to do that. Goolsbee pointed to the tax deal Obama struck with Republicans late last year that cut the payroll tax for 150 million workers, saying that improved after-tax wages at time when energy and food prices are on the rise.
White House Press Secretary Jay Carney said in a tweet that with the economy showing signs of strength, "it's imperative we find common ground and not do anything to jeopardize recovery."
That was a not-so-veiled reference to the contentious budget negotiations between House Republican leaders and Senate Democratic leaders over what and how much to cut from current spending levels as a government shutdown looms next Friday.
House Republicans have passed a budget plan to slash $61 billion; Democrats are willing to cut $33 billion; but Tea Party activists and freshman lawmakers elected with their support are insisting on $100 billion in cuts.
House Democratic Leader Nancy Pelosi also made political hay out of the jobs report, crediting President Obama and congressional Democrats for taking steps to get the economy back on track and warning that Republicans are hellbent on sabotage by passing legislation that she claims would destroy more than 1 million jobs.
"Now is the time for Republicans to join Democrats to create jobs, strengthen the middle class, and responsibly reduce the deficit instead of threatening our economic growth and our families' economic security," she said in a statement.
Republicans, who also cheered the economic news, fired back that runaway federal spending, higher taxes and burdensome regulations are threatening to derail the recovery.
"Decreasing unemployment numbers are always welcome news," said Rep. Sam Graves, R-Mo., chairman of the House Small Business Committee. "But this number could be better and more Americans could be back to work faster if we eliminate excessive government spending, lower taxes and remove government regulations that are strangling job creation and halting economic growth."
Rep. Dave Camp, R-Mich., chairman of the Ways and Means Committee, added that the tax code should be overhauled.
"While we have taken a good first step in restoring confidence to job creators, we must continue to remove the impediments to sustained economic growth," he said.
The second straight month of brisk hiring is the latest sign that the economy is strengthening nearly two years after the recession ended.
Private employers, the backbone of the economy, drove nearly all of the gains. They added 230,000 jobs last month, on top of 240,000 in February. It was the first time private-sector hiring topped 200,000 in back-to-back months since 2006 -- more than a year before the recession started.
The unemployment rate dipped from 8.9 percent in February to 8.8 percent in March. The rate has fallen a full percentage point over the last four months, the sharpest drop since 1983.
Sen. John Cornyn, R-Texas, sought to claim party credit for the falling unemployment rate.
"Since Republicans convinced our colleagues across the aisle not to raise taxes, America has added nearly 650,000 jobs and the unemployment rate has dropped from 9.4 percent to 8.8 percent," he said in a statement.
"Nevertheless, Washington's regulatory uncertainty is keeping many job creators on the sidelines and many millions of Americans unemployed," he added. "If we really want to kick our economy into high gear, we need to reign in federal bureaucrats who are making it difficult to predict future energy and health care costs, as well as access to credit."
Economists predict employers will add jobs at roughly the same pace for the rest of this year. That would generate about 2.5 million new positions. But that will make up only a small portion of the 7.5 million jobs that were wiped out during the recession.
And the economy faces other pitfalls. Local governments, wrestling with budget shortfalls, cut 15,000 workers last month and are expected to keep shedding jobs. Home prices are falling amid weak sales and a record number of foreclosures. Higher food and gas prices are leaving consumers with less disposable income to spend on other goods and services.
Campaign for America's Future, a progressive group, said layoffs by federal and local governments are sabotaging the recovery.
"To no one's surprise, the federal and state governments are sending out pink slips," said Roger Hickey, co-director of the group. "This means cops, teachers and firefighters are losing their jobs at time when where are no other jobs available. The economy is not firing on all cylinders, which is why this is the worst time to lay off middle class Americans."
The number of unemployed people dipped to 13.5 million in March, still almost double since before the recession began in December 2007.
Including part-time workers who would rather be working full time, plus people who have given up looking altogether, the percentage of "underemployed" people dropped to 15.7 percent in March.
The U.S. Chamber of Commerce warned that the turmoil in the Middle East, the nuclear crisis in Japan and the fiscal problems in Western Europe has undermined the global economy and could imperil the U.S. economic recovery.
"If these problems were to spill over to the U.S. economy, causing growth to slow below its potential rate of growth of between 2.5 - 2.75 percent, they could upset the modest job gains we've seen thus far," the chamber said in a statement.
The Associated Press contributed to this report.