Prime chance in Iowa for potential 2016 GOP candidates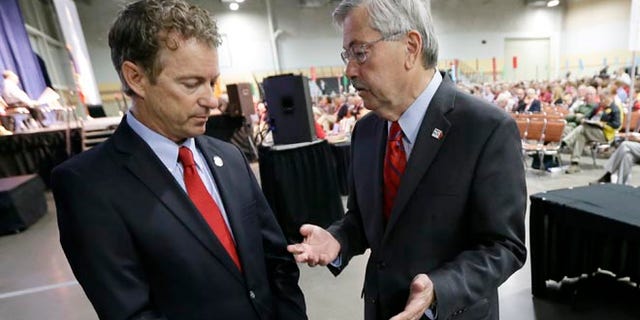 AMES, Iowa – The calendar says Iowa's presidential caucuses are more than a year away. But it's never too early for potential GOP presidential candidates in 2016 to court social conservatives in the early-voting state.
Texas Sen. Ted Cruz, Texas Gov. Rick Perry, Louisiana Gov. Bobby Jindal and former caucus winners Rick Santorum and Mike Huckabee already have spent time in Iowa and returned Saturday to address more than 1,000 evangelical voters at the Family Leadership Summit in Ames.
Santorum told the crowd that the Republican Party needs to better appeal to working-class voters.
"We're the party of the average person. We have to start talking at them like a party that represents everybody, not just a certain few," said the former senator from Pennsylvania, who argued for tax benefits for manufacturers, more technical job training for workers and a focus on family values.
Christian conservative voters traditionally influence the caucuses because those activists tend to be organized and motivated to participate.
With a wide field of possible contenders, this group has not settled on a favored candidate.
Some potential candidates skipped the gathering. Kentucky Sen. Rand Paul did tour the state this past week. But New Jersey Gov. Chris Christie, former Florida Gov. Jeb Bush and Wisconsin Gov. Scott Walker have spent little time in Iowa.
Iowa Gov. Terry Branstad recently led an effort to install new leadership in the state party and to bring more traditional Republicans into the fold, in hopes of making the state more attractive to mainstream candidates.
But the expected turnout at the summit shows the faith vote remains powerful.
"The Christian community, which is passionate about two issues -- abortion and traditional marriage -- they're going to come to the caucuses," said Jamie Johnson, a pastor from Stratford who served as an adviser to Santorum in 2012. "To ignore Christian conservatives in Iowa is to say, `I'm not interested in winning."'
For Huckabee, the next presidential election is a new opportunity for conservative Christians to be heard.
"I think it's important to motivate faith voters because a lot of them sat out the last election," said the former Arkansas governor. "It's not the only part of the constituency, but it's an important part."