Primary election postponed for 2 precincts in Hawaii after storm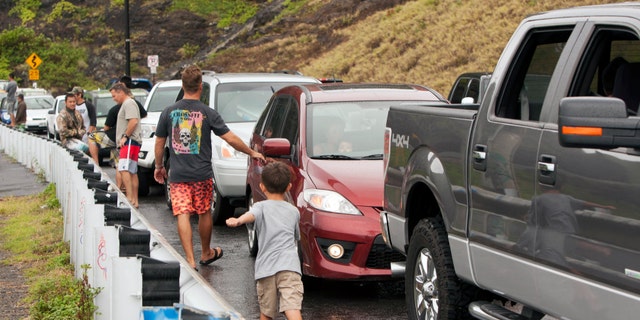 Hawaii election officials were scrambling Friday to set up polling stations ahead of the state's primary election, which officials determined will go ahead as planned despite rain and winds from Tropical Storm Iselle that have pounded the islands and another storm that could arrive later this weekend.
Officials postponed voting in two precincts on the Big Island where "there are miles of roads that are obstructed" and power outages, Attorney General David Louie said. About 8,000 affected voters will be able to cast absentee ballots later.
Louie said he did not anticipate any other problems with voting Saturday.
"They have to open up their roads before the shelters can be cleared. They'll continue to look at that and make sure that they're able to bring in their polling equipment," Louie said Friday.
Among those on the ballot is Gov. Neil Abercrombie, a Democrat who has been a constant presence on live newscasts during the storm. He faces a strong challenge from a fellow Democrat, state Sen. David Ige. Abercrombie stressed that he's removed himself from election conversations as he deals with the storm.
"I have not had a single word or consultation with that. I have absented myself from that completely," he said.
Still, his extra TV time could provide a boost after a recent poll showed him trailing Ige, who has offered himself as an alternative to voters unhappy with Abercrombie's perceived confrontational style. Ige promised in a campaign flier that "there will be no name-calling when I disagree with anyone."
In another top-ticket race, incumbent U.S. Sen. Brian Schatz faces a challenge from U.S. Rep. Colleen Hanabusa to fill the rest of the late U.S. Sen. Daniel Inouye's term. The race divided Democrats after Abercrombie nominated Schatz, his lieutenant governor at the time, to replace Inouye after his death in 2012 despite Inouye saying he wanted Hanabusa to succeed him.
Seven Democrats are competing to replace Hanabusa in her congressional seat. Voters are also weighing contests in the Legislature, where both the Senate and House of Representatives are controlled by Democrats, and mayoral contests in Maui and Kauai.
With power out to thousands of homes on the Big Island and Maui, and others mopping up from the storms, Election Day turnout could be lower than usual, although at least half of Hawaiians were expected to vote early.