Pressure on House to vote on immigration renews focus on enforcement, 'sanctuary' laws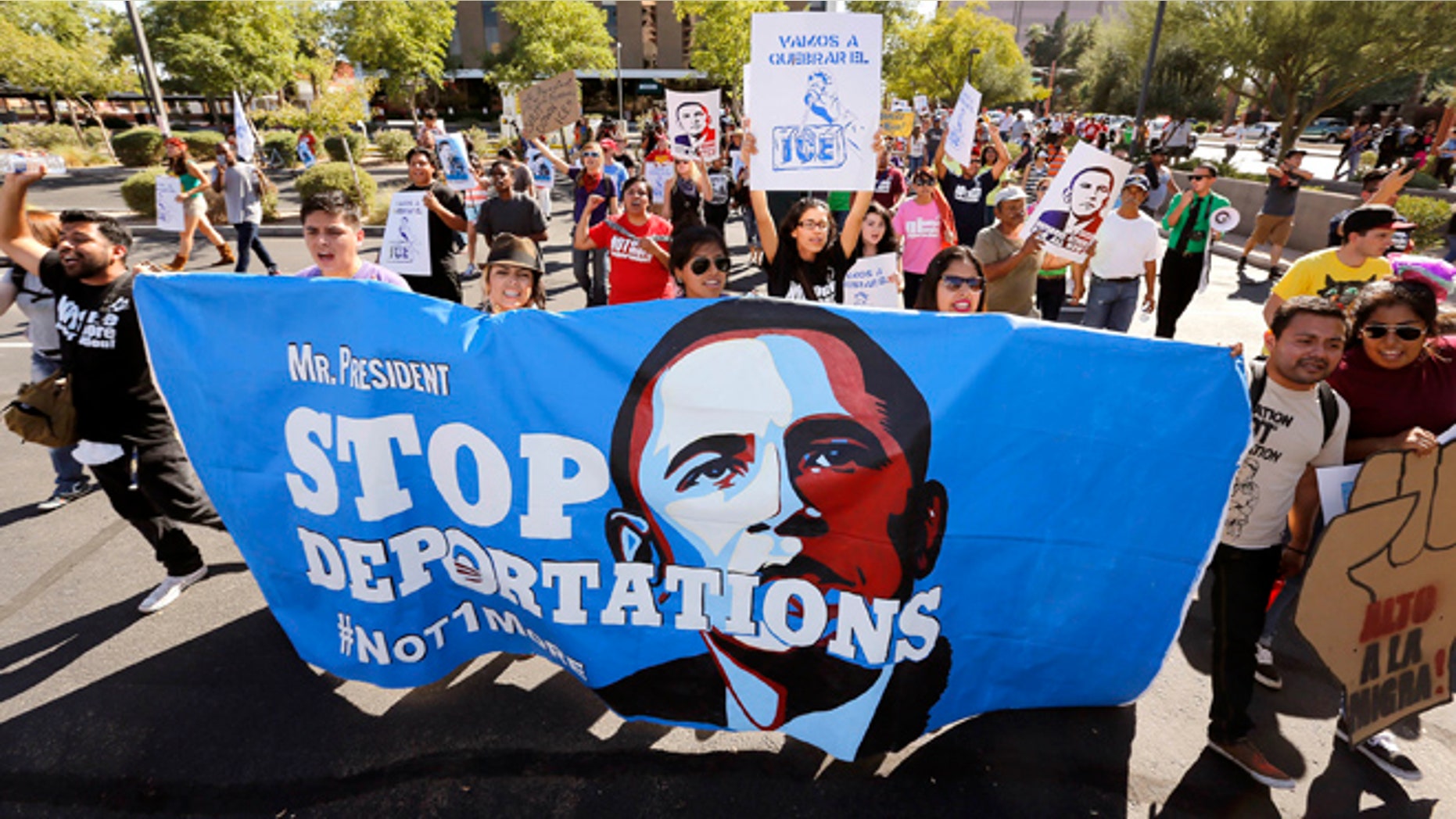 Conservatives and others concerned that the House will pass Senate-like, comprehensive immigration reform are rallying around a singular argument to head off such a possibility -- that the government won't enforce the accompanying laws.
They argue President Obama cannot be trusted to enforce the laws and that state and local governments across the country have already established roadblocks to enforcement. They point most recently to a study by the Federation for American Immigration Reform showing 103 U.S. cities, towns and counties have resolutions, ordinances, executive actions and other initiatives "designed to thwart federal law enforcement efforts."
Whether the Republican-led House will vote on immigration reform has become a hot issue on Capitol Hill now that lawmakers have, at least temporarily, resolved their recent fiscal crises and with just 16 more days remaining in this legislative session.
House Speaker John Boehner has expressed interest in allowing votes on several incremental immigration bills, which would likely include one on tighter border security.
However, those concerned about the enforcement of immigration laws also fear House leaders will take their legislation to a conference committee with Senate Democrats and leave with a comprehensive bill that is tantamount to amnesty for many of this country's 11 million illegal immigrants.
"If the leadership appoints conferees and we go to conference committee with the Senate over the Schumer-Rubio amnesty bill, the odds are pretty good they're going to come out with something that is basically the same as Schumer's bill," Mark Krikorian, executive director of the Center for Immigration Studies, said recently.
That situation might put enough pressure on Boehner to put that bill to a full floor vote, which would likely pass with support from House Democrats and moderate Republicans, critics argue.
In addition, roughly 130 pro-enforcement groups recently sent a letter to Boehner asking him to not allow House immigration legislation to reach the conference committee.
The FAIR study released Friday shows the majority of so-called "sanctuary" policies, 104 including the District of Columbia, have been put in place since Obama took office in 2009 and that almost half were set in the past two years.
"All across the country, local officials are buckling to special interest demands that immigration lawbreakers not only be tolerated, but protected," group President Dan Stein said.
The sanctuary policies essentially provides leeway for state and local police officers in complying with a 1996 federal law requiring them to assist the U.S. government with illegal immigrants. The policies also essentially say  the officers do not question the status of suspected illegal immigrants.
California and Connecticut are among the major states to have sanctuary-type policies, with many East Coast cities having similar ones.
FAIR spokesman Bob Dane said Wednesday he thinks Americans are concerned about Obama not enforcing the law in large part because his administration has issued guidelines on who Immigration and Customs Enforcement agents can pursue and because of the president's 2012 Executive Order that allows young people who entered the country as children to remain for two years without fear of deportation.