Presidential campaign may have large impact on U.S. Senate race in California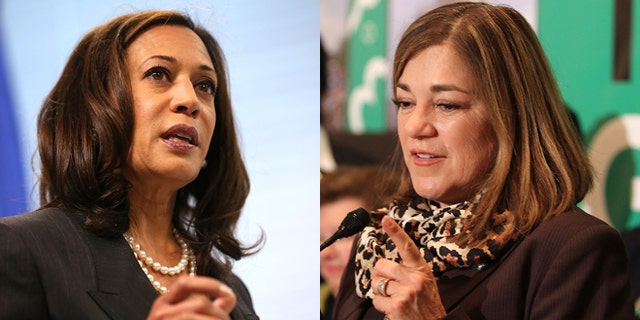 NEWYou can now listen to Fox News articles!
The tenor of the presidential race between presumptive Democratic nominee Hillary Clinton and presumptive GOP nominee Donald Trump could have an impact on the senate election in California.
Rep. Loretta Sánchez, the daughter of Mexican parents, is in the running to replace retiring Sen. Barbara Boxer, having succeeded in being one of California's two top vote-getters in the open primary contest for the seat.
But with 16 percent of the vote to Kamala Harris' 40 percent, she has a steep hill to climb.
Sánchez, 56, is in her 10th term in Congress. Harris, 51, is the state's attorney general, which gives her the kind of statewide recognition political observers say Sánchez lacks and needs.
Harris has had the blessing of the Democratic establishment since shortly after she declared her candidacy. Supporters of the congresswoman felt the push on Harris' behalf, by both Washington D.C.-based and California Democratic leaders, has put Sánchez at a great disadvantage.
Sánchez tends to do well among Latinos, who have said they favor her 2-to-1 over her rival. Harris reportedly did will, however, in some areas of California with significant Latino populations in the June 7 primary.
Harris' father is African-American and her mother is Asian-American. She is far ahead of Sánchez in endorsements (including from Gov. Jerry Brown and the Hispanic civil rights icon Dolores Huerta) as well as in fundraising.
Louis DeSipio – a political scientist at the University of California, Irvine – says that to give Harris a run for her money, Sanchez will have to target a broad section of the electorate.
"In order to win in November, Sánchez will need to build a coalition of moderate Democrats, Republicans and Latinos," he told Fox News Latino. "Harris would also be wise to also seek Latino votes to reduce Sánchez's chances, so both could be making outreach, which would be good for California Latinos in 2016 and beyond."
Others agree that winning Latino support will be a key factor, but that alone will not be sufficient.
"Sánchez leads in terms of Latino support, but I don't think it will be enough for her to win," said Jessica Levinson, a political professor with an expertise in elections at Loyola Law School.
The general election campaign between Clinton and Trump is the big wild card.
The real estate tycoon, of course, has alienated Latinos in the state by talking about Mexicans who enter the U.S. illegally being criminals and "rapists," proposing to build a wall along the border and forcing Mexico to pay for it and, most recently, stating that Judge Gonzalo Curiel, who is presiding over a federal lawsuit alleging fraud at Trump University, cannot be impartial because of his Mexican heritage.
"People will come out for the presidential race" in above-average numbers, Levinson believes. She added, "It's hard to know how that will break for Harris and Sánchez. If Latinos really come out because they hate Donald Trump, that could help [Sánchez]."
The lawmaker's second-place win in the primary, DeSipio said, shows that she will be "able to run a competitive race in the fall. She won a decisive second place."
Her victory, however, may be more a reflection of a failing by the state's "Republican Party than any particular strength of hers."
Sánchez has been a controversial figure, speaking off-the-cuff in ways that have drawn fire.
"She's her own worst enemy sometimes," DeSipio said.
But Sánchez, who was once a Republican, might be able to appeal to GOP voters if they see her as the more moderate of the two candidates, DeSipio noted.
"On a series of issues, she has taken more moderate positions than the California party mainstream," he said.
Like us on Facebook
Follow us on Twitter & Instagram