President Obama Packs Schedule with Campaign Events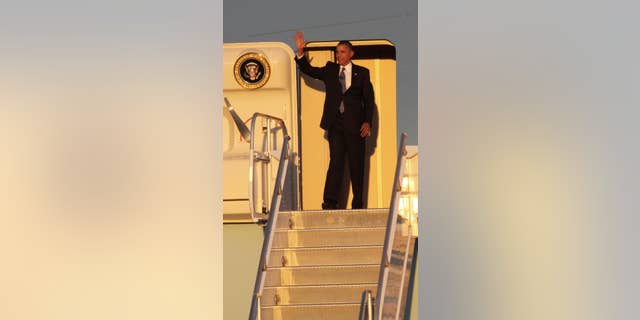 President Obama's upcoming schedule is jam-packed with campaign events with just three weeks to go until the midterm election.
Obama will be on the road campaigning for eight of the next 13 days, White House Press Secretary Robert Gibbs announced Tuesday.
Gibbs said he assumes the president will be at White House on election night. Obama has requested an absentee ballot and will vote absentee.
OBAMA CAMPAIGN SCHEDULE NOW THROUGH OCT 25:
* Friday, Oct. 15: Vice President Biden and Obama attend fundraiser for Senate nominee Chris Coons in Wilmington, DE.
* Saturday, Oct. 16: Rally and funder for Massachusetts Gov. Deval Patrick in Boston.
* Sunday, Oct. 17: Fundraiser in Cleveland for Gov. Ted Strickland. Columbus DNC fundraiser and DNC rally. (First lady Michelle Obama will joint president in Columbus. Will be the first time since 2008 Obama and first lady will have campaigned together).
* Wednesday, Oct. 20: Fundraiser and rally in Portland for Oregon gubernatorial candidate John Kitzhaber.
* Thursday, Oct. 21: Public campaign event with Sen. Murray and official event in Seattle. DNC fundraiser later in San Francisco.
* Friday, Oct. 22: L.A. fundraiser for Sen. Barbara Boxer, DNC "Moving America Foward" rally in L.A. Then Las Vegas, DNC "Moving America Forward" rally in addition to a joint fundraiser with DSCC and Sen. Reid.
* Saturday, Oct 23: Minneapolis, campaign event for Mark Dayton for governor and DCCC fundraiser.
* Monday, Oct. 25: Providence, R.I. DCCC fundraiser.
* Likely at home the week of Oct. 25 when he returns from R.I.
*Saturday/Sunday Oct. 30 & 31: Obama likely on road somewhere, TBD.