President Obama arrives in Singapore in time to catch the gala dinner at the APEC Summit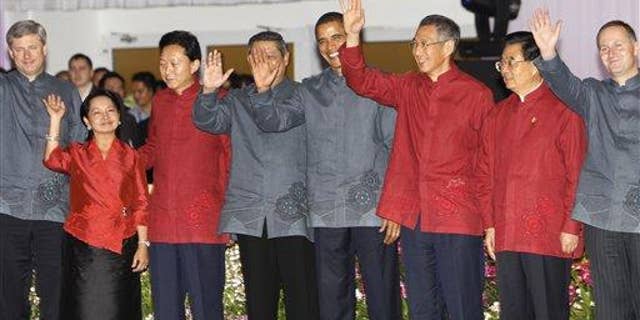 After departing two hours early from Tokyo, President Obama arrived in Singapore in time to make it to the end of gala dinner at the Asia Pacific Economic Cooperation (APEC) Summit.
Donning what we're told is the APEC Singapore 2009 leaders' official shirt, President Obama posed with the other APEC leaders for the official group photo.
Local designer, Wykkid Song, created the Peranakan-inspired (a cultural mix of Chinese, Indian and Malay) attire - a mandarin collared linen shirt for the men and a sarong kabaya in silk for the women.
Tomorrow, the President spends the majority of his day in Singapore, where he will attend two APEC summit related sessions and participate in bilateral meetings with Prime Minister Lee Hsein Loong of Singapore, Russian President Medvedev, and Indonesian President Yudhoyono. President Obama then departs for Shanghai, China.