Powerful photo shows former President George H.W. Bush looking at wife's casket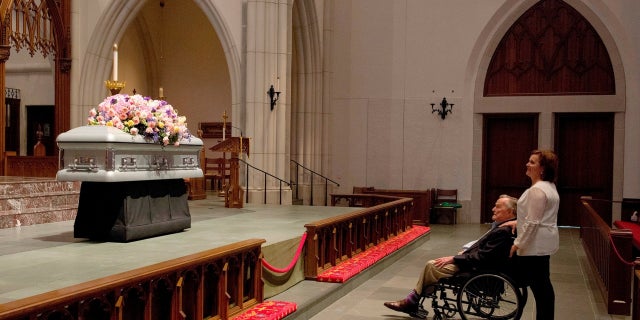 NEWYou can now listen to Fox News articles!
A powerful photograph captured former President George H.W. Bush looking at the casket of his wife, former first lady Barbara Bush, on Friday.
Bush, 93, appeared in the photograph with his daughter Dorothy "Doro" Bush to pay their respects to the former first lady who died Tuesday at her Houston home at the age of 92.
The former first lady and former president were married for 73 years.
The former first lady was known for her sharp wit, candor and relentless advocacy for family literacy.
Despite the mourning period, the former president was delighted to greet children and others who visited the church to pay their respects to Bush.
Bush's funeral is slated for Saturday at St. Martin's Church in Houston. About 1,500 people are expected Saturday's private service, including four former presidents -- Bush's husband and son, George H.W. and George W. Bush, Bill Clinton and Barack Obama.
First lady Melania Trump will be at the service, but the White House said this week that President Donald Trump wouldn't attend "to avoid disruptions due to added security, and out of respect for the Bush Family and friends attending the service."
The Associated Press contributed to this report.