After Hurricane Maria, Puerto Ricans become key voting bloc in Florida
ORLANDO, Fla. – A little over a year after Hurricane Maria ravaged Puerto Rico, forcing tens of thousands to flee the island for the U.S. mainland, the refugees have emerged as a key voting bloc in one of the country's biggest battleground states.
Like hundreds of thousands before them, many of the displaced Puerto Ricans moved to Florida, concentrating primarily in Central Florida and – through their sheer numbers – have quickly reshaped the state's political landscape.
There were about 1.2 million Puerto Ricans in the Sunshine State before Maria hit, including more than 400,000 in Central Florida, and estimates of newcomers in the months following the storm range from 50,000 to 200,000.
The governor's mansion, a Senate seat and at least four congressional seats are up for grabs in Florida and candidates have been working diligently to court Puerto Ricans, who as American citizens are eligible to vote.
But unlike Cuban-Americans – who have historically tended to vote Republican – Puerto Ricans who are recent arrivals to the mainland are more independent, tending to vote for candidates based on issues, not political affiliation, experts say. Puerto Ricans who have lived on the mainland for longer are for the most part liberal and left-leaning.
For years, political analysts have been predicting that Puerto Rican voters in Florida would swing elections – this year that could actually happen.
"Their numbers have increased a lot since the last election two years ago, and the main statewide elections in Florida are considered to be really close," said Aubrey Jewett, a politics professor at the University of Central Florida in Orlando. "So a small change in the electorate could make the difference."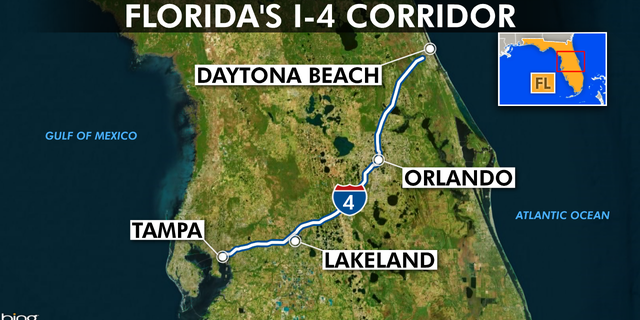 According to a recent article in The Orlando Sentinel, The Hispanic Federation has registered 19,000 new voters; Mi Familia Vota 27,000; and Unidos US 17,000. A projection in Central Florida's I-4 corridor alone reached 75,000 new Hispanic registered voters before the Oct. 9 registration deadline, and its estimated over 50 percent are Puerto Rican.
During the past decade, Puerto Ricans have become Florida's fastest-growing Hispanic group, bringing the total number of Puerto Ricans on par with New York. The group now makes up a third of the state's Latino voters.
"The candidate who can come across as compassionate and…knowledgeable about Puerto Rican issues, but who is also just hitting…education, healthcare and the economy—that's what Puerto Ricans are looking for," Jewett said, explaining that the economy is a very important issue to the group because "they're economic refugees in a sense."
But Marucci Guzman, executive director of Latino Leadership, a non-profit that helps Puerto Rican families that relocated from the island, says voters can tell the difference between genuine concern and a talent for acting.
"I think the Puerto Rican community is astute. They know the politicians that travel to the island for photo ops and…the politicians that have gone to the island to help make a difference," she said. "They feel like the candidates haven't done a good enough job of letting them know who they are—that you might just take it for granted that you can put an ad in Spanish and that's enough outreach to the community."
Hispanics make up a record 16.4 percent of the state's registered voters, an increase from 15.7 percent in 2016, a presidential election year, according to a recent report by the Pew Research Center. In Florida, as of Aug. 31, 837,000 Hispanics were registered as Democrats, 527,000 as Republicans and 775,000 with no party affiliation, according to Pew, and much of the growth in Hispanic voter registration has been in counties with the largest Puerto Rican populations.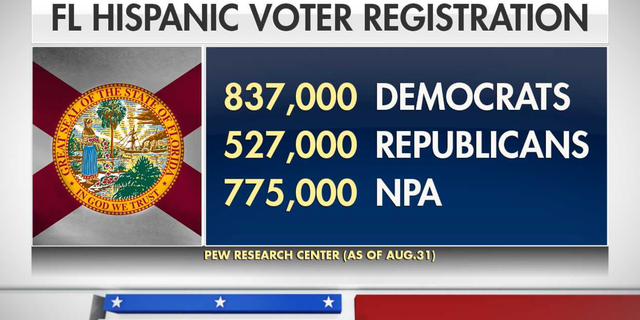 But even those who register become intimidated when they have to cast a ballot – because they are not familiar enough with the U.S. mainland's political process and structure. On the island, Election Day is considered a holiday, there are three major political parties, and the political structure is vastly different.
"I plan to vote in these elections. The reason many Puerto Ricans fear voting is because…we don't know the ideological differences between the parties—Democratic or Republican. I would like to vote, but I don't know a lot about the different candidates that are currently running," said first-time voter Richard Feliciano, a Puerto Rican who fled the island after Maria.
"I think the language barrier will also certainly impact some voters…it might be a bit intimidating to see this huge ballot [with numerous ballot measures]…it's very long and confusing, even if you're a native English speaker," said Jewett. "It's not an insurmountable problem, but it's definitely a hurdle."
Both candidates in the state's highly-competitive Senate race, Republican Gov. Rick Scott and Democratic Sen. Bill Nelson, have courted Puerto Rican voters since Hurricane Maria hit, investing heavily in outreach efforts, each visiting the island multiple times and pledging funding for recovery and resources to get families acclimated to their new communities in Florida.
Puerto Rico Gov. Ricardo Rossello endorsed both Nelson and Tallahassee Mayor Andrew Gillum, the Democratic candidate in the state's gubernatorial race, while Scott picked up support from Jenniffer Gonzalez-Colon, the island's nonvoting congressional representative.
"I think the major parties realize the importance of the Hispanic vote and they're each working on it on both sides," said Cowles.
But whether candidates' extra attention will pay off at the polls remains unclear.
October 9 was the last day to register to vote in most of the state. Orange County's early voting runs from October 22 to November 4.