Post-bankruptcy California city tests 'universal' income for residents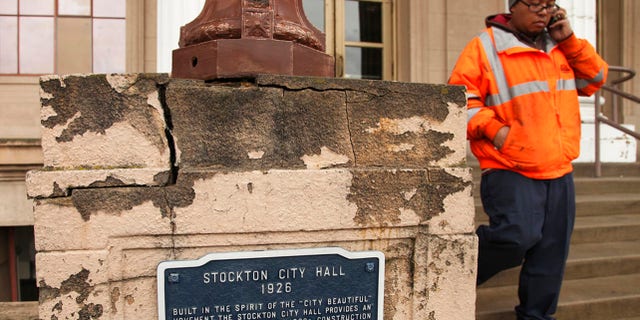 A California city plagued by financial woes is testing a new welfare plan to give families a "universal basic income" of $500 every month.
While critics question whether this is the best move in post-bankruptcy Stockton, for now the program is being funded with private money -- as a possible first step toward expanding a concept touted by tech CEOs.
"I think it will make people work better and smarter and harder and also be able to do things like spend time with their families because we're not robots. We're not just designed just to work all day and run a rat race," Mayor Michael Tubbs told NPR.
The plan is mostly funded by The Economic Security Project, which is contributing $1 million to the yearlong pilot. Several-dozen families will be given $500 a month, and monitored to see what they do with the money and how it affects self-esteem and identity.

The city, which declared bankruptcy in 2012, is looking for solutions to its ongoing poverty problem. One in four residents lives below the poverty line, and the city is grappling with rising home prices and wage stagnation.
Tubbs told NPR that he was not concerned by claims that it would encourage people not to work, arguing the opposite could in fact be true.
As to whether the program could evolve into a broader policy, Tubbs said a state or national policy would be necessary for it to be implemented at the city level.

"But again, before we can even call for that, we need to see if it works and we need to try it and if it doesn't work, there's a conversation about, OK, well, why didn't it work and how can this apply to the next solution we need to implement?" he said.

According to the Economic Security Project, Stockton is "highly diverse," with foreign-born individuals making up 26 percent of the population and 45 percent of households speaking a language other than English.

Robert Rector, a welfare expert at the conservative Heritage Foundation, said that ideas like the Stockton plan are a sign of the failure of California's own open-border immigration policies, which he said kicks low-skilled American workers out of the labor force and keeps wages down.

"Essentially it says we will let the illegals come in and take all of the jobs and then we'll put American workers onto a kind of welfare reservation where they can live out their lives on that reservation," he said on a Daily Signal podcast.
Stockton isn't the only liberal stronghold flirting with such a broad welfare program. In Oakland, a startup is giving around $1,500 a month to a handful of selected recipients, with the aim also to study how financial health and well-being are affected.

The idea of a universal guaranteed income has been picking up support among tech CEOs as they grapple with the problem of sweeping automation in the tech and manufacturing sectors.

The Economic Security Project funding the Stockton project is co-led by Facebook co-founder Chris Hughes. Facebook CEO Mark Zuckerberg last year said such a scheme could mark a "new contract" between government and citizenry in the face of broader automation.
Yet the program also has seen limited support from some on the right. The late Nobel laureate and libertarian economist Milton Friedman years ago spoke approvingly of a guaranteed income, but only as a replacement for existing welfare systems and not as an addition to them.
In his 1976 book "The Politics of A Guaranteed Income," liberal adviser Daniel Patrick Moynihan recounted how he persuaded President Richard Nixon to embrace the idea, in the form of the 1970 Family Assistance Plan, a measure which died in the Senate.

But critics say that any plan that would transfer money from traditional welfare programs to a new guaranteed universal income program could actually hurt the poor while helping those who don't need the money.
The Associated Press contributed to this report.