Pope expected to champion cause of immigrants during U.S. visit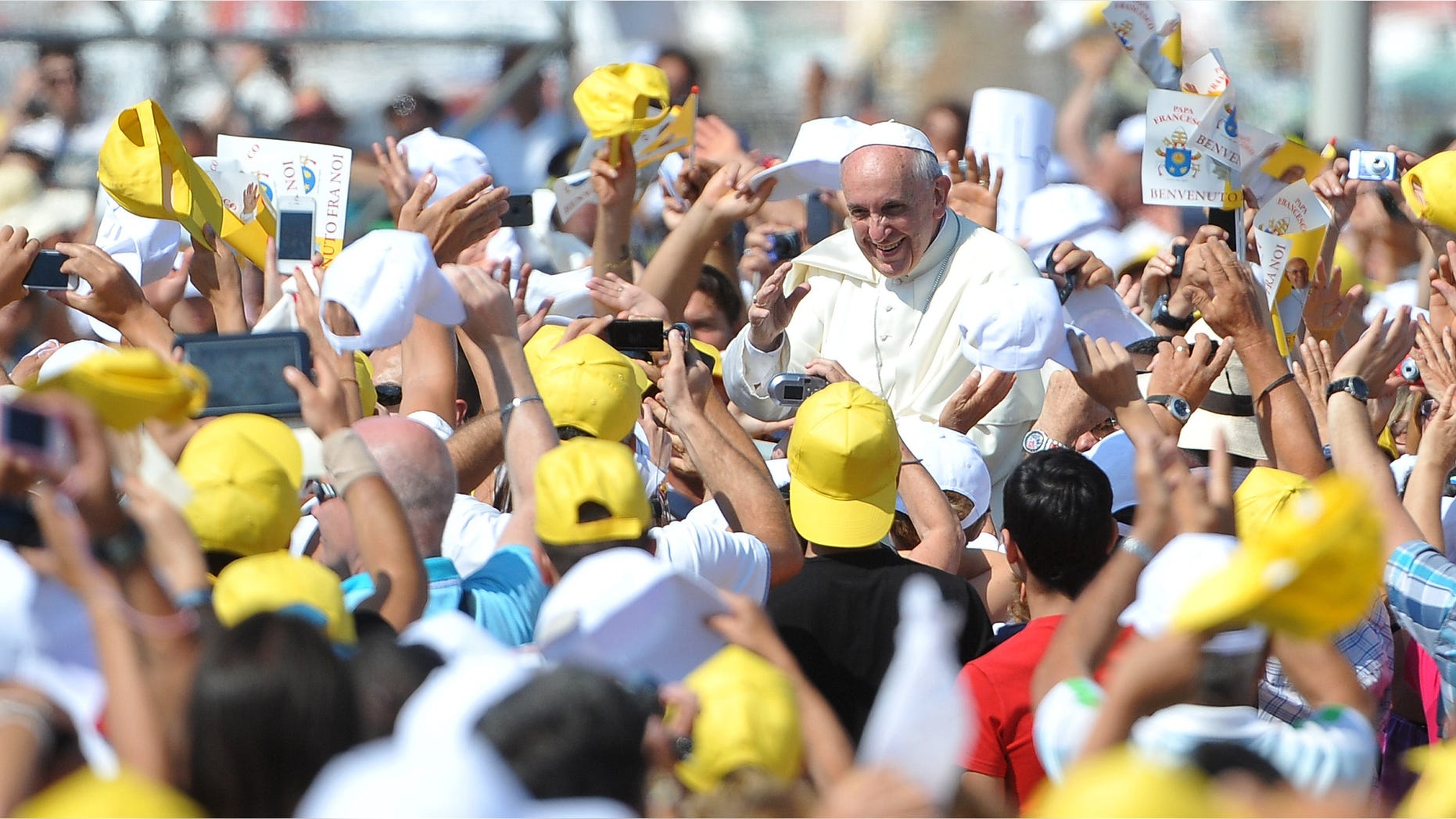 The push for comprehensive immigration reform may get a boost from divine intervention.
Pope Francis is scheduled to meet with Latinos and immigrants, formally and informally, during his visit to Washington D.C., New York City and Philadelphia in September and immigration will be the topic of a speech he will give outside Independence Hall in Philadelphia.
Advocates of more lenient immigration laws hope the pontiff appeals to the United States to allow a path to legal status for the millions living here illegally.
"I would hope that he says that we must approach immigration in a humane way," said Sergio Garcia, a California man who obtained his green card this year, after getting his law license last year following a five-year legal and political battle that included opposition from the Obama administration.
Garcia told Fox News Latino that attempting to secure the border as a means to fix immigration is an approach that has failed time and time again.
"As much as I would hope his words would make a difference at the government level I'm not that optimistic," he said. "But I'm sure it would encourage a few people to rethink the way they see immigrant and immigration especially since Jesus was an immigrant himself."
Garcia received his law license after Gov. Jerry Brown signed a specially crafted bill passed by the Legislature to let him practice law.
Those who prefer strict immigration officials are leery about how the pope might frame the issue of the undocumented.
"We all welcome a visit from the pontiff, but unless he urges us to actually begin enforcing our laws and protecting our own poor and unemployed, I don't think his remarks on the American immigration will have much lasting impact," said D.A. King, a Georgia activist who favors strict immigration policies. "Having been to the Vatican and being familiar with the long list of enforced rules for even visiting there, I hope Pope Francis will steer clear of any proclamations that our very liberal immigration laws, even if they are not enforced, are somehow evil or mean-spirited."
Lawmakers are fairly certain the pope will make his views on immigration known in no uncertain terms.
"He's been clear on our failure to respond appropriately to immigrants and refugees," Rep. Jim McGovern, D-Mass. was quoted as saying in Roll Call. "I don't think anyone will have any doubt on where the church stands on immigration after the pope visits the United States."
McGovern is one of nearly 170 Catholics in Congress.
The pope, who's drawn worldwide attention for his expressions of concern and compassion for the most vulnerable, was vocal about last year's surge of unaccompanied Central American children who approached the U.S.-Mexico border illegally.
The pope called the surge a humanitarian crisis, and urged the governments of the United States as well as Central America to protect the children and address the conditions – poverty and gang violence – that were forcing many of them to flee.
"I must call attention to the tens of thousands of children who migrate alone, unaccompanied, to escape poverty and violence," Francis said in a letter that was read at a migration conference last year. He noted that they flee "in extreme conditions, in a hopeful search that most of the time is in vain."
The pope has addressed the plight of the displaced around the world.
Shortly after becoming pope, he traveled to a tiny Italian island, Lampedusa, that has attracted migrants from Africa and the Middle East, many of whom have died trying to make the trip there.
"Many people obligated to migrate suffer and frequently die tragically," Francis wrote in the migration conference letter. "Many of their rights are violated, they are forced to leave their families and unfortunately continue being the object of racist and xenophobic attitudes."
McGovern expressed hope that the pope's visit would rekindle a political will in Washington D.C. to pass a comprehensive immigration reform package that would include a path to legal status for undocumented immigrants.
"It may move some, it may not move others," McGovern was quoted as saying in Roll Call. "But I hope it makes those who have been obstructionist feel uncomfortable."
Finally, some think that while liberals may find reinforcement of their views from the pope's remarks on immigration, the pontiff may say a few things more in line with conservatives when it comes to the once-again headline-grabbing issue of abortion.
"The utility of his comments to the Democrats will be limited by the fact that in the same address to Congress he's almost certain to also comment on (or allude to) the videos showing Planned Parenthood harvesting and selling the organs of murdered babies," said Mark Krikorian, executive director of the Center for Immigration Studies, a group that favors strict immigration measures, "maybe even tying the welcoming of ever-more immigrants to the welcoming of unborn babies. This could make his comments on both topics useless to political crusaders on both sides of the aisle."