Political Cartoon Commentary: Steven King is in the Dog House with Latinos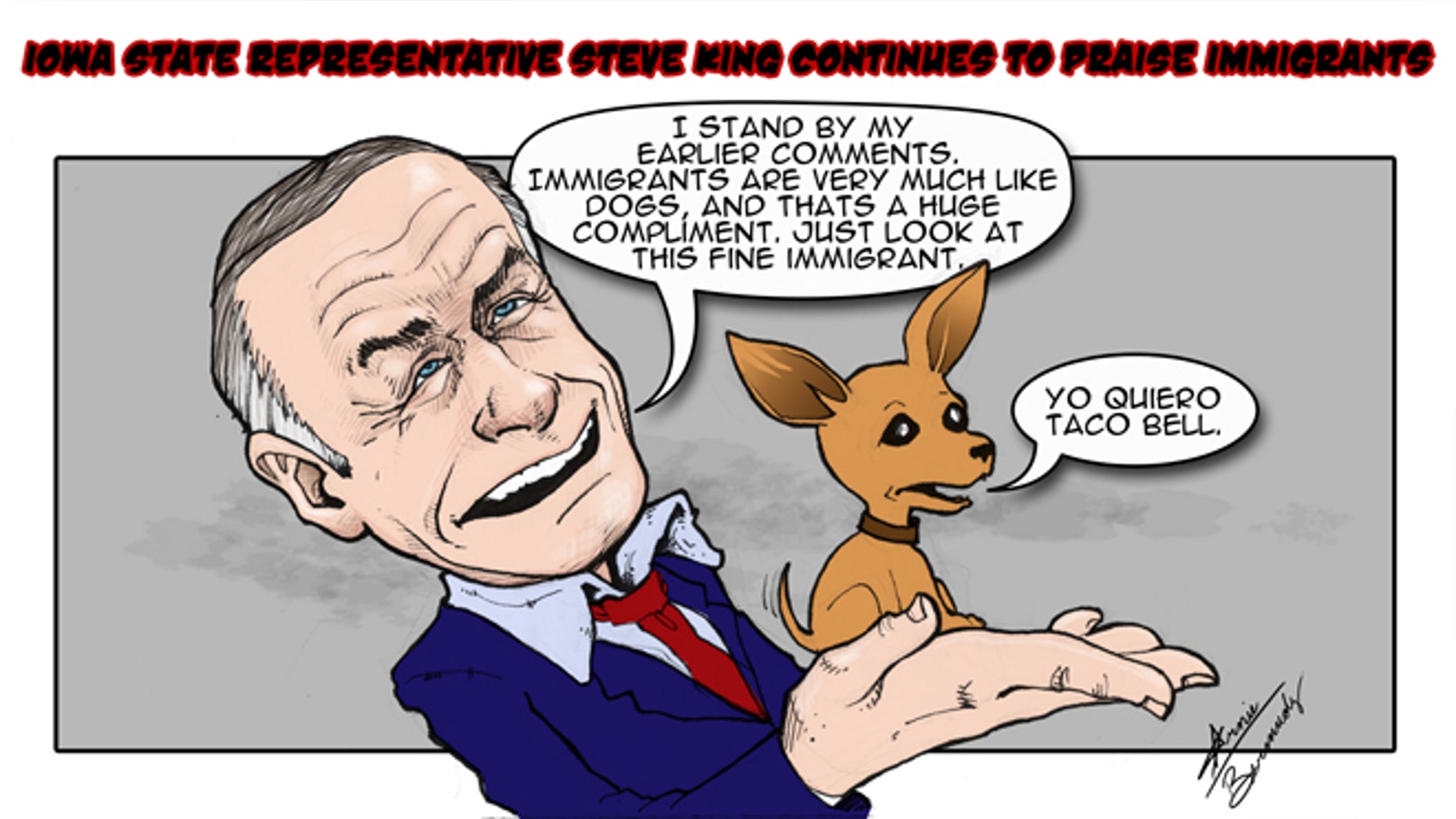 On Sunday, Iowa Congressman Steven King said he stood by his previous comments in May in which he compared immigrants to bird dogs, adding that "it was a compliment."
King is known as one of the most fervent proponents of hardline immigration policies. He is also known for his pointed, let-the-chips-fall-where-they-may rhetoric.
During a Sunday interview with Des Moines NBC affiliate WHO-TV, King said of his opponents: "They knew it was a compliment, they turned it into an insult because they're professional hyperventilators."
King, the vice chairman of the House immigration subcommittee, made waves when he drew parallels between attracting the best from around the world to emigrate here, and picking the best dog of a litter.
In an interview with Fox News Latino in June, King – who is running for re-election against Democrat Christine Vilsack in one of the nation's most high-profile congressional races this year -- said "the other side" again was distorting his words to demonize him in the eyes of Latinos.
In my house, we have raised really good, high-quality Labrador Pointers, we've received the pick of the litter from all over the planet. You pick the vigor, the most perky. It was the utilization of the pick of the litter. What is the pick – the alert, the frisky, that's the one you want. 
If someone is insulted by that, I don't know that they belong in this country.   Jesus talked about animals and compared people to animals. I'm Catholic, my bishop is my shepherd and we are his sheep.
His critics said King, a Republican, was again showing what they say are his denigrating views of immigrants.
What do you think - were his comments denigrating?
Follow us on twitter.com/foxnewslatino
Like us at facebook.com/foxnewslatino