Police arrest man for allegedly threatening Sen. Flake's staff
NEWYou can now listen to Fox News articles!
Law enforcement officials arrested a man Thursday who allegedly made threatening comments toward Arizona Sen. Jeff Flake's staff that referenced the shooting of House Majority Whip Steve Scalise.
The Pima County Sheriff's office confirmed that Mark Prichard, 59, was arrested on Thursday at Flake's Tucson office.
According to an aide to Flake, Prichard told a staffer:
"You know how liberals are going to solve the Republican problem? ... They are going to get better aim. That last guy tried, but he needed better aim. We will get better aim."
The statement was an apparent reference to the June 14 shooting at a Republican congressional baseball practice in Alexandria, Va., where Scalise, R-La., and four others were shot by gunman James T. Hodgkinson, who was fatally shot by Capitol Police.
Flake, R-Ariz., was on the baseball field that day.
REP. STEVE SCALISE RE-ADMITTED TO INTENSIVE CARE UNIT
According to authorities, Prichard was among a group of protesters at Flake's office on Thursday. He was charged with criminal trespassing as well as threats and intimidation after staffers in Flake's district office called authorities.
Pima County authorities also arrested 70-year-old protester Patrick Diehl for criminal trespass in the 3rd degree after he allegedly attempted to force his way into Flake's office.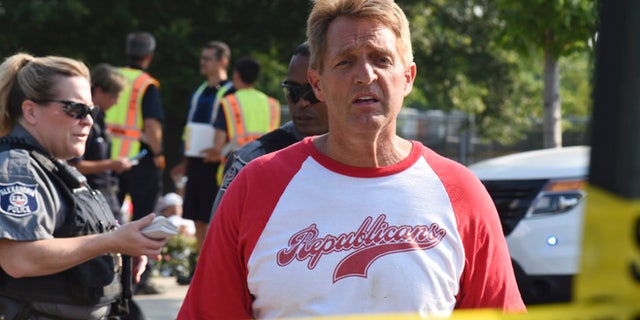 Both Diehl and Prichard were transported to the Pima County Adult Detention Complex. According to the sheriff's office, the remaining protesters were allowed to be on the property five at a time from that point forward, and "the remaining protest time was peaceful."
SHOOTING SPURS CALLS FOR NEW LAWMAKER SECURITY MEASURES
"No force was used in apprehending either of the two men, and no violence occurred from the protest itself," a spokesman for the Pima County Sheriff's office said. "The Pima County Sheriff's Department would like to remind everyone that Sen. Flake's office is not public property, but is rented space in a privately owned business area."
As of Thursday, Scalise's condition was downgraded from "fair" to "serious," and he was re-admitted to the intensive care unit at Medstar Washington Hospital due to an infection he contracted.
Lawmakers described themselves as "sitting ducks" at the practice last month, and said the violence would have been a "massacre" if not for Scalise's security detail. The attack has spurred new questions over whether congressional security practices should be overhauled.
HOUSE PANEL MOVES TO UP FUNDING FOR US CAPITOL POLICE AFTER SCALISE SHOOTING
Late last month, a House committee moved to boost funding for U.S. Capitol Police, drafting a bill that would add $29.2 million to the USCP budget. The additional funding would be used to hire 39 more officers and purchase extra protective gear.
Fox News' Brooke Singman and Kara Rowland contributed to this report.