Petraeus May Need a New Team in Afghanistan, Senators Say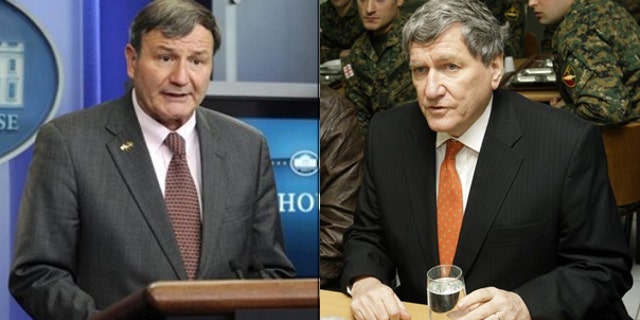 Two influential senators suggested Sunday that President Obama clean house on the civilian side of his Afghanistan war team if Gen. David Petraeus cannot get along with the same diplomats who may have sparred with outgoing Gen. Stanley McChrystal.
Sen. Dianne Feinstein, D-Calif., chairwoman of the Senate Intelligence Committee, and Sen. Lindsey Graham, R-S.C., also said the withdrawal timetable needs to be flexible, though the president has set July 2011 as the deadline to get out.
The senators spoke just days after McChrystal resigned over a Rolling Stone article in which he and his aides were quoted mocking the Obama administration, particularly Amb. Karl Eikenberry and Special Representative Richard Holbrooke. The article reflected deep divisions between the military and civilian side of the war effort.
While lawmakers were nearly unanimous in saying Obama had to change generals after the article, Feinstein said those diplomats should not get a free pass with Petraeus. Speaking on "Fox News Sunday," the senator said Petraeus must be a "command presence" on the team.
"(Petraeus) should make the calls. If he can't work with the ambassador, the ambassador should change. If he can't work with Holbrooke, that should change," Feinstein said. "I think we put all of our eggs in the Petraeus basket."
Graham said it's up to the president whether to make any more changes, but he described the relationship between the military and civilian sides as "dysfunctional."
"This is a chance to start over completely, and the military-civilian relationship is very important," Graham said. "But I'm very concerned if nothing changes on the civilian side."
Eikenberry threw a curveball into negotiations last year over military strategy in Afghanistan after he sent cables questioning the troop buildup advocated by McChrystal. In the Rolling Stone piece, McChrystal said he felt "betrayed" by the ambassador and suggested Eikenberry was just trying to look good for posterity.
"I like Karl, I've known him for years, but they'd never said anything like that to us before," he said. "Here's one that covers his flank for the history books. Now if we fail, they can say, 'I told you so.' "
Graham also said the ambassador's working relationship with Afghan President Hamid Karzai is "poor."
Meanwhile, with Petraeus' confirmation hearing set to be held this week, Graham said he wants the administration to clarify how hard-and-fast the withdrawal deadline is.
Feinstein said that if Petraeus asks for more time, "I would say give it to him."