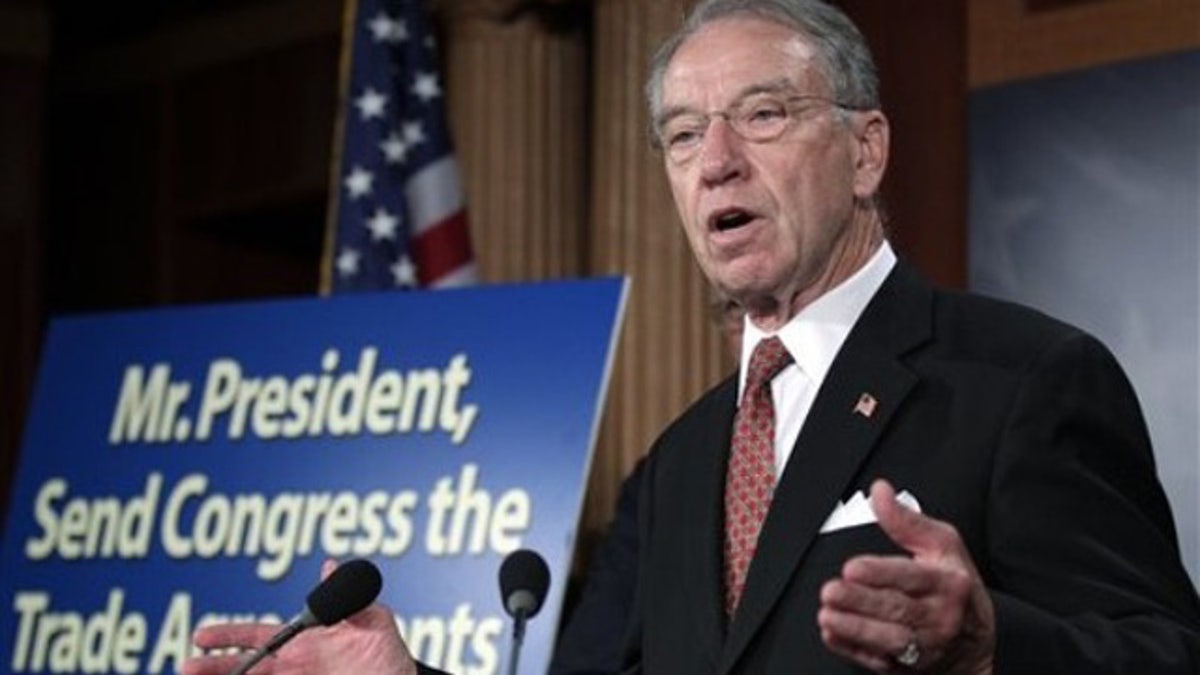 People for the Ethical Treatment of Animals has started taking "bets" on its website over when Sen. Charles Grassley will die, after the Iowa Republican scolded the Department of Agriculture for advocating a vegetarian diet.
The USDA drew the ire of rural state lawmakers over a newsletter urging department employees to embrace "Meatless Mondays." The USDA later retracted the newsletter and said it wasn't properly vetted, but Grassley vented on Twitter that he plans to "eat more meat on Monday to compensate for stupid USDA recommendation."
PETA, on its website, accused Grassley of fighting for Americans' right to be "sick and fat."
"We're taking bets (place yours in the comments section below) on how long it will take Sen. Grassley to succumb to heart disease, diabetes, cancer, or some other meat-related disease," the post said.
"From his reaction, it seems like a pretty safe bet that he's already got high blood pressure," PETA President Ingrid E. Newkirk said on the site. "Were he a physician instead of a politician who truly puts his rancher money where his mouth is, he'd be guilty of malpractice."
Grassley's office rebuked PETA, calling the comments "shameful and way outside the mainstream."
"Sen. Grassley is representing his constituents," spokeswoman Jill Kozeny said. "He'd like USDA to remember who it's supposed to work for, too."
But a PETA spokeswoman told Radio Iowa that Grassley is "gambling with his own health" with his pledge to eat more meat.
Sen. Jerry Moran, R-Kan., previously complained about the USDA newsletter, as did the National Cattlemen's Beef Association.
"Never in my life would I have expected USDA to be opposed to farmers and ranchers," Moran said in a statement.
The offending comments came in an online newsletter to employees about "greening" efforts. The update schooled employees on ways to save energy, by using energy-efficient light bulbs, installing specialized roofs on buildings -- and participating in what's known as the "Meatless Monday" initiative.
"One simple way to reduce your environmental impact while dining at our cafeterias is to participate in the "Meatless Monday" initiative," the USDA newsletter said. "This international effort, as the name implies, encourages people not to eat meat on Mondays.
"How will going meatless one day of the week help the environment? The production of meat, especially beef (and dairy as well), has a large environmental impact. According to the U.N., animal agriculture is a major source of greenhouse gases and climate change. It also wastes resources."
The update went on to cite the "many health concerns" associated with "excessive consumption" of meat. It noted that many people are just not ready to go all-vegetarian, and said forgoing meat one day a week "is a small change that could produce big results."