Perry's Stance on Immigration Threatens His Front-Runner Status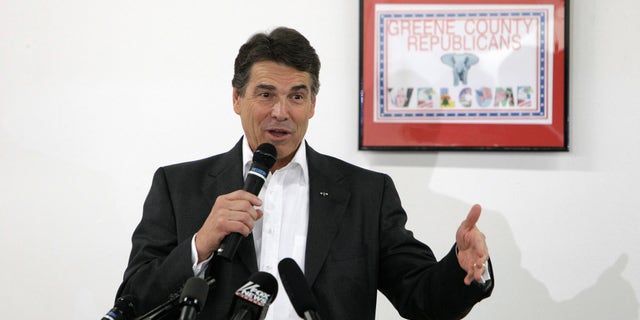 EXETER, New Hampshire – Texas Gov. Rick Perry's stance on immigration is causing an uproar among conservative voters, jeopardizing his front-runner position in the race for the Republican presidential nomination.
Perry's support of education benefits for illegal immigrants has led one national immigration group to say he is finished. And a key Iowa conservative said evangelical supporters are abandoning Perry after he doubled down on his support of the policy in the last two GOP debates.
"If you say that we should not educate children who have come into our state for no other reason than they've been brought here by no fault of their own, I don't think you have a heart," Perry said at Thursday's Fox News/Google debate in Orlando.
Bob Vander Plaats, head of the influential Iowa conservative group The Family Leader, said voters in the first caucus of the election season may warm to another GOP contender.
"There is a huge opening in Iowa," he told Fox News. "Right now the first-in-the-nation-caucus state is completely up for grabs."
Rivals are looking to take advantage of Perry's woes in Iowa.
Former Massachusetts Gov. Mitt Romney is expected to step up his campaign presence in the state after visiting only twice this year. And Minnesota Rep. Michele Bachmann is focusing on Iowa to reclaim the attention she stirred in the state before Perry entered the race.
Top Perry strategist Dave Carney said the notion the governor is floundering is "more wishful thinking from other camps." And Perry supporters note that he entered the presidential race just six weeks ago, a very late start.
But some national groups say Perry's immigration record could lead to an early exit.
"Rick Perry is finished," said Americans for Legal Immigration's campaign arm in a statement Friday.
The Tea Party Nation is also losing enthusiasm for Perry.
"Perry has gained a lot of traction from the Tea Party movement," said Judson Phillips, the group's founder. "By doubling down on the illegal alien issue, he has gained no friends and alienated many in the conservative movement."
Former Arkansas Gov. Mike Huckabee, who ran for president in 2008, said Perry's debate performance shows he's not ready for the pressure of the presidential spotlight yet, particularly his answer on immigration.
"It was not just how he said, but what he said," said Huckabee, who hosts a Fox News show. "What he said is in opposition to the base."
Huckabee said Perry could have answered the question in a way to defuse the issue.
"He should have said we are not talking about people who just showed up to go to college. We're talking about people that we educated in our schools, people whose families pay taxes in our state every time they bought something in a sales tax. Even their rent paid the property tax through the landlord that funded the schools," he said.
Perry arrived to great fanfare and seemed poised to steal significant support from his top rival, former Massachusetts Gov. Mitt Romney. Many influential Republican activists saw Perry, with his executive experience and good jobs record, as an attractive alternative to Romney, who has struggled to win over conservatives who make up a sizeable portion of the party base.
Since then, the Texan has campaigned repeatedly in New Hampshire and Iowa, states that host the nation's first presidential voting contests in roughly four months.
And unaligned Republicans in those states -- including some who backed Romney four years ago and are looking for an alternative -- have watched Perry closely this month to see if the early buzz would become lasting campaign strength. But his debate performances, including bobbled attempts Thursday night in Florida at painting Romney as a flip-flopper, did not impress some influential activists.
"Perry has been doing damage to himself over the last couple weeks," said Jamie Burnett, a New Hampshire-based Republican who led Romney's political operation here four years ago but is unaligned this year. "Perry's on shaky ground, but I'm not willing to say there's no path to victory. But he's definitely not in the place he was during the first two weeks of his campaign."
Besides accusing Romney of being a flip-flopper and suggesting opponents of Texas' immigration law are heartless, he gave a wobbly response to a question on Pakistan, making him seem unprepared.
"The guy just isn't ready for prime time. It's not the issues themselves. It's how he handles them," said Doug Gross, a Des Moines lawyer who was Romney's Iowa co-chairman in 2008 but isn't backing any one candidate yet this year. "He doesn't look like a president."
Veteran Republican strategist Mary Matalin, who is not affiliated with any of the 2012 campaigns and is neutral, said that while debating is not Perry's strong suit, it's only one aspect of the early campaign.
"His support in the states that are the foundation of his strategy is not slipping," Matalin said. "Romney has been consistently really good, is solidifying his establishment support, but is far from closing the deal with conservatives."
Activists have discovered policy differences as they get to know Perry better.
He has drawn sharp criticism for requiring 6th-grade girls in Texas to be vaccinated against a sexually transmitted virus that can cause cancer, a position that frustrates libertarians and social conservatives alike.
"Immigration and the vaccines are just tough sells," said former state Republican chairman Richard Schwarm, a Romney supporter in 2008 who has not yet committed to a candidate. "There are a lot of things people like about him, but those issues cause people a lot of problems."
Fox News' Carl Cameron and The Associated Press contributed to this report.