Perry to Obama: Bad Policy, Not Bad Luck to Blame for Economic Woes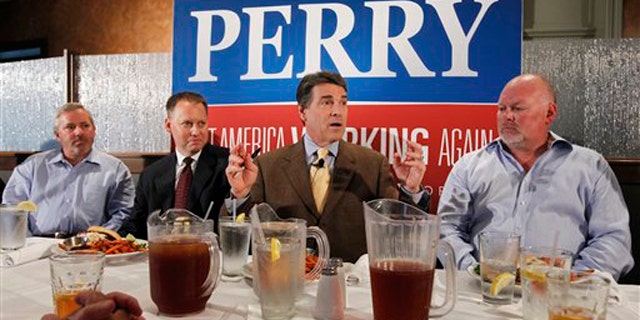 NEWYou can now listen to Fox News articles!
Rick Perry took another swing at President Obama Wednesday, rejecting the president's claim that "bad luck" is to blame for the state of the economy.
The Republican Texas governor and presidential candidate, speaking at a business event in Bedford, N.H., said "bad policies," not bad luck, can account for the crisis the country is in. He said Obama's policies have inflamed unemployment and exploded the debt, leading to the first-ever credit downgrade by Standard & Poor's.
"My actions as governor are helping create jobs in this country. The president's actions are killing jobs," Perry said. He later said in a statement: "Our economic plan shouldn't depend on luck, it should depend on sound economic fundamentals."
While Perry points to low taxes and less burdensome regulations as the way to rev the economic engine, the president is planning to unveil a new set of economic proposals next month -- with a chunk of it is expected to include tax cuts.
Obama on Monday attributed part of the slump over the past six months to "bad luck," as well as broken politics.
"There have been some things that we could not control," Obama said in Minnesota, pointing to the Arab Spring and subsequent rise in gas prices, the debt crisis in Europe which has roiled the markets and the tsunami in Japan.
Taking it easy on Perry, he said that Perry's going to learn quickly that running for president is no bed of roses.
"Everybody who runs for president, it probably takes them a little bit of time before they start realizing that this isn't like running for governor or running for senator or running for Congress, and you've got to be a little more careful about what you say," Obama said.
While casting aspersions on Obama's explanation about the economy, Perry cycled through a host of other hot-button issues pertaining to his own record Wednesday morning.
Perry has had a rigorous start to his budding presidential bid. He faced a wave of criticism for saying Monday that Texas would treat Federal Reserve Chairman Ben Bernanke "ugly" if he pursues more stimulus -- an action he described as tantamount to treason.
While toning down his rhetoric Wednesday, Perry defended his criticism of the Fed. He said the Federal Reserve should be more transparent.
He also stood by his record as governor of the state that has carried out the most executions in the nation. Perry said Texans support capital punishment but that Americans have the option to try to prohibit it via constitutional amendment if they wish. However, Perry said he would work much harder to achieve a balanced budget amendment than he would to pass one banning capital punishment.
Perry has faced some questions about his role as climate-change crusader Al Gore's Texas campaign chairman in 1988. But Perry said Wednesday that he has serious doubts about the science behind global warming.
"Yes, our climate's changed, they've been changing ever since the earth was formed, but I do not buy into ... a group of scientists who have in some cases found to be manipulating this information," Perry said. "I don't think ... that I want America to be engaged in spending that much money on still a scientific theory that has not been proven and from my perspective is more and more being put into question."