Perry talks national issues as he begins six-stop New Hampshire swing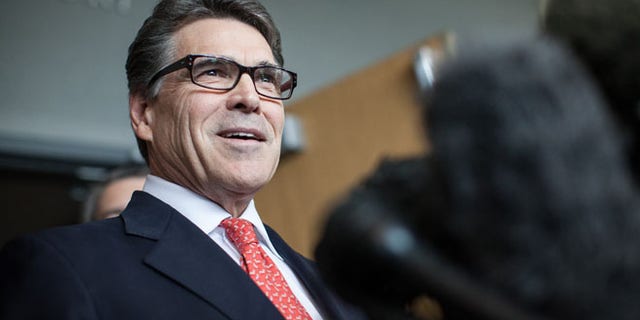 NEWYou can now listen to Fox News articles!
On the heels of the sweeping Republican gains in the midterm elections, Texas GOP Gov. Rick Perry on Sunday unofficially kicked off the presidential primary season in New Hampshire, starting his six-stop swing through the state with a visit to Concord.
The 2012 presidential candidate told the crowd at an event hosted by the New Hampshire Federation of Republican Women that Republicans' takeover of the Senate and increase of their House majority last week showed that voters were sending a message to President Obama and other Washington Democrats.
"They lost confidence that the Democrats were competent to lead this country, whether it was foreign policy (or) domestic policy," he said. "And they said, 'We're going to give you Republicans a chance.'"
Perry has not said whether he will run for the White House in 2016, but he appears to be wasting no time campaigning for the job in New Hampshire, which historically holds the crucial, first presidential primary each season.
In Concord, Perry discussed such likely 2016 concerns as health care, immigration, Ebola and the economy with potential voters. And his criticism about Obama appeared directed at his entire administration.
"Over the past six years, I've had the opportunity to be very vocal," Perry told the crowd. "There's a lot I didn't agree with. Whether it was issues of healthcare … having an IRS getting into people's business because they didn't like your political stance, whether it was the NSA listening in on our phone calls, whether it was an absolute total debacle of letting down the men and women who put their lives on the line for us with the veteran's administration."
Perry also criticized Obama's leadership, saying he disagreed with the president about his handling of Ebola.
"It happened to end up in my home state first," Perry said. "And I think there was a very clear differentiation about how we looked at this as leaders."
Perry, whose term as governor ends in 2015, also said he will continue to work with members of Congress to help draft immigration reform legislation.
"If they need an instruction on how to secure the border, here I am," he said. "We know how to do this. Let's get it done."