Pentagon to Announce Friday Repeal of Military Gay Ban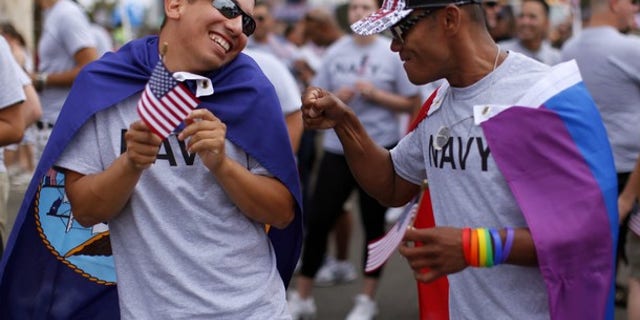 The Pentagon will announce Friday that it is ready to certify the repeal of "don't ask, don't tell," the controversial 1993 law that banned gays from serving openly in the military, two U.S. officials told Fox News.
By law, a 60-day waiting period then goes into effect before the repeal is officially implemented, likely by the end of September. The certification was expected after all the military services were given a chance to train their forces and prepare them for the repeal. All four branches are now largely done with the training.
It's still unknown how the Pentagon will make the announcement, but there is speculation that it could be in the form of a paper statement from the White House. President Obama has to certify the repeal when Defense Secretary Leon Panetta and Adm. Mike Mullen, chairman of the Joint Chiefs of Staff, sends it to his desk. Then the president sends it to Congress.
The White House, which is in the midst of trying to avert a debt crisis, is likely more inclined to speak about the repeal after it officially takes place, following the 60-day waiting period.
The announcement comes seven months after Obama signed the law ending the policy. But gay service members had found themselves in legal limbo ever since, as the policy was being fought in the courts.
Earlier this month, a San Francisco federal appeals court ordered the military to immediately halt "don't ask, don't tell," prompting the Justice Department to file an emergency motion saying ending the policy now would pre-empt the orderly process for rolling it back.
In response to the motion, the court of appeals last week ordered the military to temporarily continue the policy.
The Servicemembers Legal Defense Network cheered the pending announcement.
"This Pentagon certification received by the White House this afternoon is welcomed by gay and lesbian service members who have had to serve their country in silence for far too long," SLDN Executive Director Aubrey Sarvis said in a statement.