Pentagon Condemns Taliban for Claiming Captured U.S. Soldier Joined Their Cause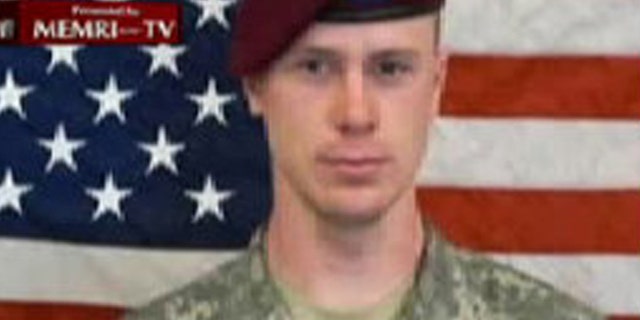 The Pentagon condemned and refuted the Taliban's claim Monday that the only known American soldier in their captivity had been converted to Islam and is training fighters in bombmaking and ambush tactics.
Private Bowe Bergdahl disappeared from an American military base in southeastern Afghanistan in June 2009. Last week, one of his captors was interviewed, shedding light on a case that has baffled U.S. military officials.
A Taliban deputy district commander in Paktika province said the 24-year-old American had converted to Islam in the months after his capture. He said Bergdahl, from Idaho's Sun Valley, had trained Taliban fighters in bomb-making and ambushing convoys.
"When I saw him for the second time, he had totally changed. He had a beard and he treated all of us very respectfully. He seemed very relaxed in our company. He was no longer scared," said the commander, who called himself Haji Nadeem.
But U.S. military spokesman Lt. Col. John Dorrian dismissed the claim and vowed that the kidnappers would be brought to justice if Bergdahl is harmed.
"The Taliban spokesmen are notorious for their puffery, and for exploiting captives through propaganda," Dorrian told Fox News. "We condemn his kidnapping and demand SPC Berhdahl's immediate release by his captors. The perpetrators responsible for SPC Bergdahl's abduction will be brought to justice if anything happens to him."
Bergdahl, who was said to be given the Muslim name Abdullah after converting, allegedly taught Nadeem how to dismantle a Nokia mobile telephone and turn it into a remote control for roadside bombs. Nadeem also claimed he received basic ambush training during a two-hour session in the Sar Hawza district.
"Most of the skills he taught us we already knew. Some of my comrades think he's pretending to be a Muslim to save himself so they wouldn't behead him," said Nadeem.
Afghan intelligence also believes Bergdahl is "co-operating with the Taliban" at one of its bases in the tribal area of Pakistan.
A senior official in Ghazni province, where Bergdahl was moved before being transferred to Pakistan, said intelligence suggested that the American had acted as an "adviser" to the rebels.
The Taliban have killed at least two informers caught passing information about Bergdahl's whereabouts to the NDS, Afghanistan's intelligence agency, according to the official.
American forces, acting on a tip-off received by the NDS six days after Bergdahl disappeared, came close to rescuing him when they raided a tent belonging to Kuchi nomads on the Pakistan border.
The soldiers chased a group of fighters in the vicinity, killing at least one of them. They found rocket-propelled grenades and assault rifles in one of the tents, but no Bergdahl.
Three videos showing the American soldier in captivity have been released by the Taliban, including one on Christmas Day in which Bergdahl criticized American operations in Afghanistan.
Bergdahl left his observation post in Paktika's Yahya Khel district on June 30, 2009 accompanied by an Afghan soldier. He was spotted entering a village close to the local bazaar at Sharan.
A group of eight Taliban gunmen in a field nearby were alerted to spring an ambush. As the fighters encircled the two men, the Afghan soldier raised his weapon to fire but was shot and killed instantly.
Bergdahl raised his hands in surrender. One of his attackers whipped him across the face with the butt of his rifle, forcing him to the ground.
The Taliban dragged the soldier, who was attached to the 501st Parachute Infantry Regiment, into a compound. They kicked him in the chest, took his pistol and ordered him to take off his bulletproof vest and uniform.
"The fighters thought he might have something on him that could give away his location to other American soldiers," said Nadeem.
He was given traditional Afghan clothes. The militants then radioed the Taliban in Mota Khan district, where their commander was based.
"My commander told them not to kill the American. He told them to feed him, hide him and he said take everything that he has on his body and throw it away. Don't even leave him with a small nail because it could be used to show your location," Nadeem said.
When Bergdahl missed roll call the following morning, Predator drones and dog teams launched a search. Then intercepted radio chatter confirmed that he was in enemy hands.
NewsCore contributed to this report.