Pennsylvania GOP slams election-map 'power grab' as 'judicial activism,' will challenge
Pennsylvania Republicans, egged on by President Trump, on Tuesday blasted a court decision to impose new congressional maps as a "power grab" by Democrats and vowed to challenge the move in federal court.
"This map constitutes a new standard for judicial activism," Pennsylvania Republican Party Chairman Val DiGiorgio said in a statement. "This power grab is an affront to over 200 years of precedent and nothing short of judicial-mandering."
The Democratic-majority state Supreme Court voted 4-3 on Monday to impose the new congressional district map it drew, seen as a boost for Democrats.
The map of Pennsylvania's 18 congressional districts is to be in effect for the May 15 primary and substantially overhauls a Republican-drawn map widely viewed as among the nation's most gerrymandered.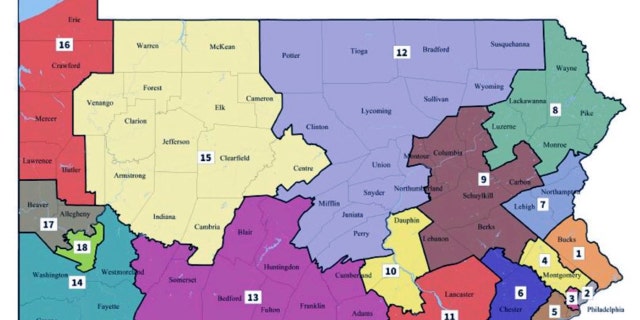 The decision swiftly drew national attention on Monday. And on Tuesday, President Trump urged state Republicans to challenge it.
"Hope Republicans in the Great State of Pennsylvania challenge the new 'pushed' Congressional Map, all the way to the Supreme Court, if necessary. Your Original was correct! Don't let the Dems take elections away from you so that they can raise taxes & waste money!" he tweeted.
DiGiorgio said, "I expect we will be challenging this in federal court."
Further, National Republican Congressional Committee spokesman Matt Gorman said in a statement that "State and federal GOP officials will sue in federal court as soon as tomorrow" in a bid to block the new map, claiming it has "created chaos, confusion, and unnecessary expense."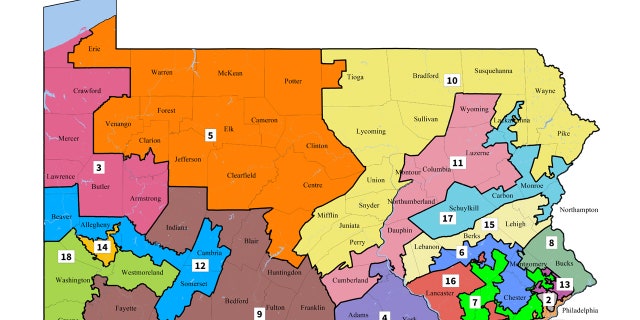 DiGiorgio also accused the court of causing "chaos" by drawing residents into new districts and candidates out of their old districts, while allegedly diluting GOP voters.
"The Pennsylvania Supreme Court, by acting as judge, executive and legislature has trampled on the concept of separation of powers and violated the Pennsylvania and U.S. Constitution," he said.
Democrats similarly have claimed Republicans were carefully drawing districts to favor their own, especially in Philadelphia's suburbs.
There, Republicans have held seats in bizarrely contorted districts, including one labeled "Goofy Kicking Donald Duck."
The court ruled last month that Republicans who redrew district boundaries in 2011 unconstitutionally put partisan interests above neutral line-drawing criteria. It was the first time any state court threw out congressional boundaries in a partisan gerrymandering case, this one brought by registered Democratic voters and the League of Women Voters last June.
The new map reunifies Democratic-heavy cities that had been split by Republican map drawers six years ago.
"It remedies the outrageous gerrymander of 2011, and that's the important thing, that the gerrymander be over," said David Landau, the Democratic Party chairman of Delaware County, site of the "Goofy Kicking Donald Duck" district. "All that zigging and zagging is all gone, and it makes Delaware County a competitive seat now."
The Pennsylvania Supreme Court had a Monday deadline to come up with a redistricting map.
Republicans have won 13 of the 18 congressional seats in the last three election cycles when the current, now invalidated, map took effect.
Pennsylvania Democratic Gov. Tom Wolf praised the court decision and said residents are "are sick and tired of gerrymandering."
"Now, my focus will be on making sure the Department of State can support our counties and all candidates in the election process, particularly during the petition period. My administration will work expeditiously to update Department of State systems and ensure all processes are in place to assist candidates for Congress," he said in a statement.
Fox News' Bill Mears, Michelle Chavez and Eric Strain and The Associated Press contributed to this report.