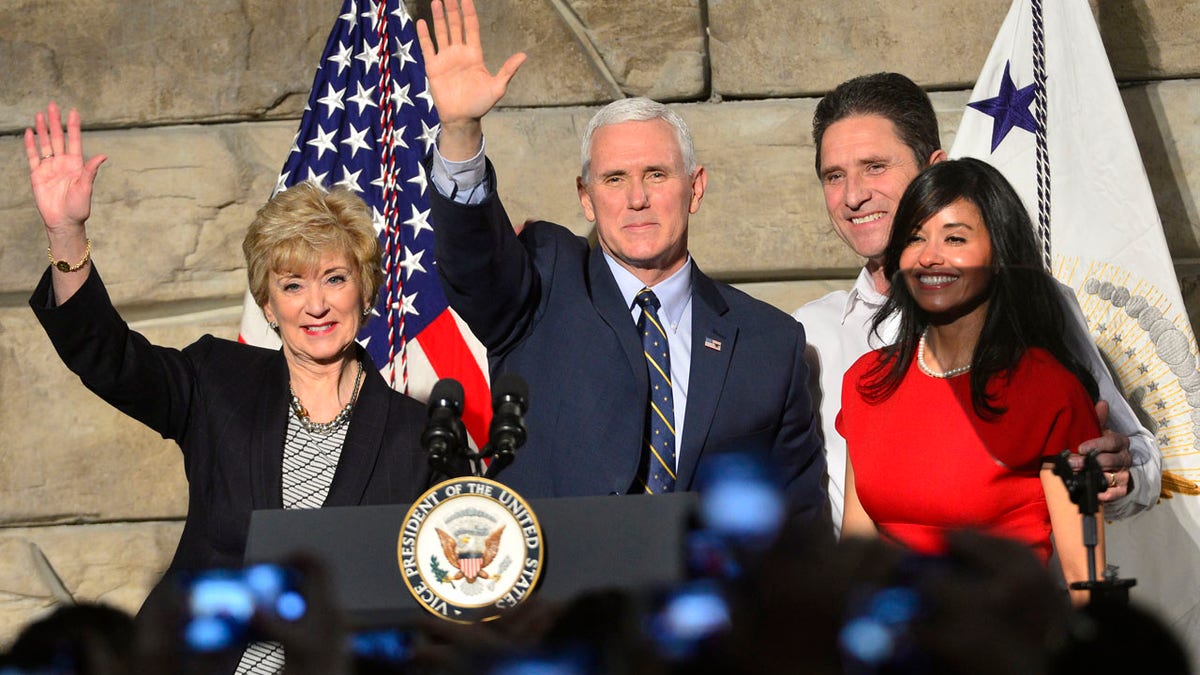 Vice President Pence tried Saturday to deliver a pep-talk to Americans after fellow Republicans' failed effort to overhaul ObamaCare -- admitting that members are "back to the drawing board" but vowing that President Trump will "keep fighting."
Pence spoke in the aftermath of House Speaker Paul Ryan on Friday cancelling the final vote for the ObamaCare replacement bill, upon concluding he didn't have enough votes despite the chamber's GOP majority.
Republicans Ryan and Trump after announcing the cancellation, sounded as if efforts to fulfill campaign promises to repeal and replace the 2010 health care law were essentially finished.
Ryan publicly said Americans would be living with ObamaCare for the "foreseeable future," while Trump simply told The New York Times, "It's enough already."
However, Trump and Pence on Saturday seemed to come back fighting.
"ObamaCare will explode, and we will all get together and piece together a great healthcare plan for THE PEOPLE," Trump tweeted. "Do not worry!"
Pence later said at a business event in Charleston, West Virginia, that small-business owners in the state repeatedly tell him about the need to dismantle ObamaCare because it "stifles growth" and slows job creation.
"President Trump is never going to stop fighting to keep his promises to the American people," he said
He also argued those who claimed victory in Republicans' failure Friday are merely championing the status quo and said, "I promise you, that victory won't last for long."
Pence also put pressure on West Virginia Sens. Shelley Moore Capito, a Republican, and Joe Manchin, a Democrat, to confirm Judge Neil Gorsuch as the next Supreme Court justice.
However, he also made clear that Gorsuch, Trump's pick, would be confirmed "one way or another," implying that Senate Republican leaders would invoke parliamentary tactics to win confirmation with a simple, 51-vote majority.
Pence was joined at the first event by Small Business Administration leader Linda McMahon, who helped start and run World Wrestling Entertainment.
"Maybe we could have used a couple of WWE superstars on Capitol Hill yesterday," Pence, who did his share of arm-twisting for ObamaCare reform, said jokingly.
On Friday, after the vote was cancelled, Trump appeared to already be focusing on tax reform and returning to his plan to allow ObamaCare to continue -- with the expectation that the 2010 health care law would implode amid increasing costs and dwindling options for Americans.
Still, his tweet Saturday suggested a potential willingness to work on a bipartisan plan on overhauling the law -- albeit a scenario in which Democrats come to the GOP-controlled Congress to work together on improvements.
Late Friday, Tennessee GOP Sen. Bob Corker also suggested the fight to replace ObamaCare was not finished.
"At some point, on behalf of the American people, we have to resolve the issues that are driving up costs, limiting choices, and causing the individual market to spiral downward," he said. "I stand ready to work with the administration and my colleagues on both sides of the aisle in order to fix our broken health care system."